Lifesize Glimmer was made with my standing lifesize pattern!
more photos available below this text
The comissioner requested a "happy face" with open 2D mouth , i think it turned out well enough! allthough it is quite hard to make it look good in a 3D plushie!

She stands approx 55 inches tall, and is not stuffed hard, so she can sit, lay down and is some what poseable thanks to this!
Glimmy was made with blush minky fabric (sadly they dont have her exact shade of light lilac, so this is as close at it gets with shannon fabrics!) purple, turqouise and amethyst.
She was a comission and is not for sale!
Additional photos (click to see larger image)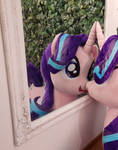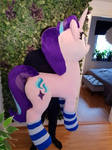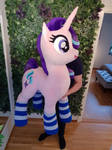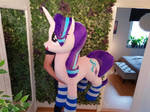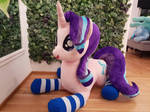 Tags: MLP plush , starlight glimmer , mlp plush , pony plushie , pony plush , mlp plushie , handmade mlp plush , lifesize plushie