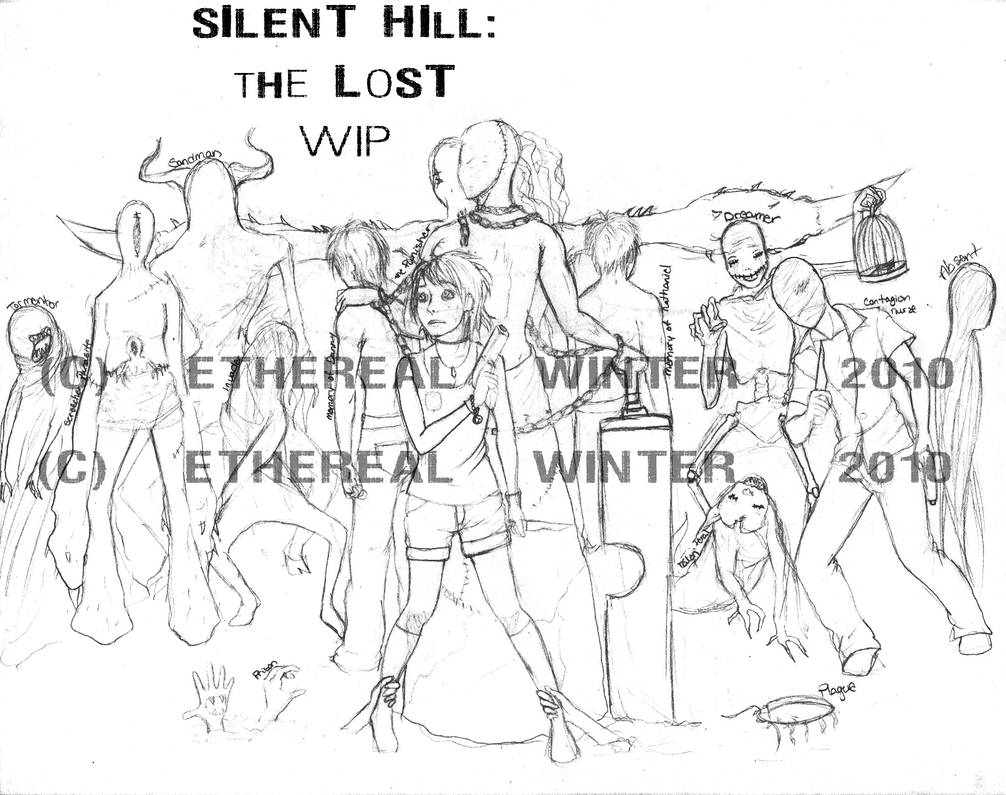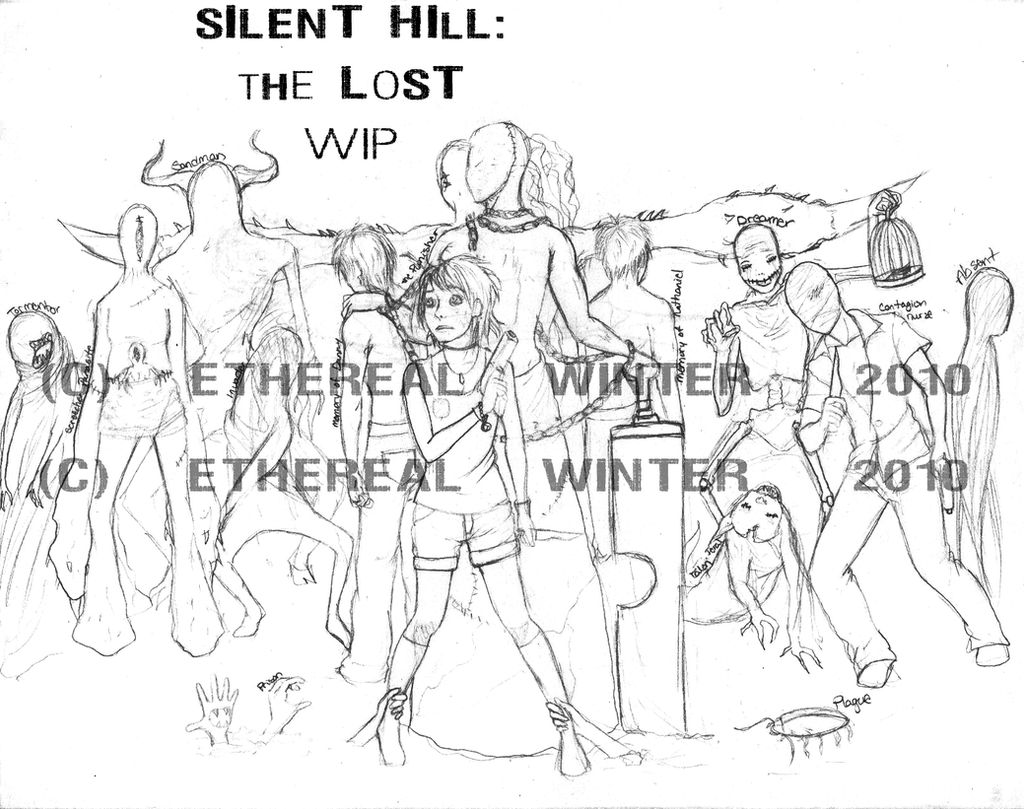 Watch
NEW PROJECT
Silent Hill: the Lost
Silent Hill is a survival horror videogame starring various characters and their own personal nightmare. Though the movie and games are not much at face value, the symbolism in the monsters as well as the visuals and soundtrack make them worthwhile and compelling.
This idea captivated me and I have been assiduously rapt in its mystery and beautiful horror. As another subconscious endeavor, I have put forth my ideas and projected myself into my own personal nightmare, and here are the results.
Meet Vienna Darcy (myself), and my very best friends:
Tormentor
Screecher Parasite
Invader
Sandman
Prison
Talon Feral
Dreamer
Plague
Contagion Nurse
Absent
The Punisher
Memory of Danny
Memory of Nathaniel
and the as-of-now nameless monster in the back.
I planned on adding more monsters, but the paper wasn't long enough. Woe.
I'll submit the monsters in their rough draft and completed forms, along with a short essay regarding their symbolism. I would like to create my own song for this story, similar to
[link]
. If anyone is familiar with a program that creates good music (I'll provide the vocals) please tell me.
For now, enjoy this rough draft.

Program: Fruity Loops. Though it works in mostly techno, you can get add-ons and tweak it until satisfied. I've been having fun with it, just figuring it out

I remember Silent Hill, my friend has one for the PS2. It freaked us out a lot, which then led to my love of the initial Bioshock, about as creepy as it gets in games IMO. I do enjoy them horrors

I do believe you were going to finish that other story though >:C
Reply

Does it also have classical instruments? Is it a trial program? xD Do I need to have previous experience with music to understand it?
I have to play Bioshock! D: I love horror games, too. They're so much fun! I especially love the Silent Hill franchise, if only for the symbolism.

I have many unfinished projects, so which one are you referring to? Haha.
Reply

Well, it's totally illegal, but I've heard there's torrents of the Studio 9 version that work quite well, and can get other instruments from downloads and such... And frankly, I had no experience when I started using it, you just gotta muck about with it and learn it like any other program.

I dunno, I liked Bioshock because it got in my head, you know? I beleive P Diddy calls it a mindfuck XD

Fair enough hahaha XD Ah, well, one of them I suppose.
Reply

The expression on yourself is so great and the emotion of fear is so well shown. The stance works perfectly in the picture and I love the hands grasping at the legs! I'm so amazed by all of your monsters-- I don't know how you do it, really. The usage of symbolism is great, like usual, and alot of it is understandable to the common viewer :3 I seriously can't wait till you show me more of these guys!
Reply

Thank you very much!

I hope people can understand that the symbolism as well. I can't to show you guys more!
Reply