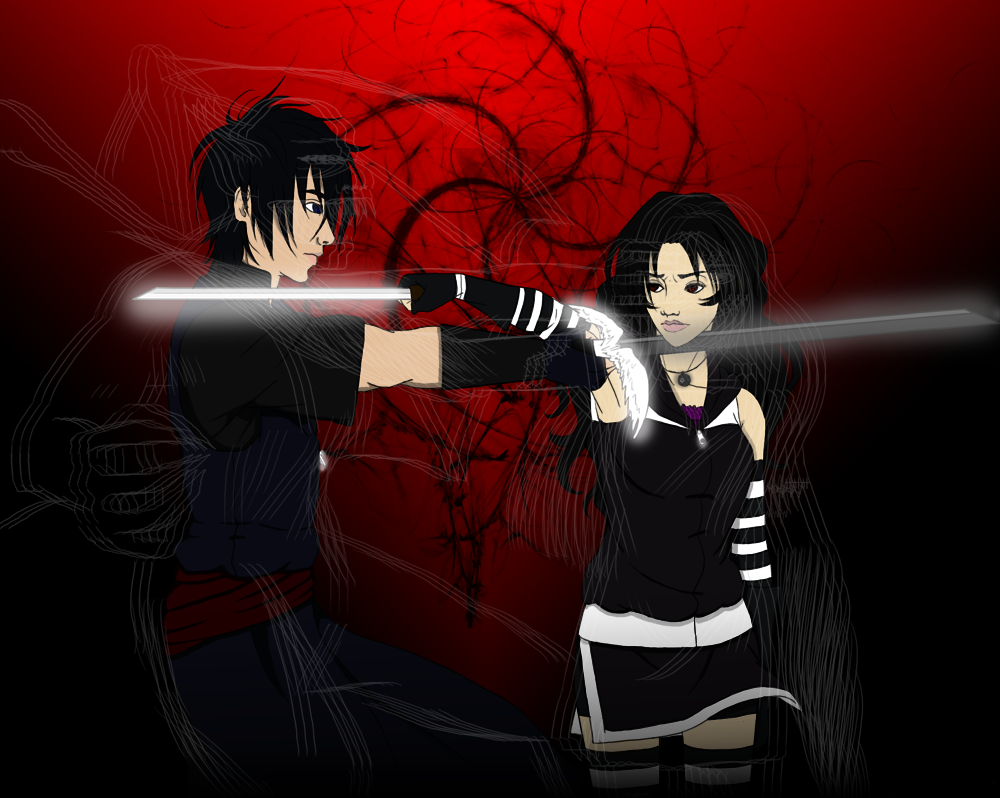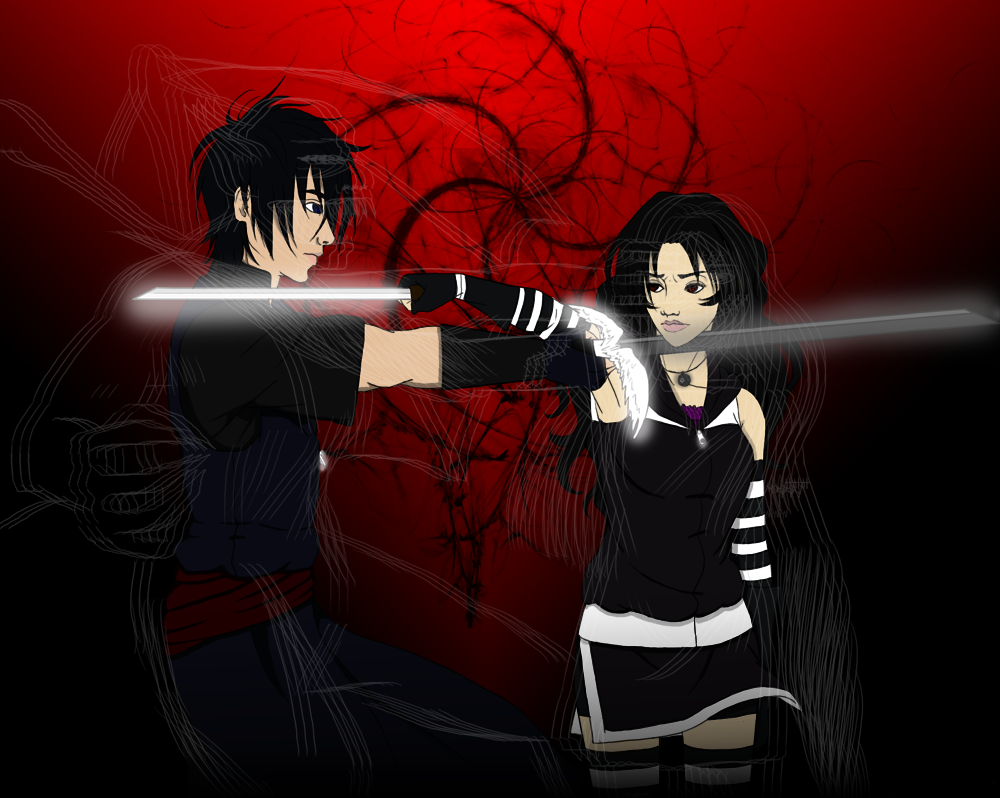 Watch
"Can I blame you for hating me? For wanting to kill me? No. My veins run with the blood of the man who destroyed your life. It's only natural that you would want to spill it and let it rot. But I'm not my father, and you're not the only one with someone to protect.
This is your last warning. You can abhor me, you can try to kill me, but I am the only one who loves Eden, and if you try to take that away from him, I will kill you."
-Selene Noir
Special thanks to Jamie for helping me with this!
---
This is dedicated to Brandon.

Gabriel Engellus (the person on your left) and Selene Noir (the person with huge tits) at each other's throats again.
Hey, guys, remember "Nageki" in the old story? So polite and shy and not violent?
Well I killed him. Get over it.
DISCLAIMER: I did not make the awesome brush in the background. When I find the creator of the brushes, I will post them here. If you know them, are them, please tell me so I can give them credit.
---
The song I think of when I see this is
Somnus Nemoris
, Sleeping Forest.
[link]
Any Latin buffs, please correct the translation; I already had to correct the title. =_=;; ("Dream of wood"? Wut.)
Tellus dormit
et liberi in diem faciunt
numquam extinguunt
ne expergisci possint.

Omnia dividit
tragoedia coram
amandum quae.

Et nocte perpetua
ehem vel vera visione
par oram videbo te
mane tempu expergiscendi.
The earth sleeps
and children sacrifice themselves day by day
until they extinguish,
and they will never awake.
This tragedy destroys,
in front of them,
every beloved thing.
And in this never-ending night,
Look there, the real vision
on the edge; I will see you
and the next morning the time will awake.
---
Line art for the two homicidal maniacs:
[link]
Their demons:
[link]
;_;
I'm gone an entire semester from dA/basic internet in general and this happens?
NOOOOO
:gonk:

Such a change, jeez. xD
Reply

*spasms*
WHEN DID NAGEKI GROW UP?!?!!!!!

*flails*
I love your men, Sin. They're all so bishielicious!
Reply


ISN'T HE SUCH AN EMOTIONALLY UNSTABLE DISH?
[dun worry i already know there's something wrong with me lololol]
Reply

1) Why is this dedicated to MOI?

2)This is interesting, I'll have to re-read it and properly analyze it when I'm not watching Hugh Laurie be a total badass.
Reply

1) BCUZ I SED SO >:U
2)

Let me know what you think!
Reply

Well... hoo...

Alright, first off, you got PLENTY of symbolism in there, and you did it quite well... Second, as usual, you're getting better at drawing all the time... Third... The characters' conflict, their desire to protect, heavily juxtaposes the fact that they're trying to kill each other. To protect means defense, yet they are both on the offense? I can't help but wonder if they're motivated for selfish reasons as well...
Reply

DINGDINGDINGDING
BRANDON YOU SHARP OLD MAN, YOU
I'm kidding about the old man part.

YOU HAVE UNCOVERED THE KEY! CONGRATULATIONS!
This story deals heavily with human selfishness and the argument that altruism is an ideal. What the heroine, Tsukiko, discovers within the first two chapters is that her country wallows in ruins not because of her father's sadism, but because of human selfishness. The people use him as a scapegoat for the problems they have, but Haku doesn't control anything. People are horrible by themselves and Haku doesn't need to do anything.

I love this concept.
Reply

Well, it's a bit to tackle, but bear in mind you do need to point out the idea of Altruism is a practiced concept by some people. Not all are in it for themselves all the time, you know that

Reply

I do include that in the story.

In a cynical world, it's hard to believe that such a thing exists. But of course, that's something I can't dissect without understanding that some people want to be, but aren't allowed to be giving because of the idiocy of other people. Mmhmmmmm.
Reply