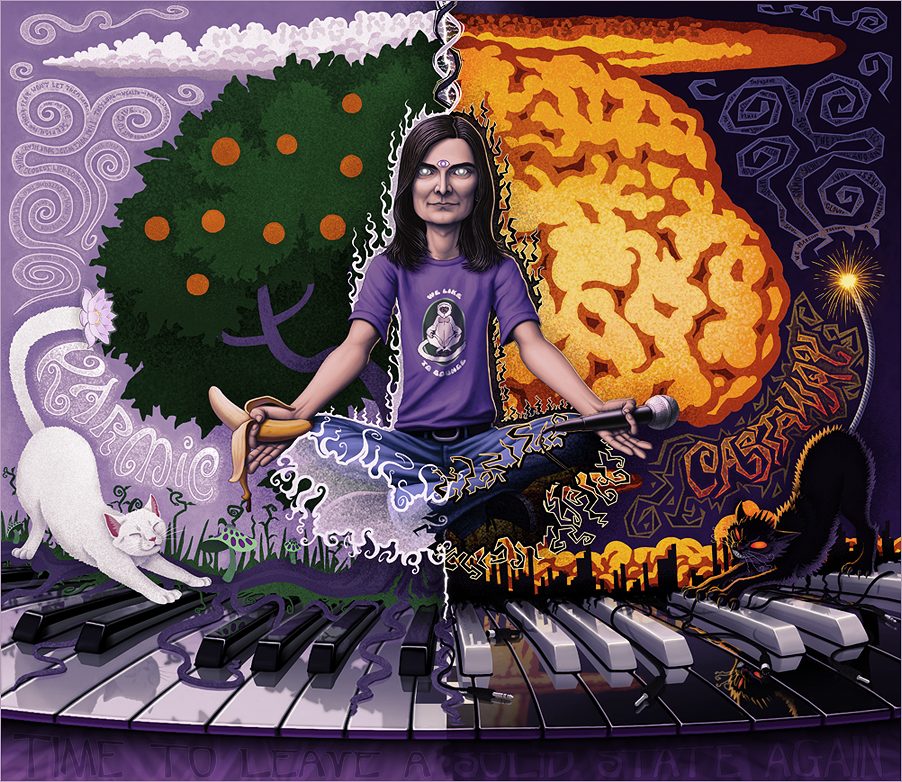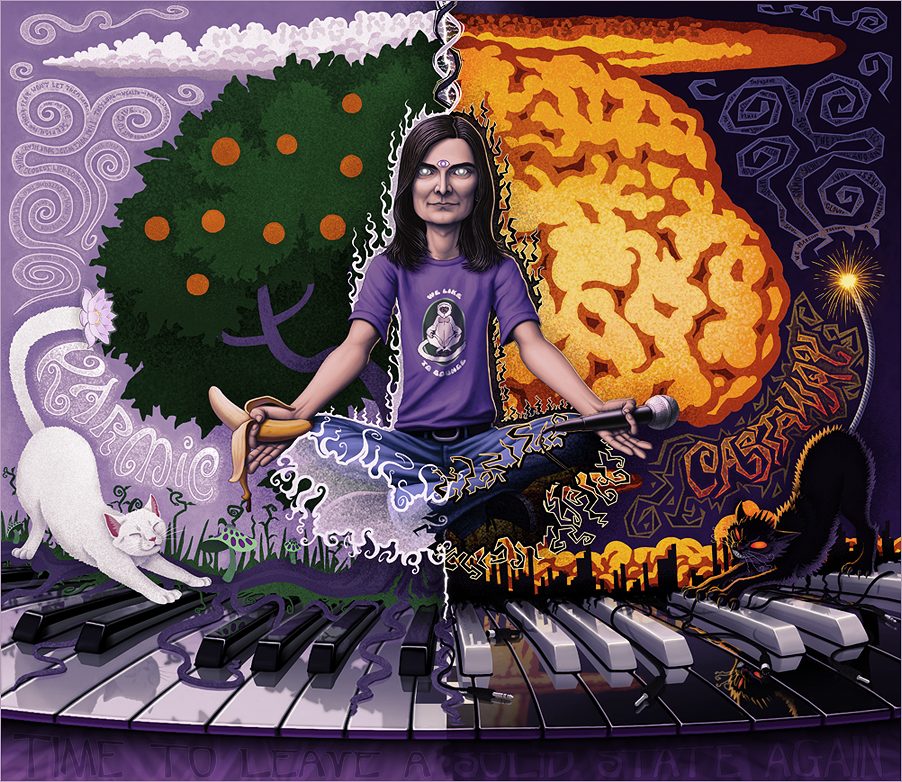 Watch

Wow. I don't know anything about this musician, but that has got to be the most interesting way of depicting the concept of duality I've ever seen. The details are phenomenal, too. The reflections on the keyboard kill me.

It looks chock-full of symbolism to me, but I must at least ask about the banana.
Reply

Aw, man, thank you for the awesome complements. Means a lot coming from you! Not an inch of it isn't symbolic, you're right about that. It's such an eye-burn clusterfuck, but I feel it really suits his music. And, naturally, it's an illustration for a crazy experience that cannot be easily told without garish colors...and cats. And fruit.
Haha, the banana. It's not terribly symbolic aside from its relation to the frugivorous sifakas (
d'aaawww
). It's more an 'in-joke' reference to my first real impression of him (after the above linked video)—a really awkward interview where he
crams at least two bananas into his mouth
. I thought it was a one-time offense, but as it turns out, it's
a recurring theme
. I didn't know that until halfway through the art, though. The balance of serious and hilarious portrays his dolefully slapstick personality best, I think.
Reply

That is awesome. The guy obviously loves his bananas. I'm also curious about the symbolism of the cat with the lit wick tail - or is that a reference to "catnip dynamite"?
Reply

I think he just has an oral fixation.

Most of the imagery was built from personal metaphors I'm
still
in the process of decoding. The initial vision for the art occurred spontaneously, like a dream. I spent only ten minutes on
the first sketch
and never changed it. Totally a new approach for me.
Yeah, the fuse-cat's definitely a nod to that album! There's more to its significance, though. I sense a lot of pent-up aggressive, angry, frantic energy from him, and I tried to express that. There's also a lot of other stuff that I'll keep out of public comments, if nothing else to leave it open to interpretation.
I explained very little of the symbolism when I showed him, but I did share that the 'city' in the path of nuclear annihilation was actually a digital waveform clip ganked from one of his songs. That's my favourite part by far.
Reply

Thanks for the detailed info, it's all very interesting. It must be quite an honor to actually do legit album art for one of your favorite musicians. If you don't mind sharing, how did he react when he saw it?
Reply

"Wow this shit is good!"

He hasn't had time to respond with much yet, but he seemed to love it. What's funny is I didn't necessarily intend the piece to be used as album art—that was his idea. I won't know much more about the logistics for a while unfortunately.

And thank you for being curious. It's a pleasure to share. C:
Reply

That's even more of an honor, then, that he liked it enough to want it for that. And it's hard not to be curious about such a fascinating, expansive piece - I know you've been working on it for a while so it's awesome to see it done.
Reply

Hah-haaah. *compliments. Gotta admit that was a good slip, though.
Reply

Very rad. I especially like the different textures. Almost a self-evident color palette, as if it chose itself

Those must be oranges!
Reply

Man, that's really perceptive about the colour palette; it was totally intuitive and required no thought on my part. I've never used so much goddamn purple in my life—I'm still not entirely sure what it represents.

I knew the tree needed to be bearing fruit or something, and southern California is obviously known for its production of citrus-bearing trees. Too perfect a complement, really. It just all made so much sense at the time.
Reply

I don't think it meaaans so much, other than proves a certain fluidity in your creative process. Basically, having a creative instinct, that works the way it should, through tons and tons of experienced, learned and tattooed into the subconcious.
Kindov like a synesthetic effect - you just know the color of it, the color comes by itself, with the mood.
Same with those models I made, I never sat around "should the uniform be yellow, I wonder!" yellow is one _ugly_ color for a military uniform - but those uniforms... ARE. YELLOW. They just are!

Reply

There was just something really purple about Roger. More purple than Prince, right to his soul. And that's coming from someone who grew up at times not further than 20km from Paisley Park.

Yellow is alarming, industrial and utilitarian all at once. Seems a perfect fit to me!
Reply