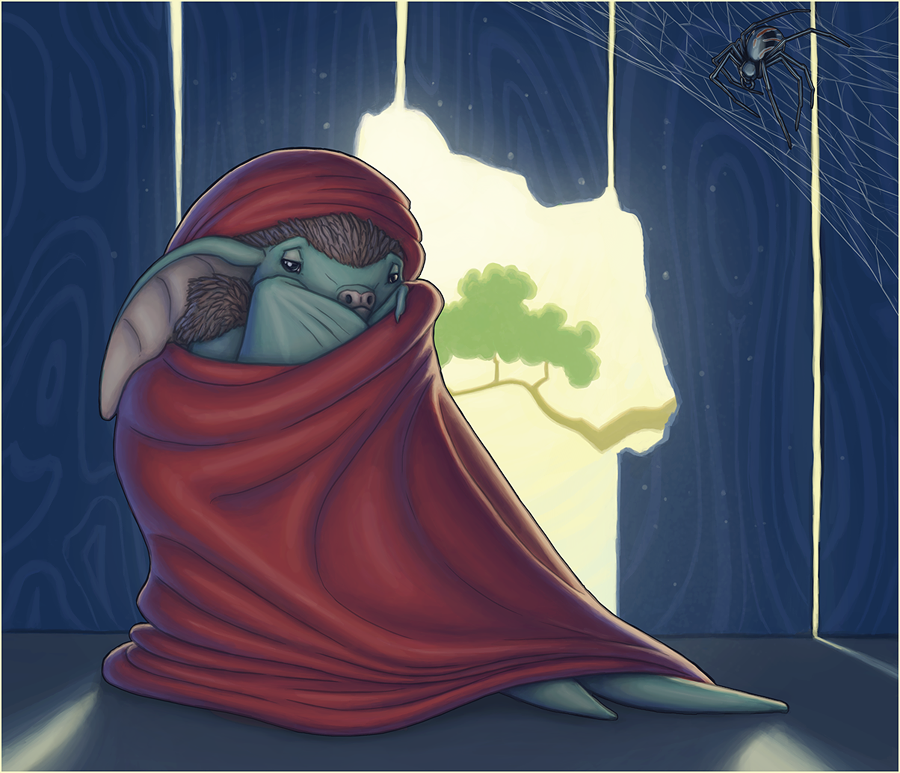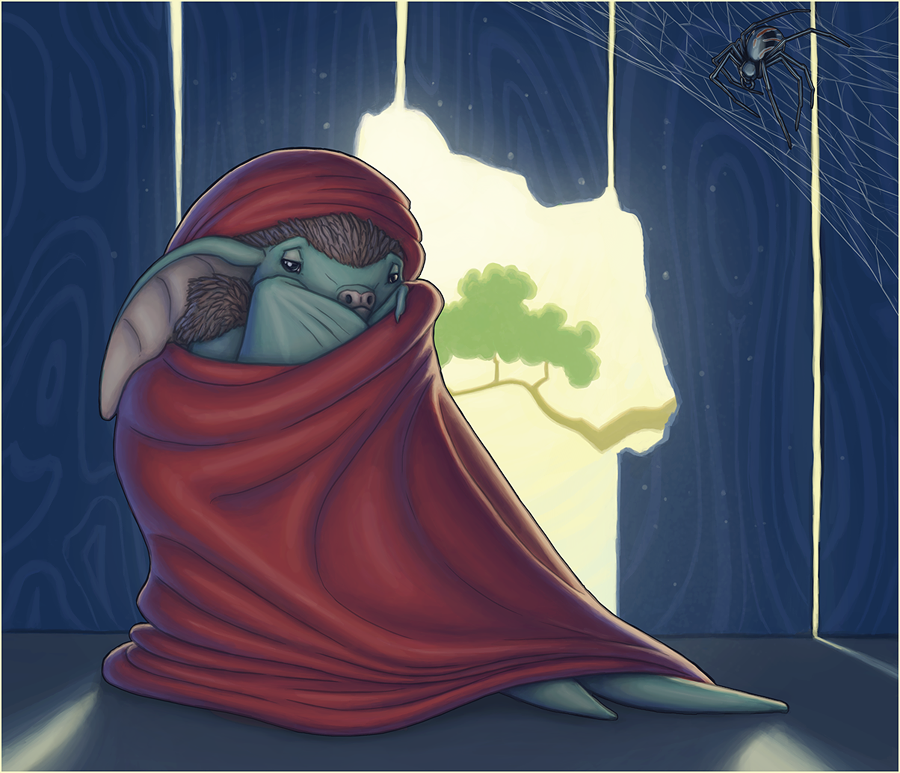 Watch

I love pipistrelles! They're so CUTE!
Reply

The balance of colors and composition are really impressive in this one. It's got the perfect level of contrast without being visually distracting, and I love the way the wood and the body of the bat frame the bright view to the outside. It's got a great sense of mood, too. It has such a gentle feeling of kind of... warm sleepiness, I guess? But is lonely and sad too. I'm getting the sense that the color/value contrast highlights a kind of contrast in the mood too. I'm feeling a sort of contrast between the security and loneliness of "inside" vs. the danger and freedom of "outside".

The spider detail is stunning! Is it based on a particular species?
Reply

Damn, I really appreciate your encouragement. I'm sure the overall piece has a few major boo-boos professionally speaking, but I'm trying to write it off as purely experimental. Still, I'm very glad you find it effective. You've definitely read its message correctly, at least in the way I wanted to portray it.
The spider is based on the
juvenile black widows
that proliferate this region (and my last residence). They're just so pretty and non-aggressive despite their potential toxicity.
Reply

Hey, I also wanted to mention to you that because of this piece, I clicked on your Youtube link and basically ended up buying the whole album. Goddamn good stuff. 'Revelation' has definitely become my favorite of the album - gosh, it's been a long time since I found a song that captures that quiet feeling of awe at the universe so perfectly - but the whole thing is pretty fabulous. "Inspiration's not a choice, it's got to search you out/And give you truth you have to voice beyone a shadow of a doubt." Oh yes, I like that.

I've listened to it just about a dozen times today as I was driving halfway across the country for another funeral. So thanks for the rec, I love your "art tunes".
Reply

Oh my god, that's
brilliant
! Thanks for sharing that. If ever I knock into Jay Falkner, I'll have to tell him that my whacky art and synchronicities got him an awesome new fan. Then I'll insist that his next album cover showcase paravians instead of his visage. (Of course, I'll follow that up with
public molestation
on everyone's behalf.) Too hilarious.
Damn, I forgot about those lyrics! Funny story, though: I was introduced to the album through an extremely vivid dream. In it, I found myself accompanying a despondent Jason on a car ride to the California coast. I woke up, typed the dream, and started to peruse his discography for a suitable title to use.
'Revelation'
stood out to me immediately before I heard any of the song or album, and when I finally decided to listen to that single track, I was blown away by how accurately it aligned with the visuals and emotions of the dream.
So, I decided to give the whole album a solid listen. Well, you can probably imagine my surprise (or abject existential terror) when I discovered that it immediately opens with the lyrics,
"Take a chance on me and you will find you're only dreaming; dream a while and when you wake you'll find me gone"
.
[Cue maniacal laughter.]
Reply