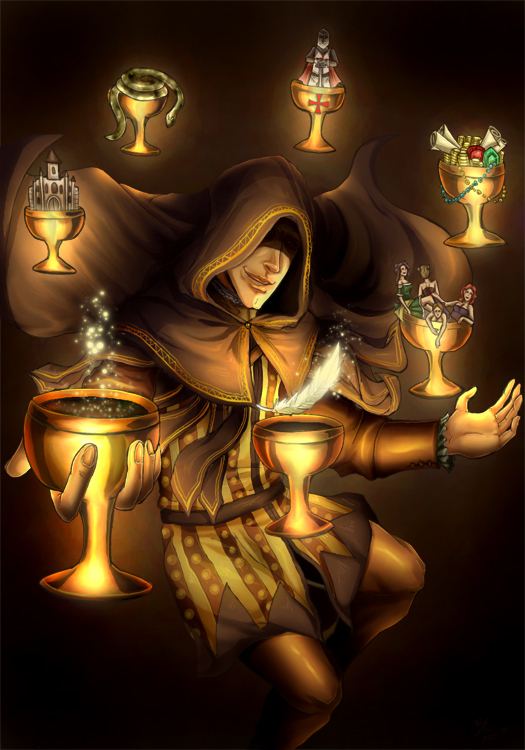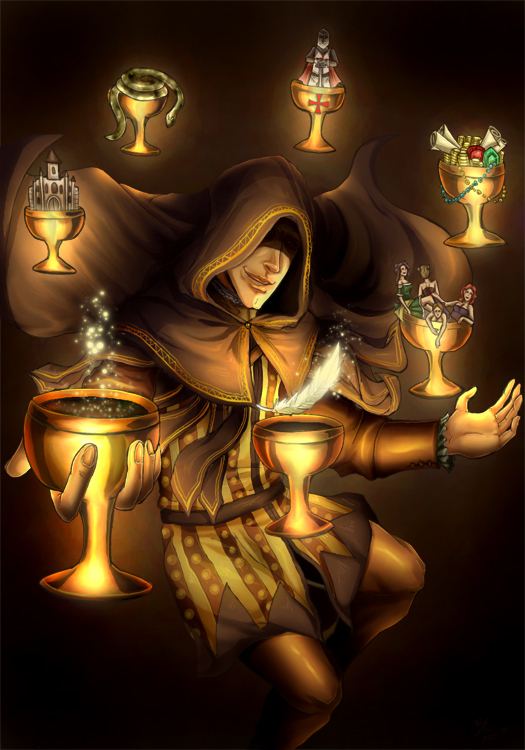 Watch
This is for the Assassin's Creed Tarot Card Project at

This card is 7 of Cups: The Lord of Illusionary Success.
original size:
[link]
[link]
written by ~
DeeNuke

That's the writing that goes with it! Sooo good. Readreadread!

(Uh. I've been hard art blocking over this lol.
Especially colouring. Thank GAWD it's done! 8D )
Lemme see... this card is about choices. Canyoutell?
On the upside, you'd need to reflect on all the possible
choices presented to you and make judgments accordingly.
On the downside, there's indecision, inaction, self-delusion,
false hopes, and/or fear of success.
In essence, nothing has come to fruition yet.
Hence, 'Illusionary Success'.
I replaced a few symbols in the cups to keep with the AC theme. xD
Why La Volpe? Because he has this air of mystery.
...and because he looks really cool and idklolol xD;;
Done with my 2 cards, hope iz aiight!

sketched+inked on A4 paper
colours on Adobe Photoshop CS2
Assassin's Creed © Ubisoft
art © *Envos-the-Bouncy