---------------------------------------------------------------------------------------------

Time warning:
Depending on the complexity of commissions I get and the amount of other work I have, your commission may take some time. I keep the list on my profile updated with my progress and you can ask for a WIP at any time.
Payment must now be made up front (whitelist members excepted).
It just prevents a lot of hassle for either of us.
-If you need to cancel before I've begun yours (list may not be in order) please let me know right away. If I have begun working on yours I cannot give a full refund but I will give a partial refund if needed.
-I can make reasonable edits before or after the drawing is finished.
-If paying in points, please wait until I notify you to pay through the commission widget.
ANYTHING SLOTS
---
1.

2.

CUSTOM SLOTS
1.

2.

If you don't see exactly what you want below, just ask and I'll give you a price. I'm open to doing short comics, sketch pages etc.Character illustration: $40/4000 pts
+$10 for simple bg (ex. landscape)
+$20 for additional character
-For your OCs and other existing characters! Fullbody, action scene, closeup halfbody etc.
-Anything else, please include it in your request and I will give you a price - detailed backgrounds, complex action scenes and so on.
Custom adopts: $35

+$35 for any transformation
-For example, a single design would be $35. A 3-form transformation (humanoid, anthro, feral) would be $105.
-You can request an adopt of any species, or it can be one of my original species below!
-You can also get transformations of existing characters.
-I
f getting one of my original species
, please use the custom form at the bottom of the species page.
-You can be specific with what you want but may get better results by leaving it more open.
-Please note that Curse Keepers have 1-2 transformations, Menagerrata have 2-3, and Evil Garden have 3-5.
Adoptable Species
If you want something **other** than one of these species, please use this form:
Customs Form
Species:
[ex. human, humanoid, dragon, etc.]
Gender:
[ex. androgynous, female, male]
Forms:
[ex. 1, 2 form transformation, etc.]
Details:
[ex. poison themed, Victorian, black hair, etc.]
Palette:
[optional]
Other refs:
[optional]
Character sheets: $120/12000 pts
-3 fullbody views (can be a mix of front/side/back views, and can include different outfits)
-5 expressions
-3 items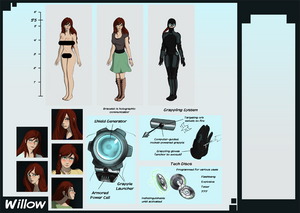 Item/weapon designs: $15/1500 pts
per item
See my gallery for lots of examples
I draw:
-OCs
-fanart
-new designs
-fan character designs/adopts
-guys/girls
-human/feral/anthro
-mech
-sexy/romantic
-gore/horror
-landscapes
-items
I do not draw:

-hardcore porn/gorn (rape, mutilation fetish etc.)
To order, please note me with details on what you want when a slot is open! For existing characters, please link to references if you have any.
---
That's all she wrote