Hi Guys!
Believe or not, I am not done with my run around yet, but I have been going back and through with my stuff.
Back on the pictures of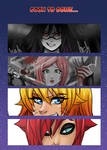 and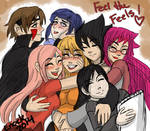 I won't be doing
:
Haruko comic.
That will stay oneshot
The Sakura comic (The monster behind the mirror) I change my mind of doing.
No longer going to be updating
The crack worlds picture
.
As for the Naruko comic:
I will be changing the chapters around: Making them shorter. I will no longer will be able to have the fans choose for their ending. Since I'm cutting a lot out of the story and that way finish this comic a lot more sooner. Because I want to do other projects beside Naruko and this comic has already took most of my time doing it. TT.TT
I'm very sorry for the disappointment, T.T But I really want this comic to be over and done with.
Those of you that have commission with me, don't you worry. I am working on them and will be emailing you guys soon.