Journal Entry:
Mon Oct 12, 2009, 2:11 PM
Reading: Lord of the Rings By JRR Tolkien
Drinking: My brother's Pepsi he didn't know I stole yet.
The first fan art for NARUTO: PERIOD!! *excited*

!!!! I can't thank

enough! Thank you for the fanart!!
Check it out! It's awesome!! Naruto is going to kick his/her fanboy's asses with the rasengan!!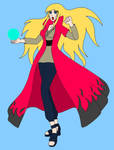 Watch

oh cool! I'd do fanart, but I suck.

Reply

awesomness! i may do fan art myself as well. :3
Reply

SWEETNESS!!

You don't have too!......I sure as hell want to see it though! *grins* Thanks! I'll place it up here whenever your up to it.



Reply

no problem, i'm hsppy to do it. I'll get to work on it after i do a couple drawings for my friend. :3
Reply

i just may have to do some fan work myself, stole your brother Pepsi?!?! thats a serious crime
Reply

I know...I'm bad *pets the Pepsi. Licks it*


I can't wait to see you draw!
Reply

Reply

*stares at her pepsi and looks at him* ...... T.T *goes to steal from her brother again. Gives it to Strafen-soulreaper* All in the days stealing brings joy in my heart that it's my brothers. *smirks*
Reply