Sort of tagged by:
1. Anyone who comments in this journal will get a in this journal Feature with my top two favourite deviations in their gallery!
2. If you answer, you'll have to do the same in your journal, putting the tagger in the first slot. The idea of this is not to get a free feature, but to spread the art love around!
Please feel free to comment~! : )
(listed in order of when you replied) Keep 'em coming!
1.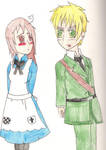 :thumb296573076:(all parts)

England x Reader - Battlefield Part 1

The War of Independence ... you know how it ended for me. I lost ... after fighting so hard to keep someone who was like a son to me but, of course ... the ungrateful git wanted to break away from me ... and to this day, I still don't understand why. Maybe ... it was because I was so strict, but I had a reason for that. When I was younger, I was careless ... and obviously wanted to make sure he didn't make the same mistakes. And one day, he just started shouting at me, claiming he wanted to be free ... which was how the war started. And during the war ... I found something there, that changed my life forever ...
------------------------------------------------------------------------------------------
I hurried through the rain, carrying my rifle. I was heading back to camp when I saw someone on the ground. I hurried over and discovered that it was a boy. He was still breathing. It was hard to see what uniform he was wearing in the rain, but I picked the boy up and began to carry him t
2.