Finished this sketch late last night.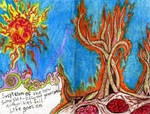 At first I was dismayed by the coverage until I used a blending pencil. And since it was in my sketchbook I put in scraps even though to me it's pretty complete.
I plan on using the same color scheme for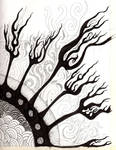 But for that one I may use oil pastels with more intense colors with Turpenoid and a fine brush and wide one for larger areas. Or maybe acrylic. If this works without too much distortion to the paper(Which I feel would happen if I applied a large amount of watercolor). I will then use it for the big piece. Which is 19x24. That's the whole point to doing a 9x12 first. I will still use watercolor for interior colors.
As for this piece.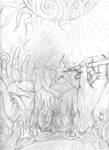 I may use the same color scheme but maybe more muted by using sparse amounts of watercolor. Or I may use a combination of all the mediums at once. Especially since the "sun" above the hands would look good in either watercolor or oil pastels. I'm still not 100% set on inking it.
I still hate colored pencils. Which is amusing since I have successfully used them in the past to do realistic pieces. They tend to be rather time consuming if you do it right.
Then again it could have been the paper. there is almost no tooth. But that's a whole rant and I do not wish to place my

here.