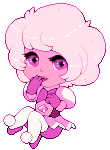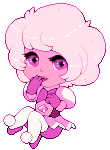 Watch
Do not reference my art. thank you!
Pink Diamond has such a lovely design! I had to make a doll for her as soon as possible
FREE TO USE! I do not take requests.
Credit is appreciated
Please do not reupload to tumblr/pinterest/etc without crediting me
Character belongs to Cartoon Network/Steven Universe
Check out my other free to use SU dolls!

Reply

Reply

Reply

SNIFF
THIS IS ADORABLLLLE 💖
Reply

Reply

using for page coding, giving credit.
Reply

Would glad to tell you how cool are you! Keep up the good work!

And wish you every success!
Reply

So majestic! It' so sad but I can fav your work only one time… You deserve a tones of

s!

Wish you creative inspiration and have an awesome day!
Reply

omg she's a precious baby!
Reply

CCCUUUUTTTTEEEE!!!!!! CUTE!!Your other pixel art are so cute too. It's really great, I'm rather new so you are on such a higher level than me in art. And I agree Pink's design IS great.
Reply