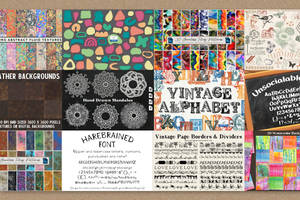 HG Designs Subscriber Area
Lots of high resolution goodies for graphic design including textures, photoshop brushes, seamless patterns and more.
---

Square Pattern Background
Description
A doodle went wrong, so I jazzed it up a little in photoshop. Maybe it makes a neat background pattern? It was made using this ugly color ink stencil pattern in my scraps:
[link]
Hopefully someone can find a use for it

You have permission to use this image in your digital art, on other websites, projects and prints as long as it is altered in some way (such as using it with a drawing/text overlay, digital art collage, backgrounds, texture, as a drawing reference etc.) Basically the only thing I don't want is the exact same image to be sold, or uploaded in other stock/texture galleries.
***There is no need to note me, just leave me a COMMENT HERE (on the stock you used page) with the link to your finished image. I'd love to see what you did with the stock. Or add it to your favorites if you found it useful and just want to share it with others. ***
Image size
960x948px 427.49 KB