0 Favourites
0 Comments
47 Views
Diamond
I just updated the profile from "Clay and Fire" (below). I'd made her nose too flat.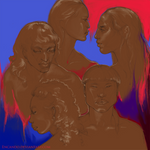 original character
no reference
© Encando
All rights reserved
This work may not be edited for any purpose without written permission. Please provide full citation if you display this work.
This work is not to be used for commercial purposes.
IMAGE DETAILS
Image size
1000x1000px 314.72 KB