♦
Gallery
♦
Commissions
♦
Tumblr
♦
Toyhouse
♦
Crescent Cavern
♦
Croatan
♦
---
If you are not a member of
PKMN-CrescentCavern
feel free to ignore.
---
---
♦ General Information ♦
♦ Name: Mira Novak

♦ Age:
28
♦ Birthday:
September 3rd
♦ Zodiac:
Gothorita (Virgo)
♦ Gender:
Female
♦ Sexuality:
Bisexual
♦ Relationship status:
Single
♦ Height:
5'5"
---
♦ Trainer Information ♦

♦ Occupation:
Nurse
♦ Hometown:
Dendemille Town, Kalos

♦ Preferred Types:
Normal | Water | Flying
♦ Least Desired Types:
Fighting | Poison | Bug
---
♦ Characteristics ♦

♦ Nature|Characteristic:
Careful | Capable of taking hits
♦ Appearance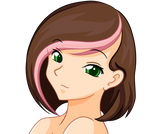 ♦ Personality
Altruistic | Creative | Insightful | Sensitive | Introverted
Mira is often soft spoken, but is strong in her opinions and beliefs and seeks to nurture and protect those around her. She's intuitive, creative, and has a natural talent for working with others, but she's often much happier in a supportive role, than acting as a leader. Among friends or when working she can often be social and eloquent and some may even be surprised to discover she's an introvert, but when out of her element she's often reserved and often becomes withdrawn. She can be a bit difficult to decipher and is a much more serious individual than she often externally portrays. Mira is also known to avoid conflict and has difficulty taking criticism from others that she's very close to. She also suffers from depression and prior to being frozen, she also refused to take medication. Now it's just not really an option and not a concern.
♦ History
Mira is (or rather was) the oldest of three children, her sister 3 years younger than herself and her brother 6 years younger. Growing up, her mother never worked, while her father was a photographer who had a passion for what he called "urban decay", capturing the sights of the world around him and often traveling far and wide to do so. Her sister trained as a serious competor in the Pokemon league, though was often in trouble in one way or another for her attitude, while her brother had no direction in life and often vanished from time to time, only to come back home strung out on whatever substance he's managed to get a hold of with his so called friends. Her focus in a medical field may be a result of the choices her siblings have made or even just a general affection towards caring for others, but she's never chose to confide as such to others and she did genuinely enjoy the path she chose.
---
♦ Misc ♦
Likes:
Helping others | Reading | Hot teas | Lilies | Cat Pokemon | Rea as a person
Dislikes
:
Asparagus | Substance abuse | Humidity | Injustice | Most everything else about Rea | Especially Rea's couch
Is bi-sexual, but typically prefers men.
Is a good cook, but rarely does so.
When nervous, she has a tendency to clam up and only respond when spoken to.
It is extremely difficult to make her lose her temper, but is a force to be reckoned with when she does.
Is skillfully sarcastic with some.