♦
Gallery
♦
Commissions
♦
Tumblr
♦
Toyhouse
♦
Crescent Cavern
♦
Croatan
♦
---
If you are not a member of
PKMN-CrescentCavern
feel free to ignore.
---
---
♦ General Information ♦
♦ Name: Enalon Trystine

♦ Age:
24
♦ Birthday:
February 14th
♦ Zodiac:
Simipour (Aquarius)
♦ Gender:
Female
♦ Sexuality:
Pansexual
♦ Relationship status:
Dating
Dawn
♦ Height:
5'7"
♦ Weight:
180lb
---
♦ Trainer Information ♦

♦ Occupation:
Previous Gym-leader, Mixed/Blend Researcher
♦ Hometown:
Tinder Canyon, West of Unova

♦ Preferred Types:
Fire | Rock | Ground
♦ Least Desired Types:
Bug | Fighting | Poison
---
♦ Characteristics ♦

♦ Nature|Characteristic:
Brave | Proud of her power
♦ Appearance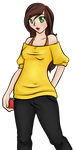 ♦ Personality
Decisive | Inspiring | Passionate | Compassionate | Critical | Temperamental | Stubborn
Whoever said Aquarius was quiet and shy clearly never met Enalon; bright, boisterous, and burning with a intensity that rivals the flames of her Pokemon. Enalon is able to hit the ground running and is ready to tackle any problem the arises. Her biggest merit can also at times be her biggest flaw: Enalon is deeply invested in the lives of others, she believes in people, wants to inspire them to better themselves, but can occasionally push others to far or tread over their own feelings in her enthusiasm. Equally so, Enalon is deeply critical of those she dislikes, if you end up on the wrong side of her friendship, her judgement of you is unswaying and you are unredeemable.
♦ History
Tinder Canyon has always been Enalon's home, a place that had started as a small ranch by her great grandparents and over the years grew into a small, but prosperous town. With Darumaka as her starter, Enalon spent her later childhood years like many other youths, pursuing the dream of becoming a pokemon champion, before finally returning home as an adult to take over the family ranch. Still, determined to add to the small community (and also slightly compelled by her love of battling), Enalon established the town's gym and acted as gym leader for many years.
Her memories around the whole of "the end of the world" are fragmented and it bothers her to a great degree that she can't clearly remember that window of time between the happiness of before and waking in the caverns without her beloved pokemon or any of her family. That she's given her new ranch the very same name as the home she came from is both a thing of sad remembrance and maybe a glimmer of hope that anyone she knew from before might still be here now.
---
♦ Misc ♦
Likes:
Battling | Hiking | Coffee | Watching the sun rise | Cooking
Dislikes
: Oranges | People w/ no manners | Being alone | Boredom | People who disagree w/ her
Theme Song(s):
[link]
Alto
Dominant Hand: Right
Enalon means amethyst.
Trystine is a quartz-based combination of amethyst and citrine.