Progress: 7% completed
Work in Progress: Dragon, Witch/Wizard, Grim, and Yeti



01 02 03 04 05
06 07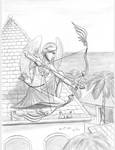 09 10
11 12 13 14 15
16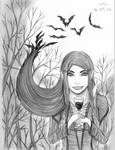 18 19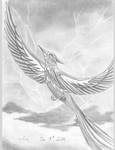 21 22 23 24 25
26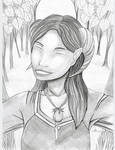 28 29 30
31 32 33 34 35
36 37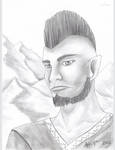 39 40
41 42 43 44 45
46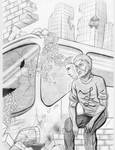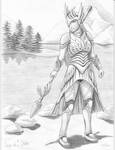 49 50

December 31st, 2015
27 Faun
The forest background was inspired by seeing how trees in the autumn park form some kind of tunnel. The big leaves come from the trees near the foreground.
This was a very uneventful year for this project. Though art takes a significant part of my live, it does not take number 1 priority. Aside from that there are many other paintings and drawings I want to do. We shall see how 2016 would turn out. Have a great 2016!
Next drawing 1 - Dragon. I love dragons! Gotta get this one right!

September 16th, 2015
Ooo! Thanks for 1000 views on this journal!
Currently, working on Faun. It will be a portrait with a theme "Welcome to the forest!". A rather cheerful and happy character who lives in the forest. She is wearing a dress made of rough but rather sturdy fabric. And there is also a green gem to make the portrait more unique. The most challenging part was to come up with the curly horn - never done those before, which is why I feel they look rather generic.

April 1st, 2015
38 Mountain Troll
I decided to go with a simple mountain background, mainly because the focus must be on the portrait.
Character design takes the bulk of time. So this time I am choosing more options so I can plan ahead. The next 5 selections: 27, 1, 26, 50, and 42 Yeti.
The next drawing will be 27 - Faun

March 5th, 2015
Greetings! It's been awhile as I didn't have much time lately. I am back to this project and determined to complete it... at some point.


Currently I am completing the mountain troll drawing. The design involves rougher shapes and lines than my usual artwork. Initially I planned something similar to rock golems/elementals, but ended up with a more human-like character. In comparison to other trolls I imagine that the mountain kind would be smaller due to scarcer food sources at the mountains.

December 7th, 2014
20 Thunderbird
The simple cloudy background is filled with lightning bolts. The thunderbird just casually flies high up through the clouds.
The next drawing will be 38 - Mountain Troll

December 5th, 2014
With lineart completed, it looks like I am finally getting somewhere with the thunderbird design. After looking at various bird types I decided to go with something sleek and fast like a lightning. It will be a bird with slender body and broad wings that are great for open areas high up in the sky. You will also see lightning like markings and sharp shapes.

November 22nd, 2014
17 Vampire
This picture is a portrait of a vampire, so the focus is on the foreground. For this reason I went with a simple background: a giant full moon and tree branches.
The next drawing will be 20 - Thunderbird... I have no idea how to draw the Thunderbird...

November 15th, 2014
Several months ago I saw an amazing painting of a lady with a wine glass. Since then I wanted to draw something like that but my sketches turned out too plain so I put that idea on hold... until last week. That's when I realized I could apply that theme to the vampire picture. Soon you will see a drawing of a vampire with the wine glass. To make the drawing interesting the vampire's hair are merged from the shadow bats. Those are not the actual bats - just shadows shaped as bats.

November 2nd, 2014
8 Cherub
The setting takes place at the beach town with palms and sand. The cherub is sitting on top of the tallest building to get a good view over the town. The small bottles are the potions.
Next drawing will be... 17 - Vampire.

October 23rd, 2014
The Cherub drawing's theme is "Snipe Out". You will not see a usual winged baby wearing a diaper. The cherub I am drawing is more of a cupid. The setting will be at the beach town, and the cherub is sitting on a roof aiming at some couple with her bow. The lineart is all done. Getting the perspective of the buildings was more challenging than I expected. Some other elements of the background are also not too common in my work, hence I needed more practice to get a hang of them.

September 25th, 2014
47 Zombie
I had to put the reflection somehow. That's when I got the idea of a bus that crushed into the wall. The crush happened a while ago, because you can see plants sticking out of the bus. The city is also in ruins. This all is there to show a scene of destruction that is usually associated with the zombies.
RNG picked 8 - Cherub!

September 17th, 2014
Ugh... It's only the second drawing, and I have already got stuck. Only today I managed to get a design that would actually work. What makes it more challenging is that I am not a fan of zombie themes, mainly because of their "mindless aspect". So I've been trying to pursue more of a sentient theme. I wanted to draw a zombie and his former self as a reflection on a glass. The hard part was to come up with a coherent way to put a glass next to a zombie. It took me a few tries but I got an interesting idea. But then I got another problem - I couldn't get the composition right. I just kept getting sketches that looked very unbalanced until today.

September 5th, 2014
48 Valkyrie
I chose a solid standing pose, heroic if you will. To further emphasize the stability of the pose I placed mountains at the background. The lake is there for the swans theme. And the sky is the early morning kind; you will see it after I color the image.
Let's see what the RNG says... 47. The Zombie!

September 1st, 2014
I decided to go with the classic look for Valkyries: armor, swans, spears and NO wings. Apparently the first Valkyries were painted riding the horses. So for this project I mainly focus on heavy armor design with a spear and some feathers for the swan theme. Initially I considered adding wings, but the composition looked very unbalanced to me; hence the classical wingless look (no horses either - I simply ran out of space). At this point the lineart is ready. I will post the image once I shade it with pencil.

August 24th, 2014
Random number generator picked number 48. It is... Valkyrie!

August 23rd, 2014
Here is the plan. There are 50 Mythical Themes. First I will run a random number generator to pick a number from 1 to 50. Then I will sketch the idea and finally digitally paint the sketch. In total there will be 50 sketches + 50 corresponding high quality (by my standards that is) paintings. Estimated time of completing the project is by the end of 2016 (yes, it will take a while). You will see the progress at both the group

and my gallery.

August 18th, 2014
The project is set in motion.

August 15th, 2014
Today I got the idea to search the Deviantart groups for other challenges. This is how I stumbled across



August 5th, 2014
These awesome people

found me. From them I learnt about the 100 Theme Challenge. I thought I might try and do that too, but realized it would take way too much time.



The list is from


1. Dragon
2. Centaur
3. Chimera
4. Hippogriff
5. Gryphon
6. Pegasus
7. Unicorn
8. Cherub
9. Elf
10. Fairy
11. Mermaid/Merman
12. Werewolf
13. Phoenix
14. Troll
15. Basilisk
16. Boogeyman
17. Vampire
18. Nymph
19. Hydra
20. Thunderbird
21. Quetzalcoatl (Feathered Serpent)
22. Kraken
23. Sleipnir
24. Kelpie
25. Rainbow serpent
26. Witch/Wizard
27. Faun
28. Ghost
29. Demon
30. Repo (Fox who creates the Aurora Borealis)
31. Angel
32. Naga
33. Salamander
34. Swan of the Underworld
35. Ent
36. Dryad
37. Sphinx
38. Mountain troll
39. Nine Tails
40. Snow Queen
41. Minotaur
42. Yeti
43. Cyclope
44. Harpy
45. Medusa
46. Satyre
47. Zombie
48. Valkyrie
49. Water Sprite
50. Grim