Hey guys, just wanted to let you know that as of October 28th I will no longer be accepting new commissions. Of course I'll be finishing up whatever commissions I have, but beyond that date you will not be able to order any further commissions from me.
I should preface this with noting that I have a couple medical problems that I'm not going to get into that make it difficult to stay awake sometimes. Over the next couple of months I need to focus predominately on finishing up my first book so that I can publish it, and I would be lying if I said that the limited amount of time I have available to work hasn't been entirely filled with commissions for a while. With Fall upon us and Winter soon approaching, that time is going to get a little more difficult to handle, so I need to make some changes.
For the next few months I'm going to entirely subsist myself on the money I receive from additional projects (mostly my youtube account). There will be no requests, no commissions, no trades, ultimately no sort of additional work of any kind. This also means that after the videos I have planned for October, there will be a month or two of lax on my youtube account as well. This is all so that I can entirely devote myself to finishing a 48 page, full colour first issue graphic novel.
I'm sure many of you are already aware of the project;
Mecha and Stem
.
I want to give some people the chance to get in their commissions should they really want one this year, which is why I'm giving a couple weeks notice. However, because I'm closing commissions with the intent on working on another large project, I cannot then be spending all of my time in November and December catching up on large commission projects ordered now. This means that there are going to be limitations on what people can get, what sort of commissions I will accept and the scope of the commission itself.
With that explanation out of the way, here's what you need to know:
1.) On October 28th I will officially be closing my commissions for the rest of the year. They will not open again until well into 2018 (probably around May or June).
2.) I will not be accepting disconnected character commissions. Basically this means that if you want to buy a long commission sheet with a bunch of your original characters as references... you can't. You can buy pieces of characters interacting with one another, but I will no longer be offering a discount for additional characters if they are disconnected from one another in the piece.
For example: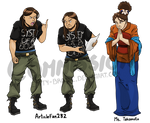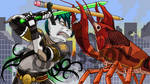 Disconnected (not accepting) Connected (Perfectly fine)
3.) There's going to be a limit of 5 characters that you can have in one piece.
4.) One person CAN get multiple commissions BUT it depends on the complexity.
5.) If I don't think that I will be able to finish a commission in a relatively speedy amount of time, then I'll probably have to turn the commission down.
6.) Commissions
ordered in
October must be
PAID FOR in October
. I will not be accepting commissions on the promise that I will be paid in the coming months. I can't work extensively on a piece until I know that I'm being paid, meaning that waiting on the payment means I'm waiting on when I can work on the piece.
7.) If I accept your commission and you haven't paid by October 28th I will be canceling it.
8.) I'm not doing promissory future commissions. Meaning you can't request that I do a commission in February for you instead of now.
9.) No, I will not do a commission in exchange for an art piece, review, critique, video, dedication, shares, credit, commission of equal value, etc. Only money via Paypal or the equal price of DA points, paid for AS a commission.
10.) and finally...
MY PRICES WILL BE INCREASING in 2018
If you like my prices as they are now then you'll need to get your commission
now
because they'll be going up when I start offering commissions again. I've been underselling myself for a very long time and it's gotten to the point where my other forms of revenue are vastly outweighing my commissions, not only in how much I make from them but also how efficiently I can finish the projects and even sometimes how much enjoyment I get out of working on them. While currently still undetermined, my new prices will be based more on how long a piece takes to finish and will be based more off of minimum wage. So this is your last chance to get anything from me at these lower prices.
That's it for now!
Anybody interested in ordering a commission can contact me via PMs. Please remember that I will need an e-mail account connected to Paypal that I can send the commission invoice to.
Thanks for reading, and happy Spooky Month~!!
- B
Current Accepted Commission List:








+ animated commission for The Nation of Johnny K
+ illustration project for e-mail commissioner