♣Hello. My name is Alexandra. I was born and raised in Slovakia and last 8 years I've been living in Unites states.
I AM A PHOTOGRAPHER AND A DIGITAL ARTIST IF I MAY CALL MYSELF THAT.
MY WORK IS FUN, QUIRKY, SOMETIMES SCARY BUT MOSTLY FUN. IT'S A REFLECTION OF MYSELF.
I HOPE YOU WILL ENJOY.
♣
Please note...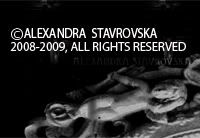 ©copyrights Alexandra Stavrovska 2009-2010, all rights reserved.
That means you can not use those picture without my written permission !
This work is piece of me. I've had my work stolen before. I will get mad and deal with you!
XOXO
Alexandra
If you would like to email me, please contact me: ⇒

Thank you in advance for feedback and comments......
Alexandra Stavrovska

Current Residence: Texas
Favourite genre of music: Everything that tickles my soul
Favourite style of art: Art Nouveau, Surrealism, Pre-Raphaelite Era, Late Gothic Painting, Art Deco as a whole
Operating System: MAC OS X
Personal Quote: "How primitive but how effective ?!"