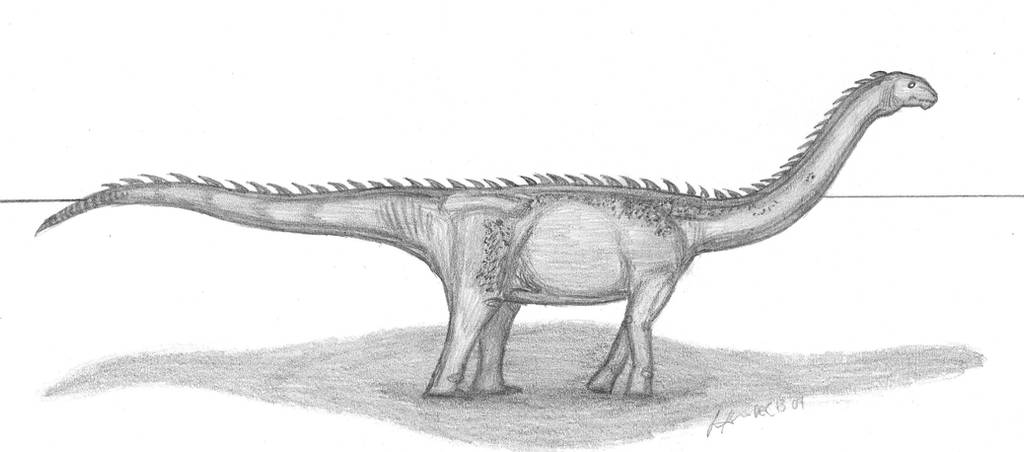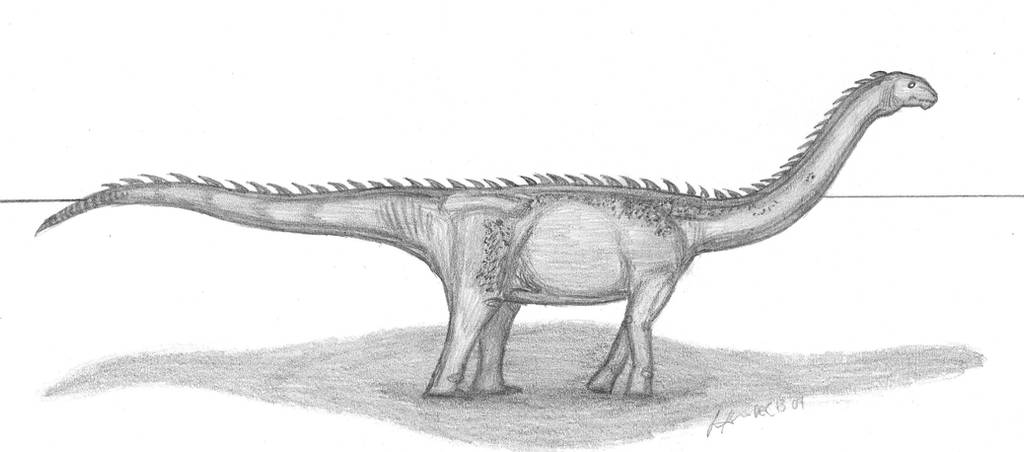 Watch
This is a titanosauriform from Argentina. Recently, a very complete skeleton was found, and you can find mounts of this dinosaur everywhere in Argentina (But seemingly enough, you can never find many pics relating to it XD). It's very basal. Its skull reminds me of Malawisaurus' skull, somewhat.

Edit: I got photoshop. I can clean them. The guy who posted the Seamy comment is right. I thought the new scanner automatically did it for me, but I'm on an LCD and I can't see things well on LCDs. I see what he means now. So...the process to start cleaning the last 10 deviations is now in full effect.

This from the Cenomanian, right?
Reply

Otro sauropodo dibujado por ti, te digo que me gusto mucho. No te preocupes yo tambien saco trabajos hechos con lapices y paint

Reply

nice, im a huge fan on just pencil and paper work.
great picture but the fins on the back look a bit "samey" to me, then again i know how hard it can be for small parts like that, you can see in my stuff when i try draw hands xD
Reply

Oh never mind. I understand. Well, he hasn't been cleaned up yet. Once he's clean, like the last 7 dinosaurs, they'll look wonderous. But I use MS Paint, and I can't seem to be able to use it w/o the mouse...
Reply

dont take my comment as an insult or anything please >.<
i make comments on what i think can be improved but what i think is only my personal preference, what matters is what you think so if you disagree thats fine.
what matters most is what you think of your art

Reply

Well, he's cleaner now. I used the magic tool, deleted the negative space, and umm...I think the tolerance level should have been raised to 30, and there's still some crap left. So I'll keep experimenting with it. As you can see, I'm not very good at using different image editing programs

But it's a start.
Reply

No no, I think you're absolutely right. I blame it on the LCD. And since I gave this guy a darker scan (Because the scanner makes things look really light), all the seam from the aftershave and whatever is really really noticeable, and I'm guilty of not cleaning my deviations lately, because, again, due to the LCD, I thought the scanner did it automatically, but it didn't, because all it does is make things look lighter, and the negative space looked like it was clean. So, yeah. I was hoping someone would notice that and tell me for sure.
Reply

Reply