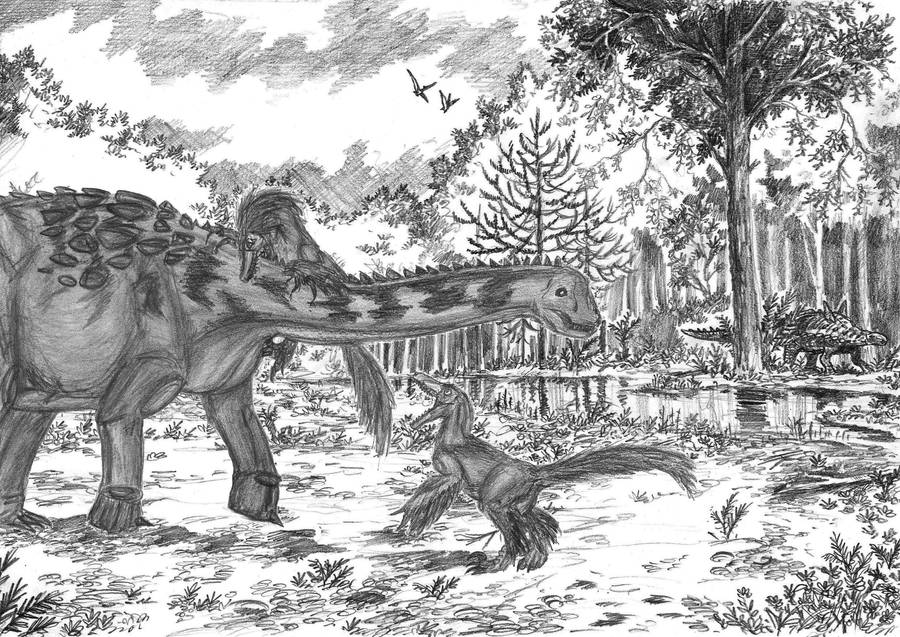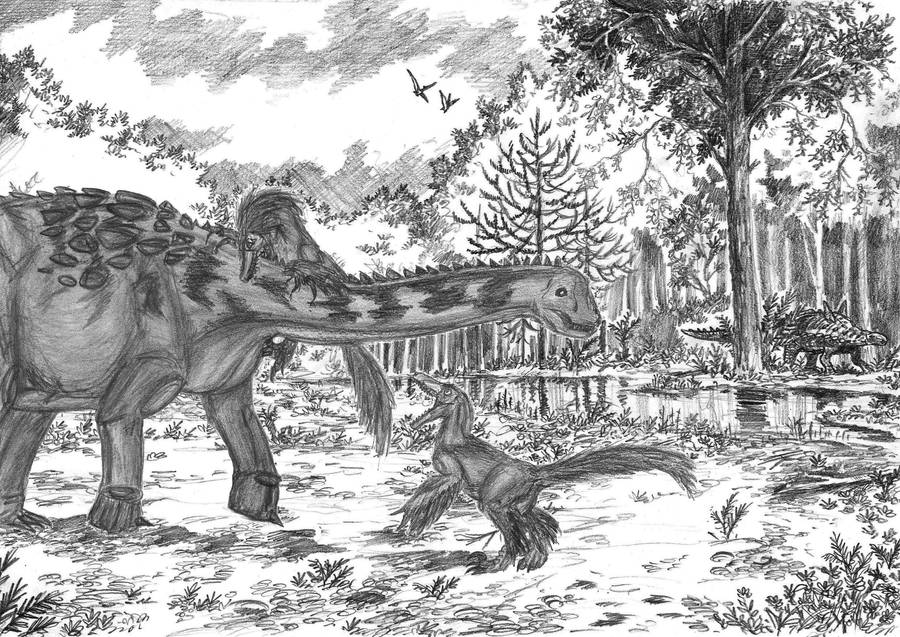 Watch
Background and Struthiosaurus by the amazing

. Check out his amazing paleoart!
Here two Balaurs attack a Magyarosaurus in mid-late Cretaceous Romania while a Struthiosaurus walks around without noticing the commotion around it.
It reminds me of yesterday, when I went out on a drive. Outside one of the campus bars, there was an uber drunk guy pinned down by like 4 cops. I drove around again and the guy was standing up and screaming. I drove around again, and they had called an ambulance for him. Aaahh...Love this town.
Gotta say, I'm not pleased with how MY part of the drawing came out. I feel I should be making better and more anatomically correct dinos by now. Whjat do you think?

Can this be digitally colored or rendered like you WIP version? It looks cool, this one, but the difference in art styles is way too obvious. Looks too much like a collaboration.

and you are very different, so....this can be colorized, right? I like it.
Reply

It can, go ahead. Just mail it to me or post it and give me credit. Myiess did a better version and sent it to me but I have yet to post it. I haven't been here much, but since now I don't have a life (I moved and i'm stuck in a tiny apartment, don't know anyone),i get more creative. So yes. I think it can be colored. I don't use ps much except for cleaning up. Dunno how to paint this. The WIP version might be easier to color, too.
Reply

Never mind, I'll jsut see what I can do. I'll try both out, but I'm busy painting my own sauropods right now, so really busy. Then it's homework. What's your E-mail address?

BTW, jsut so you can know what to expect, you can see into my gallery itself...
Reply

Butts, those look good!

dinobot2005@yahoo.com

or therizinosaurus.2006@gmail.com
Reply

hmm how long did it take you to draw this? :3
Reply

The foreground? not much. The background? Ask :iconpartiatyrannusplz:
Reply

I think your drawings are wonderful.
Reply

really nice you really sepnd alot of time on this i dont even know how to draw much
Reply

i spent more time getting someone to draw the background. many stepped forward, only one came througjh.
Reply

looks pretty good to me

Yeah I read struthiomimus too. funny how our brain autocorrects.
Reply

there's a higher chance I'll draw a Struthiosaurus than I will draw a Struthiomimus. I hate ornithomimosaurs.
Reply

lol I thought I read StruthioMIMUS and not "saurus" so I got confused for a moment... then I'd lol'd a bit.
Reply