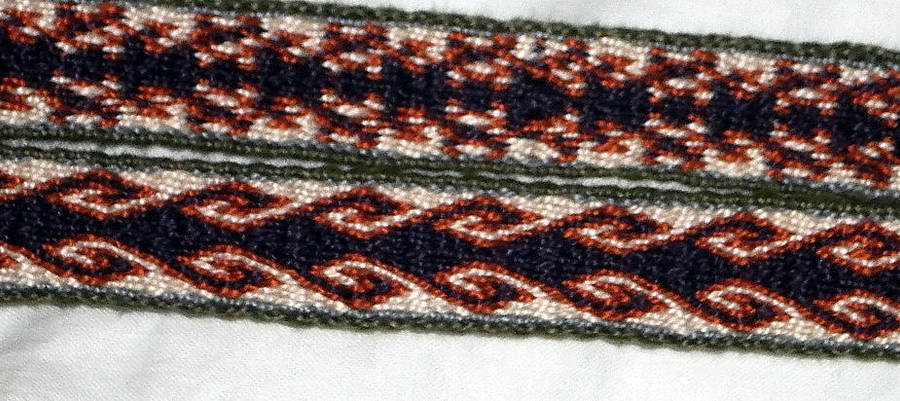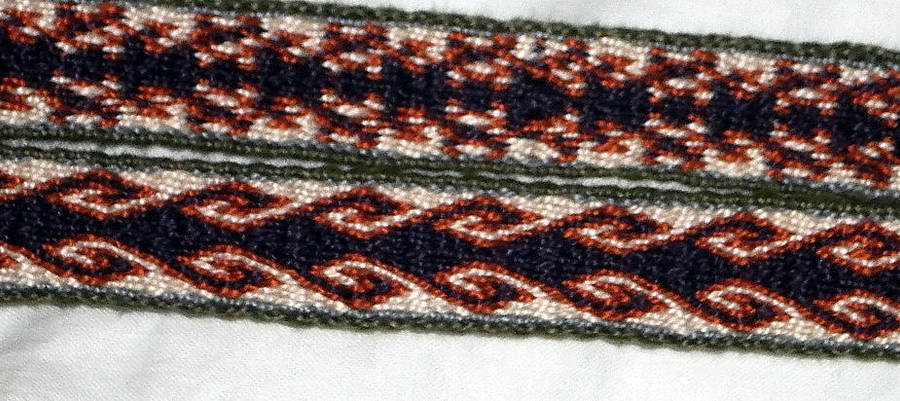 Watch
Successfully weaving the ram's horn pattern may not be a rite of passage but it does seem to be a standard benchmark for demonstrating a level of skill that is somewhere above being a rank novice.

Both obverse and reverse of the band is shown. Material is 5/2 mercerized cotton.

Reply

wow *_* I really like this!

Reply

I wish I could make my card weaved trims so neat

Reply

Thank you.

Which fiber(s) do you use? I hear wool can be very challenging when it comes to getting a neat finish (almost everything I've woven to date is either cotton fiber or a cotton/synthetic blend).
Reply

I weaved trims for an early medieval dress, so I had to use wool

Maybe using something less "proper" from the h
istorical reenactment
point of view would make it easier. Thanks for the tip

Reply

Would flax be "proper" in some situations? I don't have personal experience with linen fiber but from what I've seen it can give a very neat finish (though flax doesn't take colors as well as wool so there aren't as many colors to choose from).
Reply

I will have to check, but it well might be "proper"

Thanks! Colours are not really a problem, as medieval palette was limited anyway

Reply