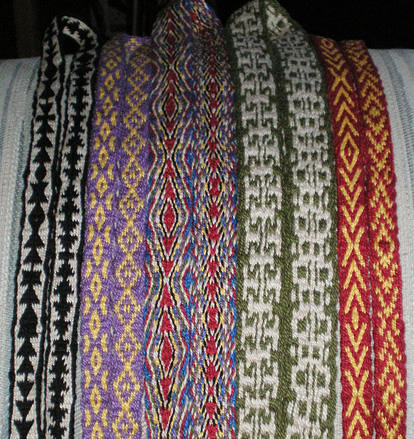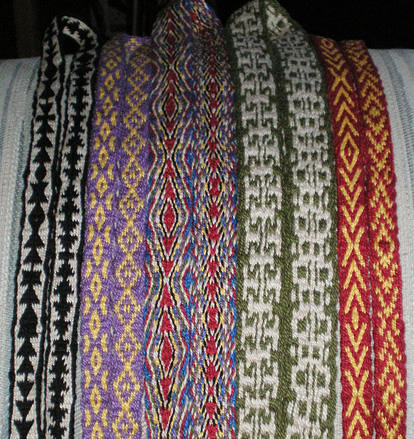 Watch
A quick snapshot to let folks know what I'm doing. This shows the obverse and reverse of five bands made of 3/2 cotton, the design being based on draft patterns from a book. The rainbow and green/white bands are nearly 3cm wide while the other three are about 2cm wide. The wider bands are significantly more challenging in regards keeping the tension right on the warps--I'm not sure exactly why that should be.

The B&W band is essentially a doodle created by a semi-random turning of the cards.

Reply

Beautiful

Reply

wow beautiful patterns! Very tribal, I love it!
Reply

Reply

Wow those are really spectacular
Reply

This look really nice. I especially like the green/white ones, not sure why... All these must have required a lot of patience and persistence.

Tablet weaving is something I should try one day, just to understand exactly how that works.
Reply

Thank you.

The green/white band was by special request for a devotee of Apollo. I personally prefer more subdued shades but some folks like really energetic colors like red & yellow so I made some of the bands using those colors (except for the special request band the bands were made for a fund-raising auction).
I first heard about tablet weaving years ago while browsing the craft section of a used books store. Not sure why I waited so long to actually try it (started last spring) but my only regret is that I didn't start doing this earlier.

Reply

How lovely. Waaay too much patience for me!
Reply


It requires more concentration than patience, at least for me. The work goes quickly when I've developed a rhythm (turn cards-throw weft/finger beat-use beater-repeat cycle). Embroidery requires much more patience; some of my embroidery pieces have taken weeks to months to finish whereas the longest strap I've woven (over 2 m long) was finished in a single weekend.
Glad you like them.
Reply

Wow, okay, I can kind of see what you mean, once you get the pattern down. And doom upon any who interrupt without bringing cookies to soften the distraction.
Reply