Hey guys. You know that "amazingly great game that has NO flaws whatsoever"? I haven't, but I'm sure you guys all have one game in mind. UNDERTALE. The indie game little sweetheart that took the world by storm with its "funny humour" and great gameplay, Only made with a small group of developers. But the game, well, isn't that great. It's like Earthbound, but with added features (and yes, I'm 100% clear that it was inspired by it). The humour is OK, I wouldn't call it "hilariously funny". Imagine a scale thats from 1 to 10. The arrow would be shaking between 4 and 5. All the puns that used to be funny, but are now overused EVERYWHERE that everywhere I see it, I'll piss in a jug and hand it to that sweaty tumblrina that made a post on sans making a hilarious pun only to anger papyrus, and tell them to drink it. Because piss needs to be with some shit, right? And the attempts to be funny at some points in the game, make me either want to head desk or face palm or, table fuck I don't fucking care what you call it.
But because of all the IMMENSE cringe, and the fanbase itself, It's the new FNaF for fucking sakes. Now I will show you some examples. One from reddit, in particular.
Here's the one from reddit. A guy by the name of Noaxzl posted a drawing by OrlandoFox of a Undertale/FNaF crossover. Can you spot the fandom in this 1 picture?
Yeah. 5 upvotes, and
69 FUCKING COMMENTS
.
Let's see who forgot to add some salt to their dish.
"kill me fam"
One thing I don't fucking get at all. What the fuck is a fam? Family? Fame? Famish?
Or is it some funny MAY MAY that came from tumblr. I think it came from tumblr, because all shitty sayings all come from there.
Next.

Go away? You just say go away with NO CONTEXT WHATSOEVER? For fuck sakes.
If we would get some more info, you could've been avoided from this rant, but because you were to be a fucking idiot, you made it on the list.
Also hating on Undertale = Downvotes. This fucking fandom thinks its has SO much GREAT content.
OH, SO YOUR FANDOM IS PERFECT WHEN SHIT LIKE THIS EXISTS?:
BTW, This is a soundcloud NSFW clip of Toriel thinking about Sans.
NSFW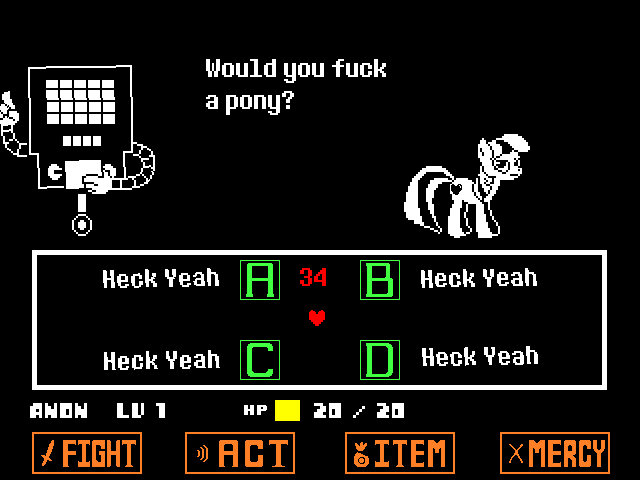 There was so much more cancer but I couldn't fit it all here.
So Undertale fandom, are you SO
PERFECT
now?
Fuck off Undertale fandom, I'll come back when you turn into FNaF (which will happen very soon), and I'll feel sorry for you then.