File No. 5
All hell breaks loose
Another homeland, Seoul, South Korea, Moo-Yeong was having a hard time keeping his thoughts straight. It was probably because the streets were full of women of Korean descent that he craved most. It was hard to suppress his desires. He began to set up his stage with the aid of SIBAREN. Though the number of members was few, its influence was formidable. In no time at all, it provided Moo-Yeong with place to imprison his kidnapped victims, means of transport as well as considerable amount of cash. All these were arranged for Moo-Yeong under the condition that he would share his kidnapped victims (referred to as 'Barbie' or 'Ningyo' in SIBAREN). The Barbies would be shared by means of photographs, videos, and in special cases, personally delivered to the commissioners. Of course the deliveries would be done after the field agent had their satisfaction with the Barbies. The reason the SIBAREN would train Moo-Yeong, who had an extremely unstable personality, in the first place, was to place more agents in foreign lands. At last, after being introduced to a guide
(the victim in SIBAREN file 6)
to help adjust to his surrounding by Ian, Moo-Yeong begins to warm up by kidnapping women.

After a missing woman in her 20's was discovered as a corpse tightly tied up with tape in the nearby mountain, the police in the vicinity became extremely on-guard. Moo-Yeong merely observed as his crime was being handled for the first time in Korea. Once the investigation began, Moo-Yeong committed his crime more cautiously. Keeping his eye on the officers who were inspecting the scene of the crime, the residence of the victims, and their jobspace, he concentrated on disguises and rehearsing his crimes. During this time, one young police officer (victim from SIBAREN file 1, Lieutenant Cha Joo-Jin, a profiler assigned to the investigation unit at the time) strongly attracted his attention. Her sharp, fierce appearance, tanned skin, and the rough manner in which she treated her male subordinates reminded him of his sister all those years ago. In the end, Moo-Yeong committed the danger of getting his hands on a cop. Then he boldly exhibited her corpse without concealing it to provoke the investigation unit. Now with their fellow officer murdered in cold blood, the investigation unit unusually proclaimed the recent crimes as serial murder and invested all they had in order to apprehend the mysterious murderer. But Moo-Yeong evaded the police net every time and increased the number of his victims. (SIBAREN File 2~7)

Detective Kim Min-Ah of Criminal Affairs Division in Seoul District Police Department was focused on a person shrouded in veil. The person had caught her notice while she was investigating several violent crime cases and just from examining a few evidence and their association with the cases suggested that the person was a person of extreme suspicion. However the entire picture was only visible to her. To her team members, it was merely a piece of the puzzle. It has always been this way. She was the kind of Detective that was always one step ahead in spotting and investigating cases through her exceptional insight and drive. As a result, her prowess far exceeded others and speeded her promotion, placing her as a core member of the Criminal Affairs Division of Seoul district Police Department. However the troubles she had with her team members were inevitable. It was pretty obvious considering the fact she was absorbed with investigating the case at her own pace. Every time her senior officer would chastise her, she would seem to obey their commands but when the chips were low she would pry all over the place. The only reason she wasn't expelled was because she never forgot to act with her team when the time came and she never caused serious trouble in her unit. Of course this was before she was chasing Ian.

The reason she was brought to Ian's attention was her contact with Ian's cousin Kwon Hyeon-Tae, Ian's cousin. The fact that she had found the person who failed to become Ian's henchman against Ian's plans was a great achievement for her. She had hoped that through him, she would have been able to know every last bit of knowledge about Ian. She was mistaken. Hyeong-Tae was quite beyond the boundaries of a layman's understanding with regard to his actions and his way of thinking. He wasn't the type of person to give into simple threats and luring. Min-Ah could only return in despair after failing to extract any information. Instead, she only gave him the knowledge that she was a novice with regard to men.

She visited Hyeong-Tae multiple times after that, to no avail. In the process, she attracted Ian's attention. He had recently received information that somebody was trying to keep tabs on him, and that somebody was discovered lurking around his cousin's residence. Ian just calmly accessed her profile via SIBAREN network. Not long after, Detective Kim's name was registered in SIBAREN's main 'Barbie of interest' list.

To Moo-Yeong, who had mocked public authority for so long, the profession of a police officer didn't reach him as a target worthy of his notice. But the dark skinned police officer, Kim Mn-Ah, who was registered on SIBAREN's server, soon gripped his attention. On closer examination, she wasn't a woman of great beauty but her fair appearance as well as her untamed demeanor combined into a charm that tricked Moo-Yeong into thinking that he could almost feel her arousing scent. Also looking into her eyes, he could feel her soul that wouldn't give in easily to any adversaries. She certainly was a Barbie that provoked his desire to conquer her more than any other hunk of flesh.

The easiest point to ambush her, considering her itinerary, was of course on her way to meet Hyeong-Tae. Hyeong-Tae was currently living in an apartment that befitted his title as a tramp, which lacked the simplest CCTV and which was located on the edge of the city, waiting for redevelopment. She was unfortunately too consumed by her duty of removing the blind spot intended for crimes that she was unintentionally exposing herself in that particular blind spot. To her, it was an everyday risk that wasn't of significant importance. Her stellar fighting skills were also becoming for a competent detective like herself. It took less than 5 minutes for her to be dragged more than 30 meters, wrapped up in a giant sack, then knocked unconscious by inhaling wet chloroform fumes and stuffed roughly into a giant duffle bag.

Detective Kim woke up in a dark and damp place and couldn't help but panic. It was the first time in her life that her hands and feet were bound tightly. The realization that somebody had crammed an unknowable and freakish item in her mouth sent a chill down her spine as well as an uncontrollable urge to spew the item stretching her mouth wide. She struggled as hard as she could but her body knew her situation was more hopeless than she imagined. Then the very fundamental question of "Why would someone do this to me?" came to her mind. She obviously wanted to live. Though her situation was entirely new to her, she instinctively knew she was in a life-or-death situation. She could only lament to herself: 'I was almost at Hyeong-Tae's..! I got snatched just inches away from the person who could have rescued me..!' and drool uncontrollably through the big, round ballgag sealed between her lips.

With Detective Kim sprawled on the floor in such a demeaning position, the kidnapper finally revealed himself. Min-Ah's curiosity was intensified once she saw Moo-Yeong's face. A man whom she had never seen before and a foreigner to boot? She had a suspicion that this man maybe Ian but sadly had no way of proving her suspicion. She was already a helpless Barbie only able to make grunting sounds. (The storyline for SIBAREN File 8: Detective Kim Min-Ah 1)

It was now over 60 hours since Detective Kim was kidnapped when the man who had kidnapped her finally gave her the opportunity to attempt an escape. The bastard seemed half out of his mind after indulging himself. After smoking copiously while enjoying himself with her, dozens of cigarette butt were strewn across the floor, … along with a cigarette lighter. The man vanished and didn't return for a long time after receiving a mysterious phone call. Min-Ah desperately wriggled through the bed of cigarettes and got the lighter in her hands and at last, freed herself from her bondage. With her deadend legs, she fled through the abandoned buildings to the nearest highway, where she was rescued by a passing truck driver.

Moo-Yeong must have received a belated delivery order, as the van he returned with an hour later was full of materials for packing. Moo-Yeong was lost for words at the sight of bunch of abandoned ropes that used to bind Detective Kim. He could do nothing but stroke his stubbles absent-mindedly with a desolate expression. He was so shocked by the first failure that he had to spend a long time doing nothing but cope with the aftereffect.

The only clues Detective Kim had after being rescued from the verge of death was the kidnapper's face and the horrible traces left at her prison. The fact that her kidnapper was a foreigner only made things worse. It was a bit of a stretch to continue the investigation. Since the whole thing happened while on the search for Ian's trail, there was little else to do but continue the pursuit. This was mainly due to the fact that nobody in the police department was capable of linking the string of homicides that occurred a year ago to what happened with Detective Kim. But a certain somebody in an abandoned apartment possibly could…

Surprisingly, Hyeong-Tae didn't shut the door on Detective Kim's face when she revisited him after the incident with Moo-Yeong. Hyeon-Tae told her about his uncle for the first time. Then he asked her why she hadn't dropped by for a while. She made up a story of how she had been busy. Hyeong-Tae gazed at her for a few minutes and for some reason, began to talk about sexual deviants. What he said was that a relatively common but not entirely definite signature would be discovered with those victims who had been targeted by such deviants. Then he carried on saying: "For instance..", pointing at the not yet healed wounds that Kim tried hard to hide that was on Kim's wrists and around her clavicle. He told her to search for abductions or homicide cases that occurred in the capital region for the last couple of years which had victims with rope markings similar to Kim's. He also said that what happened to Kim was certainly related to his uncle and that the number of queer cases caused by multiple psychopaths would be increasing nationwide. He added that his uncle always had an interest in such unthinkable psychos and that he was secretly acquainted with them since his days as an FBI agent. He told her to come to him if he had anything to help her with and he said that the person who kidnapped her definitely wasn't his uncle.

Aside from the fact that he knew Ian better than anyone else, there was another reason Hyeong-Tae was certain that the culprit wasn't his uncle. Because the huge person that stuffed Detective Kim in to the duffle bag who Hyeong-Tae witnessed that day didn't resemble his uncle in the slightest!

With Hyeong-Tae's help, Detective Kim at last succeeded in linking her kidnap to the two homicide cases that happened in the past. With that discovery at the head of her reasoning, Detective Kim made the Police Department's executives understand there was a mastermind behind most of the bizarre, unprecedented cases that occurred in Korea for the past few years. The police department then hurriedly put together a [Special Crimes Unit] comprised of elite members of the regional investigation unit. Though she was the victim of a traumatizing case, she was acknowledged for her previous accomplishments and her contribution in this matter. As a result she was recruited from sections for violent crimes. The Special crimes unit then began to expand their range of investigation to capital regions and made progress into Psychotic crimes related to Ian.

The girl across Hyeon-Tae's apartment was getting very irritated when an attractive Female Detective lately began to knock more often on Hyeong-Tae's front door. She first thought the Female Detective had visited Hyeong-Tae to investigate a case, but as time progressed and she began to frequent his house as if it was hers, it started to get on her nerves. Ye Na-Yeong first felt glad when she first ran into a person close to her age in this creepy neighborhood and was beginning to feel a certain affection for Hyeong-Tae after getting close to him while receiving and giving help. Hyeong-Tae's influence on her made Na-Yeong refrain from her previous risky hacker business and while helping Hyeong-Tae track his uncle who was known to be involved in horrible crimes, she even felt she was doing something worthy. The sudden appearance of this "Kim Min-Ah" while Na-Yeong was nurturing her relationship with Hyeong-Tae was a thorn in her side. The time Hyeong-Tae spent with that Detective was getting longer and when Hyeong-Tae did occasionally visit her, it was to get her help on that Detective's investigation. Na-Yeong's envy was getting out of hand. She began to step out of line, hacking indiscriminately into potentially risky domain. And the genius hacker's rampage made her discover SIBAREN's main server, a feat no ordinary person could have achieved. She knew by instinct this was something extremely dangerous. The server was full of horrible and disgusting data for a woman to view. She was terrified but her hands didn't stop. She began to pry into the server. As expected of a well hidden server, the server possessed different pattern of firewalls for each domain. Even for a genius like her, it was physically impossible to penetrate everything in a single day. It was merely scratching the surface. While she was wondering how to smuggle the information she gained, she discovered an astounding video. That woman..! It was the Female Detective! She couldn't move. How... it was unbelievable that could she walk around on two legs after being through something like this. While she her thoughts were on this matter, a tracking signal from SIBAREN's sever began to leak into her computer. She retrieved as much date as she could and chunked the entire server code after which she broke off a small piece into her hard drive which caused the entire SIBAREN server to crash.

She trembled at the thought that she had done something terrifying. But even in her nervous state, she felt a peculiar sense of satisfaction watching Detective Kim's crime video. A few days later, out of curiosity as well as to experience secondhand the pain she must have felt, Na-Yeong headed toward the place the video was filmed.

The police that arrived moments later a call had been received stared at Na-Yeong, perplexed. A call had reached the police that someone was wandering around the abandoned building that had been closed off for a while as a crime scene. The sense of loss and absurdity the officers felt after rushing to crime scene thinking the culprit had revisited the spot, was beyond words. Detective Kim told her colleagues that she was an acquaintance of hers and told them to forget the whole thing happened because she would talk to her. After sending her colleagues away, she took Na-Yeong to the nearby café and warned her to stay away from that place as it was dangerous. Then she took Na-Yeong back to Na-Yeong's house and feeling something was amiss, revisited the abandoned building.

Min-Ah's hunch was accurate. She had sensed someone else's presence when they discovered Na-Yeong in that abandoned building. Though Min-ah didn't know it, that presence was none other than Han Moo-Yeong. Ian had personally visited Moo-Yeong who was living in seclusion after the shock of his first failure and commissioned him to capture the woman that crashed SIBAREN server called Ye Na-Yeong. Obviously Na-Yeong had underestimated SIBAREN. At first, Moo-Yeong simply planned to storm Na-Yeong's house but instead followed her to kidnap her at the right time when he saw her leaving the house just in time. Na-Yeong's destination surprised even Moo-Yeong. It was the very place where he and Detective Kim had their sticky, violent encounter. As he deliberated while ruminating the time he spent with Detective Kim there was the sound of blaring sirens. Then his heart began to pound as though he was surprised at a party when the very woman from his memory appeared right in front of him. From where he was hidden, it looked like Ye Na-Yeong and Detective Kim were closely related. He could tell from the way Detective stood up for Na-Yeong and how she took Na-Yeong to the café. He knew the server could be repaired right away if he took Ye Na-Yeong as was first commissioned. But this unexpected coincidence seemed like an opportunity bestowed on him by the heavens. It was like a divine prophecy telling him to have his revenge on Detective Kim and make his comeback. Sure enough, as he followed Detective Kim, he saw her heading toward the abandoned building as if to say 'come and get me.' It really was a god-given opportunity. He rammed her like a bull from behind as she was searching for clues and while she lost half her consciousness from the fall, he restrained her in a frenzy.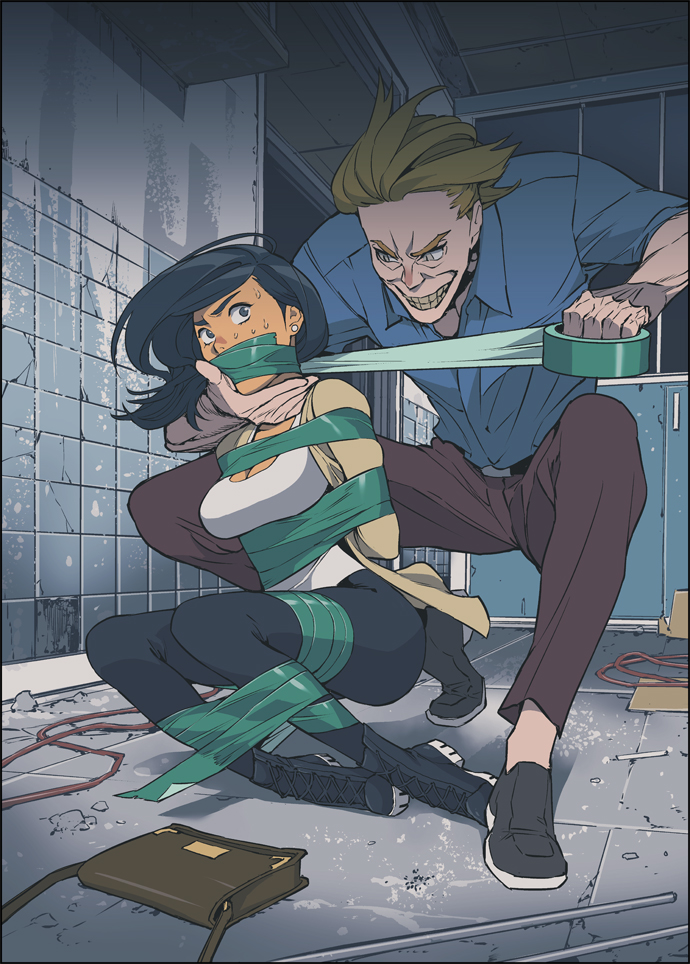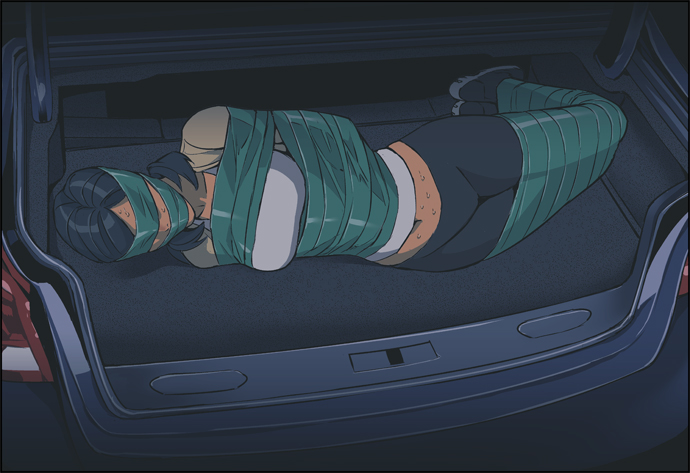 With Detective Kim held as a hostage, he threatened Ye Na-Yeong. Na-Yeong couldn't care less about what happened to Detective Kim but she knew her life would be in danger if the kidnapper was allowed to have free rein. So she acted as if she cared and plotted the means to get rid of the kidnapper. While fooling him with her act, she discovered where the video was being filmed and lured Moo-Yeong outside with false information that the decryption key was outdoor and set him up so that the police would be able to catch him once she called the police. Then she snuck into the place where Detective Kim was being held and succeeded in collecting various clues on SIBAREN and Ian while pretending to rescue Detective Kim.
(The storyline for SIBAREN File 9: Detective Kim Min-Ah 2)
Moo-Yeong managed to lose his pursuers after almost being arrested from the police's net but received a huge blow as well as the disgrace of letting the same woman escape from him twice.





With his failure fresh on his mind, he laid low for a few more months and lost his temper and recklessly proceeded to kidnap Detective for the third time. Without exception, she could do nothing against Moo-Yeong's assault and suffered the pain of dragged around like a plaything, bound and gagged to the point where she couldn't even feel her blood flow. But Hyeong-Tae witnessed the crime again and, in order to wash away the guilt of doing nothing while she was kidnapped, gave chase and freed her from Moo-Yeong's clutches.
(The storyline for SIBAREN File 10: Detective Kim Min-Ah 3)
. Because his assault was so poorly thought out, he suffered his third bitter failure. Moo-Yeong's reputation within SIBAREN worsened as he changed the target on a whim, delaying the SIBAREN's server repair, and almost exposed SIBAREN itself by allowing his target to escape multiple times. SIBAREN decided to send Moo-Yeong to the suburbs to lay low and observe the situation at hand.

The story picks up 5 months later in "SIBAREN File 11"…