A few random people who've just inspired me today.

Her style has something going with it. It's always loose and a bit sketchy, and while some people can't manage to make that look good,
BurnAwayy
can. This girl knows the perfect way to use colors, textures, form, and line to her advantage, unafraid of showing those preliminary sketches in her peice. I'm sure she's aware that seeing those sketchy lines just make an image that much more endearing in the end, especially with her delicate and porceline-soft style.
:thumb104069435: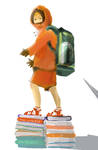 This person is fairly new! In fact I just happened to stumble upon them after seeing their wonderfully designed comic page for "Somebody", a comic relay created by
Laphy
. They (not sure if you're a guy or a girl!) know their formal art, it seems. I see crosshatching and well-placed shading in their gallery, as well a a nice little dancing Kyle. D'awwww.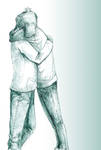 And speaking of

Laphy has an amazing style. AMAZING. Every single peice of art has personality just blowing out of every pixel. And not just that, she knows how to use strong, saturated colors and create uncrowded group compositions! And the worst/best thing is she posts like 5 times a day, which is just amazing. Most people don't even do 1 a day, but this girl just does like... 2 or 3 on average. While she does have a few anatomical issues, at least she's trying to go into the unknown by exploring difficult poses and perspectives rather than recycling poses and staying in the safe zone. That's how artists and people improve, by taking risks. As for the deviation recommendation, there's too many to choose, go look for your own favorite.
----------------
I was on a little hiatus cuz of personal and family issues, but I think I'm almost over it. I still need to get out of being in an art slump though. As for you guys! Keep drawing! One day you may inspire me and be on this list too, as random as it is. But don't aim to be on here, aim to get better and have fun!
AND DON'T FORGET MY PORN CONTEST. The deadline was extended to Valentines!
----------------