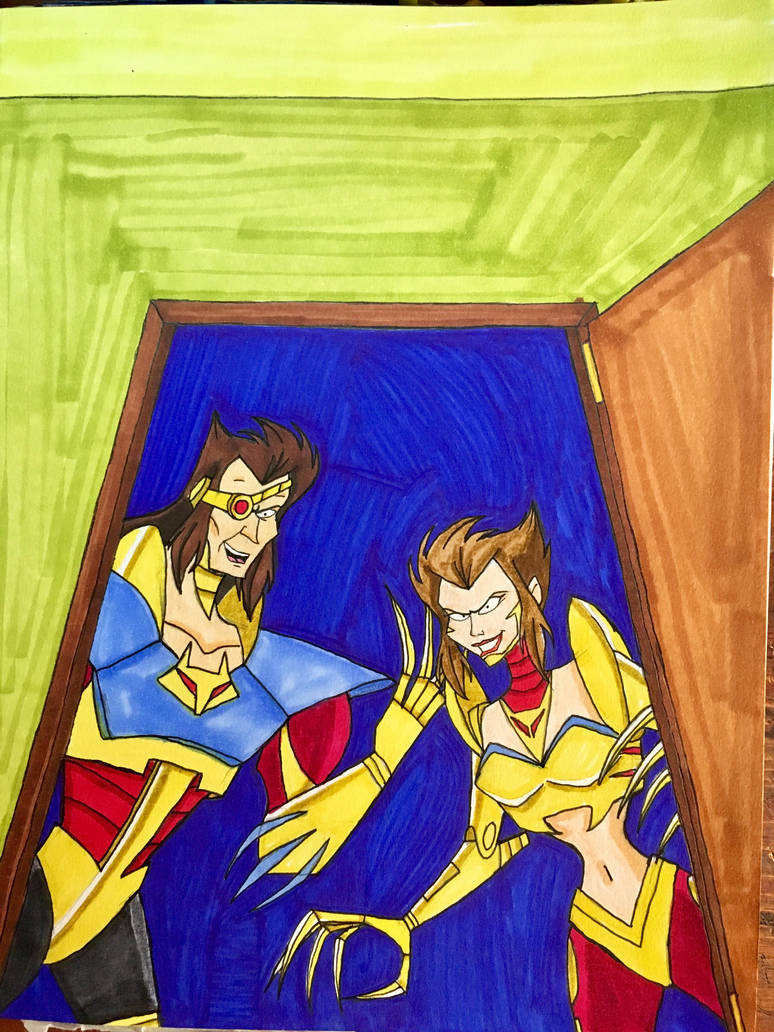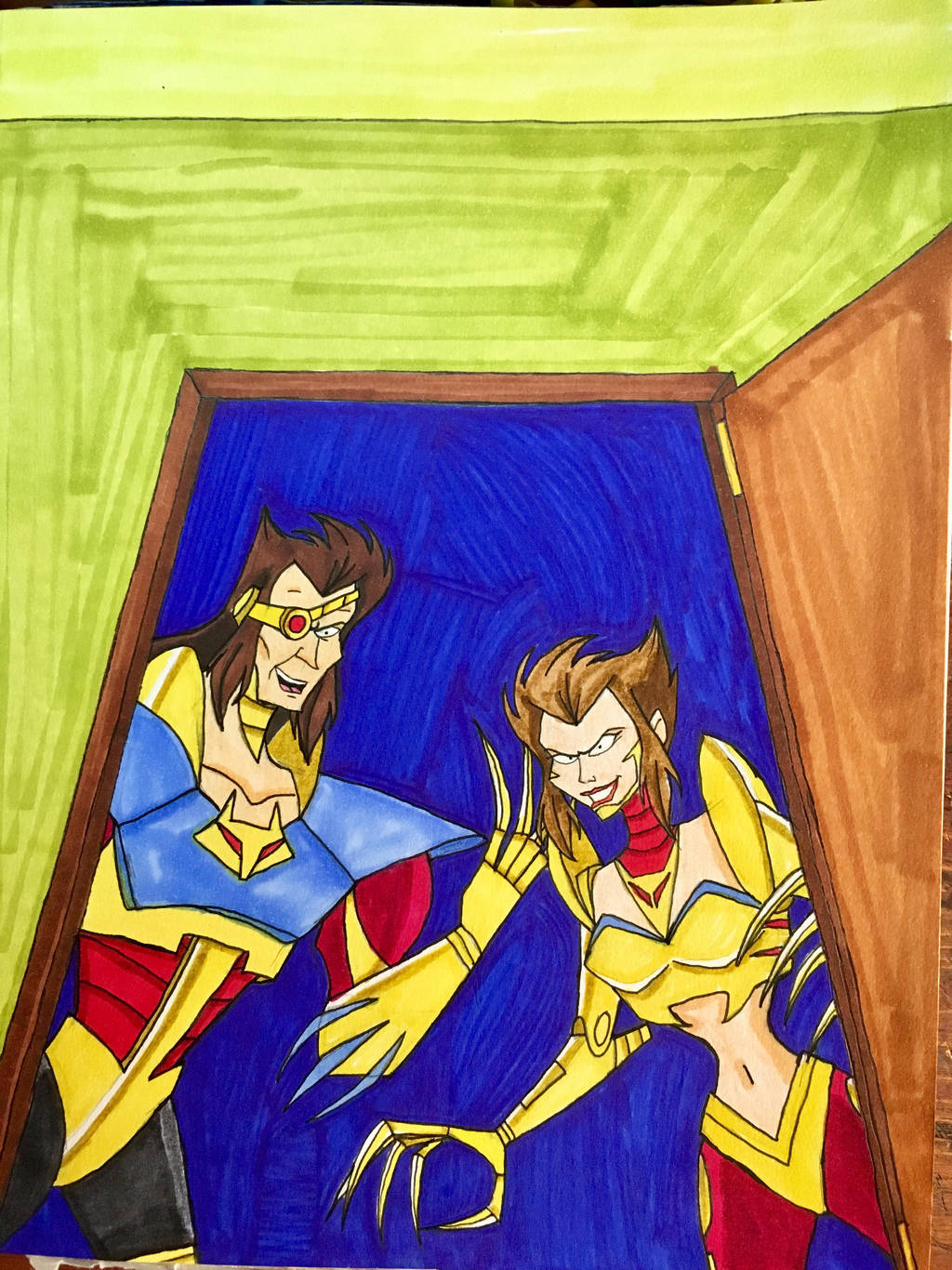 Watch
Well here's a scary pic of My Favorite Villains from 'Gargoyles' Jackal and Hyena! And for all Gargoyles fans who are familiar with my work, you Knew this was coming!

So try to imagine, you're home at night, All Alone when suddenly there's a knock on the door!
And when you open it, there you see the Twins standing there flexing and extending their claws and both having a Horrid Grin! And Jackal says....
Jackal: May We Come In?!......
I drew this by hand and colored with Markers!
DISCLAIMER: Jackal and Hyena and Everything 'Gargoyles' belongs to Disney and Greg Weisman!

Cranky Kong: *peeks through a crack of his barely-closed door*

Jackal: May we come in?!……

Cranky: One moment! *quickly closes door, and turns to a trembling Diddy Kong and whispers in his ear* It's Jackal and his psycho sister Hyena! It's a trick! Prepare to activate the trigger barrels!

*Diddy grinned as he sneaks off to do as he told him. Cranky turns back to the door, opens it wide to the dastardly duo*

Cranky: Sure! Come on in! *They casually walk forward to the door, unaware of what was waiting for them*

*Diddy jumps onto the trigger barrel, setting off the trapdoor beneath their feet, much to their surprise!*

Jackal and Hyena: *look down to see they are now (momentarily) floating and futilely kicking their feet in thin air* AAAAAAAAAAHHHHHHHHHH!!!!!!!! *drop through the floor- and the trees*

Hyena: Strategy one: Run and punt!

Jackal: *runs toward the door, right hand out and left hand tucked to his side as if playing football*

Cranky: Now!

Diddy: *Jumps onto barrel again*

*The planks of the bridge they ran on flip to the sides, flinging them off like boogers!*

Hyena: Strategy two: Bungee barrel! *She is in a barrel set up like a cannon, with Jackal lighting the fuse, launching her toward their door.*

*Diddy repeats the process, this time springing the end of the bridge up like a drawbridge, causing the cackling madwoman's smile to drop as she crashed into the obstacle*

*Diddy activated the trigger barrel again and again, sending the determined whackoes flying!*

Hyena: Strategies seventeen, eighteen, and nineteen: FAAAIIIILLLL!!!!!!!!*
Reply

I totally forgot about these two... I just wouldn't open the door in that case.
Reply

Yeah! Slam The Door in their Faces! Lock it! And RUN And HIDE For Your Life!!!!!
Reply

If I saw them at my door, I'd keep it locked and then dial 911!
Reply

This is why I check the window first. You never know what other supervillains might be encroaching on your turf.

"Rocky, activate the electrified welcome mat."
Reply

Oh man

Reply

Jackal and Hyena are one of the best villains from Gargoyles after all.

Reply