Welcome to my newest top 10 lists. Disclaimer; TMNT 2012 is my favorite cartoon of all time, but if my character comparison didn't give this away, the show isn't perfect. I prefer it over Steven Universe for a few reasons, one of them because it's a lot harder to make a worst of list, there are only 4 or 5 episodes on this list I don't like, but that could be because I do have a soft spot for this show. This was my awakening for a big part of myself; it rekindled my love for cartoons, it gave me a new respect for Nickoloden(despite them abusing the show) it got me into the franchise, it triggered my addictive personality, it triggered my love of researching and reading fanfiction, the show was an escape for me for a handful of things like school and fighting. This show has left a bigger impact on me than literally anything else in my life. It is my favorite Nicktoon of all time, and I have high hopes for Rise of the TMNT. However, I can't say the show is perfect, it's my favorite cartoon, but I won't call it the best. It's just really something special to me and I need to make this list in order to appreciate the better episodes all the more. With that being said, let's get this over with so we talk about the good episodes. Also, expect
spoilers
on this list. You've been warned
THE TOP 10 WORST EPISODES OF TMNT 2012!
10.The Kraang Conspiracy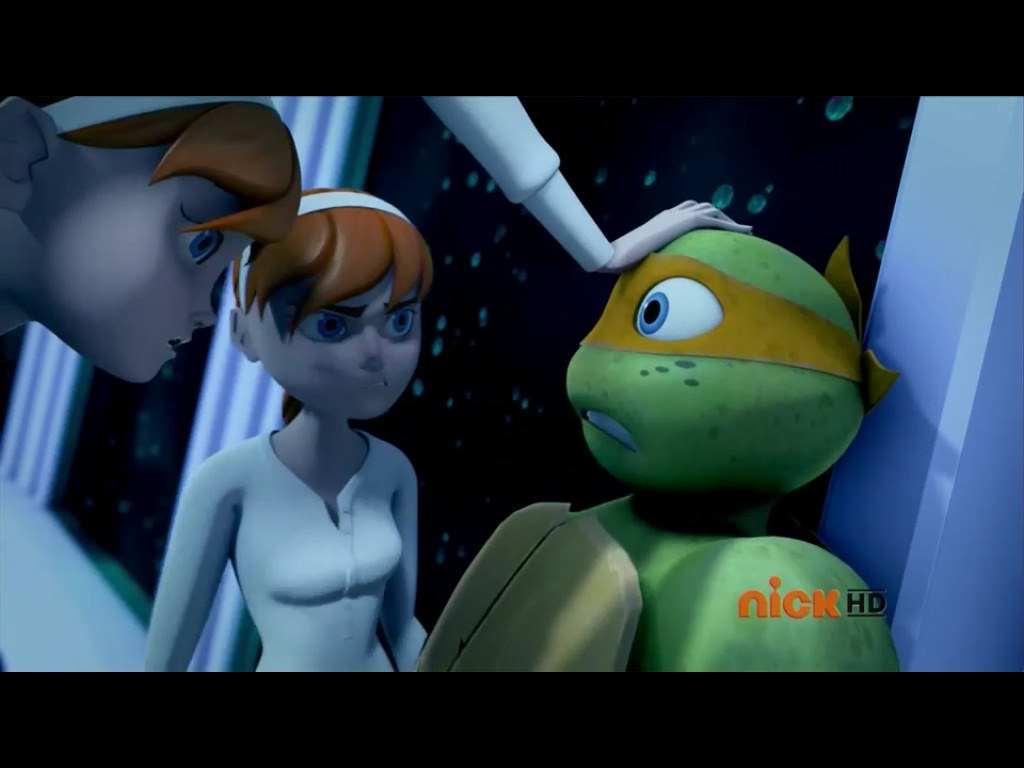 I actually really enjoyed this episode, I loved meeting Kurtzman, getting all this interesting information about April and the Kraang and we got some creepy visuals. Which leads us to the only yet major problem with the episode, it throws WAY too much information at you at once. I don't mind this problem as much as not telling us enough like with Casey's unseen family, but there's gotta be more balance than this. On top of that, we never see the April clone again after this episode, and they could've been a really good weapon against the Turtles, the Kraang have been able to make decoys in the past or mind control. With that said, this episode does have fun character moments, good action, a great new character, a future mystery, and too much information is better than a lack of information. A lack of info has been a consistent problem in the 2012 series, like again, Casey's Family, we don't learn jack shit about Shinigami, we don't know Bradford's origins, we don't even see April's Aunt. I guess this episode is just a lesser of two evils, but it's still an issue none the less
9. The Croaking
This is another episode that only has one major problem that puts Mikey in a bad light, and that's the beginning. Okay, so you want to convey that the others don't appreciate Mikey, okay that's an issue throughout the series, but not in this episode. Mikey makes a huge mess and feels justified in running away when he's expected to clean it up. I'm putting this higher than The Kraang Conspiracy because this was a VERY easy problem to fix. Here's my idea; Mikey is feeding the chickens when he sees that Donnie's barn lab is a mess, so he decides to clean it for him, when he accidentally knocks over something important and there's an explosion. Due to this misunderstanding, the boys yell at him and expect him to clean up without listening to his side of the story. There, problem solved. If they had done that, this episode wouldn't be on the list, but with lines like this
"This is the 3rd time you've messed the place up in a week."
It's hard to see Mikey as anything but being a brat for not wanting to clean up after himself. Granted the others were being a bit too harsh, but the episode is trying to say that Mikey isn't appreciated. This doesn't work because, in this instance, Mikey hasn't done anything to warrant appreciation. I guess this could be a final straw thing, but again, there were several simple ways to convey this much better. The rest of the things in this episode are fine, but not too memorable. The frogs are cool, Napoleon and Mikey's friendship is charming, and it's fun to have Maurice Lamarche on the show for once, and there's plenty of good visual gags. However, I have to take points away for a bad execution of simple plot line.
8. Heart of Evil
I'm honestly struggling with this list, I like this episode too, and I've liked the past two episodes. In fact, here we have another fascinating idea that's simply not conveyed well. The team is on the hunt for the Heart of Evil to prevent Shredder's resurrection, only for their mission to be jeopardized by Donnie's past grudge against the holder of the heart, Don Vizioso. Okay.... so what's the problem? Well, Donnie's life has been threatened on a weekly basis and in worse ways, there's no given reason why Don Vizioso is so special to Donatello. I have a theory, but that also intertwines with this episode's problem. My theory is that Donnie is releasing his grief over his late father out on Vizioso. At this point, Splinter's death is still fresh and the Turtles have to adapt to living without him. Donnie probably has some pent-up rage and this was his first outlet to release it on. That would fix all the problems with this episode if that's actually what they did. Without this theory, Donnie's anger towards Vizioso makes no sense since Vizioso didn't do anything that Donnie shouldn't be used to at this point. Donnie's life gets threatened at least once a week, why was this any different? It's not left Vizioso actually left a scar or something, what's this grudge all of a sudden. This is a similar problem to the Legend of Korra episode, it shouldn't take a fan theory for an episode to make sense, you need to convey this information in canon or else it's just plain confusing.
7.The Pulverizer Returns

I hate the
Pulverizer, end of story. He's insane, stupid and causes more trouble than he fixes. I'll give this episode credit, it does have a good moral about being careful what you wish for, adapting to your surroundings, and it has more of Splinter just being amazing. This is honestly just a filler entry, I hate the
Pulverizer, I think his Mutagen Man design is less creepy than his human form, let's move on to an episode that has actual problems in it
6.The Mutation Situation


This is another episode with one problem, but this one problem single-handedly prevented the 2012 April from being my favorite April. And that's the scene where her dad gets mutated. We all hate when characters who are otherwise very intelligent and badass are made stupid for the sake of the plot. MLP has been guilty of this quite a bit, and April is guilty of because she just STANDS THERE WHERE MUTAGEN IS FALLING TOWARDS HER! The only reason she does this is so her Dad can get mutated. Yes, the turtles let the mutagen fall, except they didn't, things just got out of control and there wasn't much they could do to prevent this from happening. They were fighting, buttons were hit and the mutagen was spilled across the city, it's not really their faults. April and Kirby for that matter were the ones who caused their own problems by being idiots. Something about April getting angry at the Turtles doesn't feel justified when she just stood there and let the Mutagen hit her Dad. This is never brought up, and her anger goes on for six episodes. It's like Connie's anger in the recent Steven Bomb, the anger didn't feel justified, it went on for too long for the angered character to be in the right, and it's just Connie and April being illogical, selfish, stupid and stubborn. To be fair, unlike Connie, April didn't prevent any action from happening from her being an asshole, and April was slightly more justified. That said, the episode does have a lot of good humor, suspense and action, not to mention it does lead to a really fun story arch with the Mutagen hunt. However, that one moment destroyed this episode, and I lost a little respect for April after it.

5.The Pulverizer

Leo's face sums up my feelings towards this character. Fun fact, I used to find the Pulverizer more annoying than Ronaldo from Steven Universe, how blissfully naive I was. This episode does plenty going for it, we get Fishface back in action and we get to see the Shellraiser for the first time, but brings me to another issue I have with this episode. I know the Turtles are only "human" so to speak, but I thought it was too stupid of them to use the Power Cell to run the Shell Raiser, and treating it like a toy. It just feels like another jackass move that's done for no other reason to move the plot along. You need the Turtles to lose the Power Cell, fine, there had to have been a better way of doing it than this, with a MUCH less annoying side character. The most The Pulverizer does positivity is adding some depth to Donatello's character, and I do like that Donnie has the patience to help this crazy moron learn self-defense. I already did a comparison about these two, but Zach from the 80's series is basically a much better version of The Pulverizer, mainly because he's much less cringe-inducing and annoying. I can't stand his design, it's too rubbery and flexible, and his eyes are too small. This show can do cringe comedy, not perfectly, but it was done better in episodes like Mikey gets Shellacne. TMNT 2012 can be very good with its filler episode, better than Steven Universe, but this is an example of when they were desperate for something to move the plot along and just give a new character who's not interesting and honestly kind of creepy. If you want to see a better creepy stalker fanboy from Ciro Nieli, watch the Monkey Team episode, A Man Called Krinkle

To be Continued

What do you guys think? What's your least favorite TMNT 2012 episode and what are your thoughts on these episodes?