Some of my older art is a bit outdated on style but these are my recent chibis: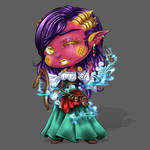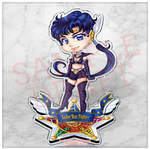 For older samples, please visit this gallery link:
imhiseternalangel.deviantart.c…
For a limited time I am opening up Chibi Commissions to pay off a few bills.
What you get:
Sketch approval, Line Art (with transparency) for you to color yourself, 2 Colored files, one with and without a background.
How to Contact:
Please note me with the following information:
Subject: Chibi Commission
Character Name:
References:
(can be past art, fanart or in the combination of photographs or google images)
Important:
Please keep in mind the quotes I give of the chibis is per character. More characters result in extra charge. More complicated character designs that are out of my comfort zone is subjected to be up-charged due to longevity of drawing the piece.
This artwork is not in any form in promoting marketing materials and should not be used to make your own merch, business merch, advertising without my consent in a license of permission. Every art piece I do is for personal collection only and not used for anything else. Please be aware I may not be able to draw everyones OCs based on personal limitations, but please inquire first so I may review your information appropriately.