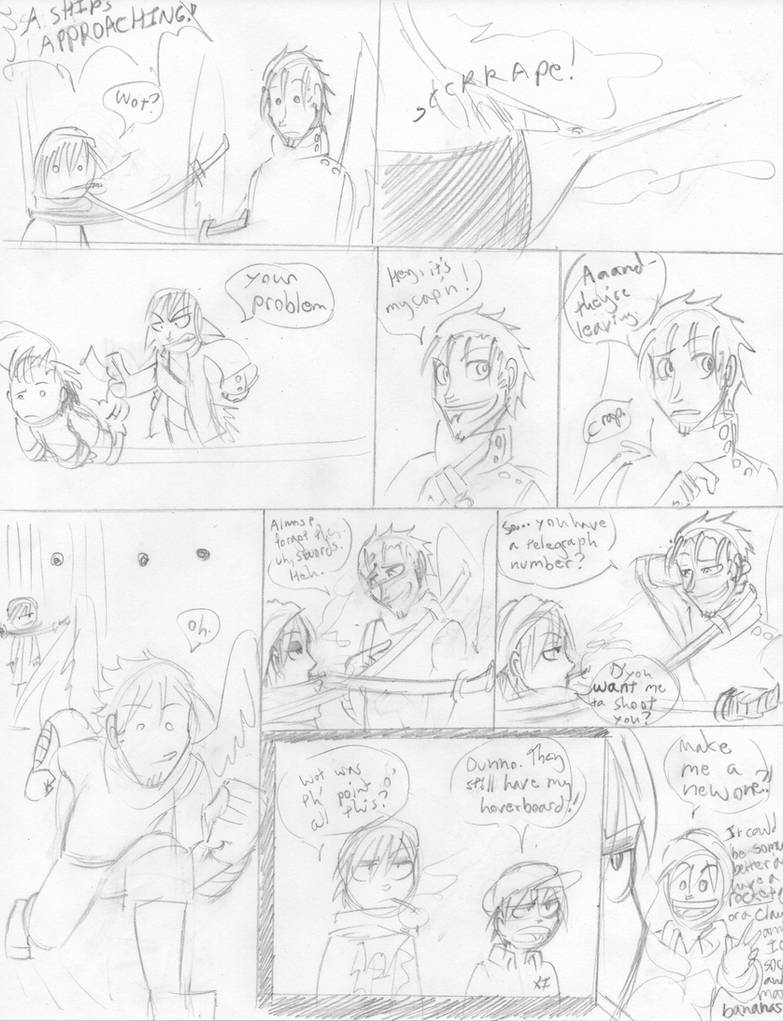 Watch
Yaaaaay.
OH GOD ALL THESE PAGES. And there's only fighting in, like, TWO.
Next time I do an OCT, the dialogue will be, "Hey, you. Fuck you, let's fight."
Edit: And it turns out the deadline is the 15th! *headdesk* I might add a crack page, then.
OC Tournament.
Tanden, Alex, Claire are
's, all others mine.
Page 1:
[link]
Page 2:
[link]
Page 3:
[link]
Page 4:
[link]
Page 5:
[link]
Page 6:
[link]
Page 7:
[link]
Page 8:
[link]
Page 9:
[link]
Page 10:
[link]
Page 11: Here

I've been reading through alot of the First Round entries [I'm reading RS because I'm rooting for Falingard] and so far, I had agreed with the rulings for who made it to round two; but I think I might disagree with yours.
I feel like, even though the judges say k-lynette incorporated your characters into her story, that they were defeated too easily. In your version, your own character [Angle] gets tied up on the enemy ship and is (kind of) bested in combat (spare gun). I think it's important to show that everyones characters are on a level playing field when doing a multi-author tournament like this.
Because I'd like to see you go further in tournaments like these, because I believe your style is cool and you have alot of raw talent, I'd like to- as a fellow aspiring artist- offer just a little constructive criticism, if I could?
It seems as if, throughout the contest, that the person who advances through the next round is not necessarily the one with the more unique art style, but is almost always the one with the 'cleaner' art style.
I think... it would do you and your characters more justice (especially if you plan on doing alot of action sequences) if there was more focus on detailed movements instead of reducing the quality of the panel so that more action can fit in.
Take for example, your own page 5! I love the detailed expression and "Wot the 'ell?" look on Tanden's face and then the zoom-out to look at Angle's predicament and his expression too. They're priceless.
If you could take that level of detail, and say, incorporate it into what you did with pages 10 and 11, you'd have some high quality action sequences; even if it meant more pages overall.
At the same time, I know that life is always the #1 time restraint, but more confident and focused art and detail, I think, would take you a long way in future competitions.
That said, I'm sad to see you out of Rogue Skies, as I'd hoped to see your characters in more styles (they'd be really cool in full color, eg. if you'd faced Ekuneshiel) and hopefully a Round 1 exit won't discourage you from trying more of these in the future!
Hope to see you around, best of luck,

Reply

I read Flaky Pastry, and I found Falingard's dA account because of the contest. <3 I was torn between wanting to do something with Zin and Riel, and being terrified at the possibility of going up against him. I love how he draws noses...which is an incredibly random thing to fawn over, but most people don't put that kind of facial variety in female characters. [/fangirl]
I definitely think you're spot-on. I tend to try and cram a lot of panels into one page, especially when I'm rushing and strapped for time. And I definitely like the pages with larger panels and more detail a whole lot more than I do the tiny, squished-panel ones. I love how obvious it is to me now that you've said it, haha.
Before I entered RS, I never even made it past the application round in any contest. I really wish I could have gone farther, but just making it to the first round is definitely a step up from where I've been before. So it's been pretty encouraging overall. :P
While I need to focus on school right now, I'm definitely going to try a contest again. Next summer at least, if not sooner. Seeing someone else draw and interpret my characters was way too amazing not to try it again.
Thanks so much for the critique! I never mind it and I usually learn something. XD Definitely hope to see you around, too. Who knows, we might even go up against eachother in a tournament one day. <3
Reply

so how is this contest thing working. are u just designing random pages, or whats the deal...I don't get the contest conection but I <3 the comic

Reply

Aw, thanks. I was supposed to do a theme involving air pirates stealing gear from eachother and my chars battling K-lynnette's chars, except I kind of failed at it. XD
I ran out time to finish the pages because of a chem midterm, so I had to scan them and slap text on them as they were. Didn't make it to the next round, but I'm probably going to try a spectator entry or two, maybe.
The first round entries are all here:
[link]
Reply