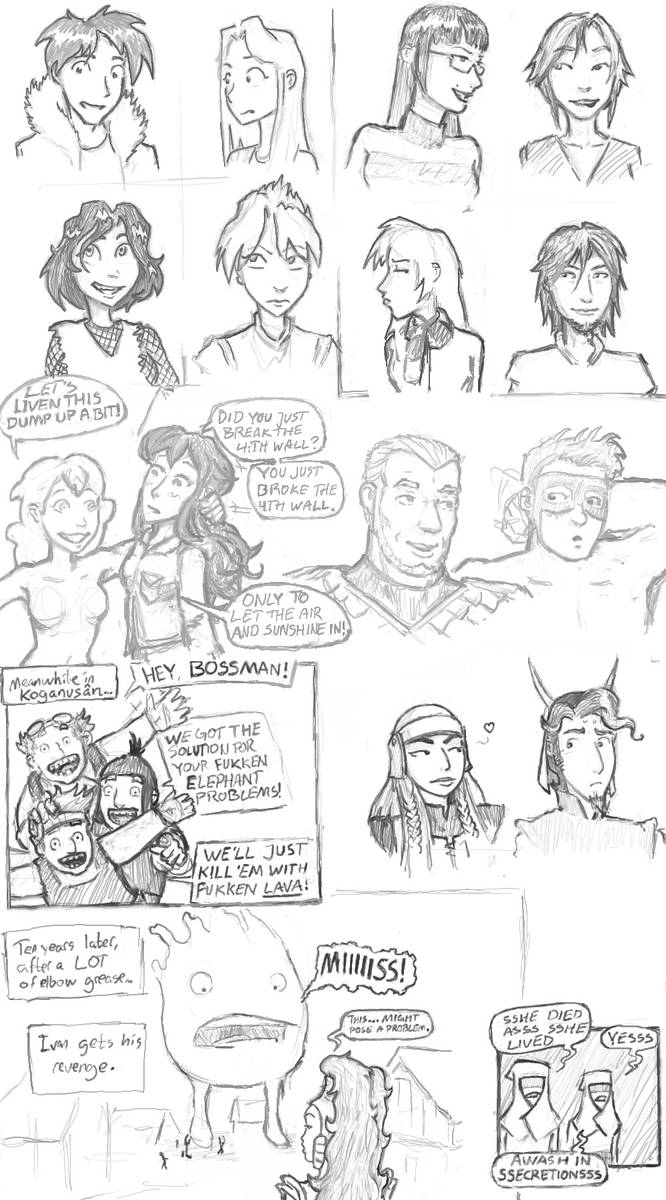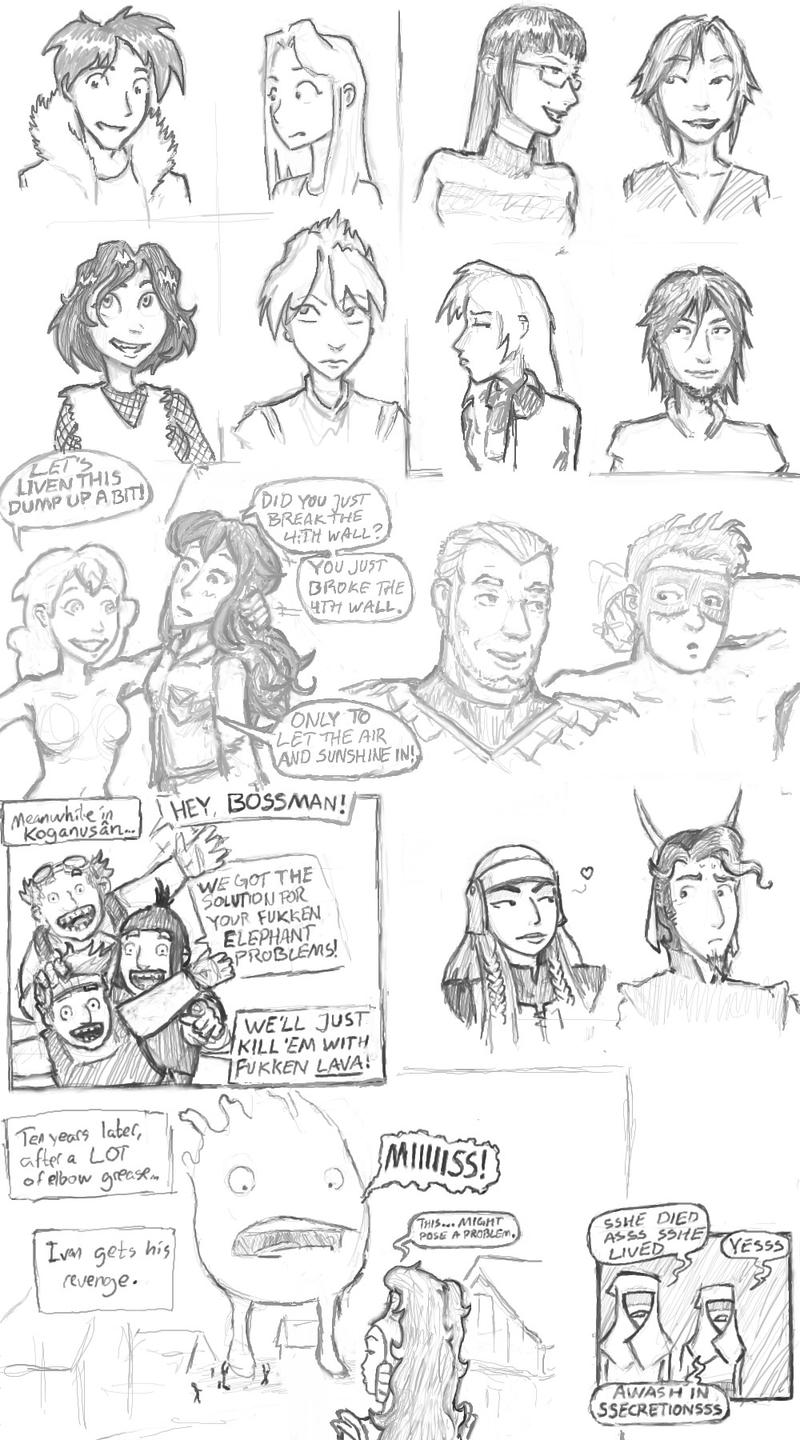 This time, I bundled together fanart of some comics I read which are more or less sexually oriented, so as to form a "theme issue" of sorts. These comics cover the range from plain romance to straight out porn, so yeah, researching them further might lead to NSFW sites.
------------------------
EDIT: added comic descriptions:
From top to bottom(and left to right), we have:
*
Peter is the Wolf
(Mildly/definitely NSFW)
A raunchy werewolf comedy if you choose the Mature section, shading over into outright furry porn if you read the Adult version.
Nobody told Sarah Hazen that Lycanthropy is a virus which can be sexually transmitted. More to the point, her boyfriend was never told either - and he IS a werewolf. And now, so is Sarah. Zany hijinks ensue, as they both try to deal with Sarah's newly acquired, frickin' HUGE alter ego, which has all the attention span of a newborn puppy.
*
Sunstone
(NSFW)
A romantic story with humor and great characterization, about how two people go from a tenuous internet friendship to... a domme/sub lesbian relationship.
*
Go Get a Roomie
(mildly NSFW due to the occasional naked female torso.)
Squee-worthy slice-of-life comic about how energetic hippie hedonist Roomie strikes up an unlikely connection with sleeping beauty Lillian, who suddenly finds her laid-back life intruded upon by the amorous bisexual, her wacky antics and her various kinky friends - and to her own amazement, doesn't mind it all that much.
*
The Young Protectors
(relatively safe, though featuring gay kissing and mild male nudity):
A gay romance made more interesting by the fact that the younger partner is a Superhero, and the older one is the world's most feared Supervillain.
*
Oglaf
(frequently NSFW, but varies)
Short sex comedy comics tell a story about a land of magic, monsters and mayhem.
-> This one was my favourite to draw for; there are loads of story threads sticking out to play around with - I had to limit myself to only two fifths of the page.
Oh, and the first Oglaf panel references the Dwarf Fortress story of Boatmurdered, which is crazy enough to have featured THOSE dwarves.
------------------------
For those who are curious about my other work, and also fans of adult themes, well, I don't really do much of that in my own comic, but the most relevant excerpts would be
this one
and
this one
. Oh, and on the romance theme, I've got this Girl Genius fancomic:
The Jägermonster Dating Guide
, which people seem to enjoy.
------------------------
I read a lot of webcomics and some amount of web fiction, and over time I've found that quality of writing - and to some extent drawing - is the most important part for me, rather than the subject matter in itself. And while I might not share the various kinks on display, their existence shape the respective stories in unique ways that I appreciate. After all, a big part of the draw Science Fiction has on me is the opportunity to see how people reason and interact when they have entirely different values, cultures or ways of processing ideas.
Over all, I find that the sexual orientation of the characters in a work is a non-issue for me, compared to what
genre
it is. I'll read novels targeted to girls, M2F transformation stories or gay prison romances - as long as they are Fantasy/SciFi and contain great world-building, or at least great humour.
--------------------------
Which didn't stop me from feeling just the tiniest twinge of "
Oh noes am I admitting to liking this stuff in public? Years from now, mean people will dig this post up to stop me from acquiring [cool job]/[prestigious prize]!
"
But eh, whatever. Anyway, I guess that's why the long-winded justification above...
------------------------
Long time since I posted anything, but I'm temporarily home, and I've got access to my drawing tablet for once - not an opportunity one should waste!