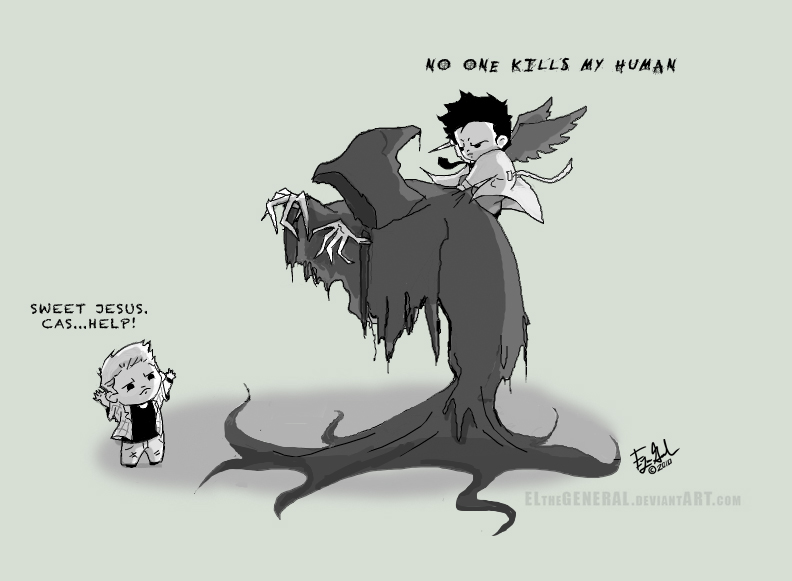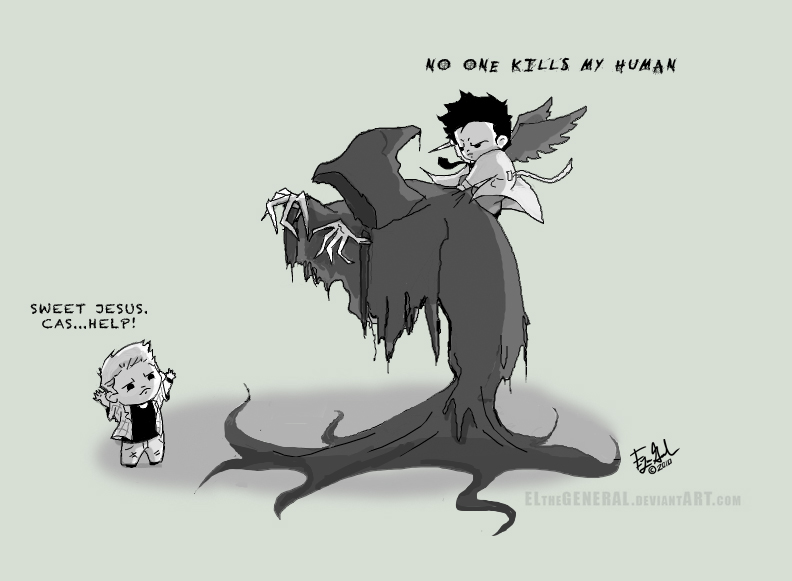 Watch
NOTE:
This is not a spoiler of any kind. It's about the concept of the entity of death and danger of dying, as a symbolic icon for Castiel's devotion to Dean in protecting him from mortal dangers. Not "Death" the horseman.
T_T tl;dr -> Entirely made up.
PREVIOUS SPN DOODLES HERE:
[link] - SAMXDEAN SAMIFER AND DEANMICHAEL.

[link] - SAMMY'S FAIL BIRTHDAY
Here's another Supernatural doodle done on Tegaki and then spiced up in PS. Except, you know, monitor calibration invisible DA background fail. XD
THIS IS THE FIRST CAS I'VE EVER DRAWN OUTSIDE OF A TEGAKI REPLY. SO. XD This one is for all the Destiels out there. Even though, SASSY YALL, DUH.
DAVE FILONI, YOUR CHIBI INFLUENCE ON ME IS SINKING IN TO MY BONE(R) LOL!!!!!!!!!!
OMG, ONLY TWO EPISODES LEFT........FFFFFFFFFFFFFFFFFFFFFFFF! CROWLEY <3 WILL YOU GAY MARRY ME? (I KNOW HE WOULLLLD!)
*****ATTENTION FELLOW SPN ARTISTS!***** IF YOU WANT TO DRAW SPN COMICS WITH US, CHECK OUT THE SUPERNATURAL TAG ON TEGAKI- LOG IN AND HAVE FUN!
[link]
(WE'RE GOING TO NEED SOMETHING TO DO ONCE THIS SEASON IS OVER-- WAHH!)
--
Supernatural is © The CW
ALL CHARACTERS AND EVENTS IN THESE DRAWINGS—EVEN THOSE BASED ON REAL SHOWS—ARE ENTIRELY FICTIONAL. ALL STYLIZATIONS ARE IMITATED...POORLY. THE FOLLOWING FAN ART PROBABLY CONTAINS ANIMATIONS OR ACTORS THAT YOU KNOW IN COMPROMISING POSITIONS AND DUE TO ITS CONTENT IT SHOULD NOT BE VIEWED BY ANYONE