Darkspeeds Is Back
Yes I'm back and making a difference in what I do here on deviantART.
I'll most likely not be using this account for a while
- it's a nice backup account actually!
So a big thank you to everyone who have been following me on my new account (
and to those who have been new watchers on the list!
). You guys have been fantastic and I don't take your admiration for granted.
Nevertheless for the full details on the latest from me, check out my latest deviantART journal via

(
or alternatively click on the photo below you! It's me with a book about dogs! What's up with that? Read on and find out!
)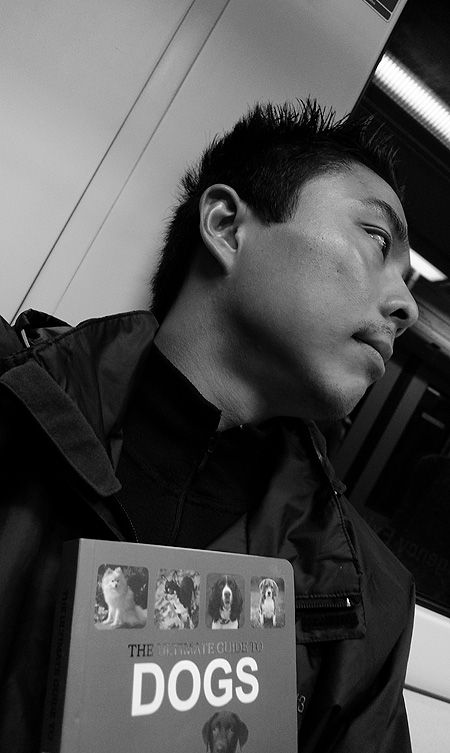 Silver and Elias
... That God-damn, those two look so darn sexy...!!!
There I said it. No regrets.
XXXD
About a month an a half ago Archie Publications announced about the upcoming arc (
ie the one after Dr. Eggman's
) known as the
Secret Freedom
.
And when I saw the concept artwork and cover art... I think I went gah-gah for a moment, SILVER'S IN IT! But wait! Who da hell are the rest of the gang following behind him??! Jebus, they look so tight as a group!! And dare I say it again - the designs look sexy... I'm a sucka for these kind of things... Probably fantasising myself as Silver minus the special abilities... I know I'm naive, at least I got one of his traits! Boo-ya!!

Anyways, a-hem, I also noticed that

's work got featured yet again in SONIC UNIVERSE/Sonic the Hedgehog (Archie Publications) comics... That makes my reading extra special - I love to see friends that I know from the DA community who 'made it' and get the opportunity to show off their amazing talent on page. I'm so proud of Evan, I can't wait to read the Secret Freedom arc!! I'm that excited!!
Though I have one question and I beg for an answer.
For the Sonic Archie fans out there,
will I miss out much on the story if I read the Secret Freedom arc first instead of he Scrambled arc??
I feel the need to skip that arc, and it's not to say that I don't like Dr. Eggman's debut solo adventure in the SU series but I'm too keen to get into the action of SF arc!! Especially when it features my some of my top favourite characters of the series!! (
a-hem, insert bias towards Silver, Elias and Geoffrey *cough*
).
I mean, God-damn it (
I said it again
), how sexy can they get?!? Must be the tights.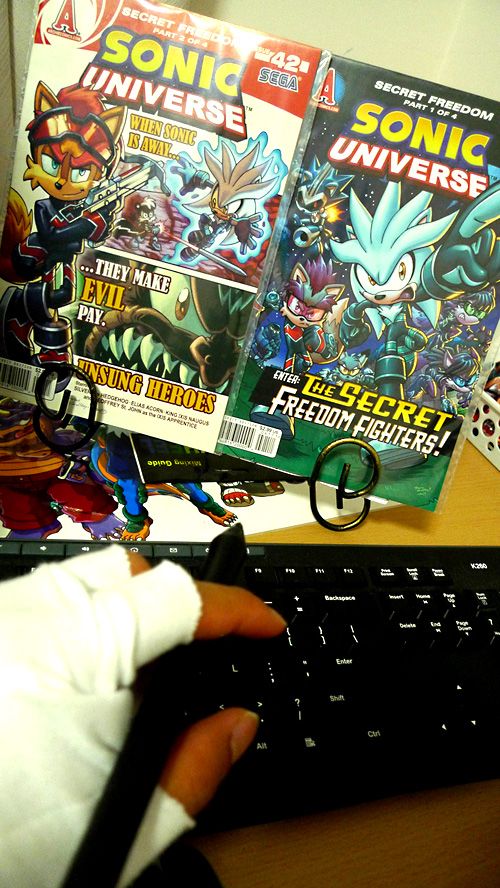 Btw those covers for the SF arc look sick-as. Sonic Archie team are legendary.
SOS Retrospect
Well I'm back in Perth and full of beans! I'm inspired more than ever after coming back from my fifth round the world trip. This time the United Kingdom has, yet again, been an impressive and exciting adventure. Catching up friends of mine and visiting new places were key motivators of this trip (oh and my retail therapy on books of course, can't forget that one!). Nevertheless I'm in the process of posting all the photos I've taken during my trip via Facebook. First up a retrospect on the Summer of Sonic event. Here it is:
SUMMER OF SONIC 2012

[Inside & Outside Convention, Opening, Buzzbombers and Live Performance with Jun Senoue, Rock Out with Crush40, Artist Gallery, Cosplay, Club Sonic and After-party]
Summer of Sonic is a convention that never fail to impress. Every single year I'm proud to know of friends from the humble Sonic UK community who organise this event, and with a lot of hard work, pull off something really special for like-minded fans all over the world.
It's been a real delight to have actually experienced Summer of Sonic for what it is. On previous events I've been somewhat indirectly involved by running an art table of my own (kindly offered by the organisers of SOS), or at times just help out staff with simple tasks (e.g. tasks that require a bit of logistic-know how and muscle to move stuff).
To have experienced SOS in it's raw form - that is - being the visitor coming to the event, has been an eye-opener. It was entertaining and insightful to enjoy the program in full. I applaud the organisation that went into SOS this year and congratulate on the team's success (you know who you are!).
Highlights of my experience at Summer of Sonic 2012 included: Interacting with the queue before opening time, catching up with a guy named Brett (aka ThunderboltElemental) whom I never knew but impressed me with his enthusiasm, grace and acrobatics, opening with Svend and Roareye (prime organisers of SOS and people I've known for through their community works and a unique podcast called 'The Sonic Hour'), the amazing and creative Sonic cosplayers, the Buzzbombers showcase (I finally got to see it for the first time! Nice work Hogfather for being host yet again!), Q&A with Svend and Izuka-san, admiring in awe of the crazy talented artists who were showcasing their work this year (that includes Kieran Gates, James - dude with glasses and Robotnik t-shirt, and StC Online gang), catching up with all of my close friends I know of from the Sonic UK community, getting greeted and photographed with fans of Darkspeeds (thanks for the awesome gift arts and crafts too!), and finally, singing and jamming it out with Crush40, the crowd of fans and the cool Indian dude who partied just as wild as I was at the front of the stage!! (Oh and I haven't forgotten the after-party catch up with Adam Tuff, Chris Neilson, Pete, Lewis, Phil, Dave, Simon, Gavie, Siruku, James (FFS), Graham, Kiera, Mark, the J Bros, the StC gang, and several others!)
Thank you to all of my friends and fans who shared their hospitality with me, I never expected to still be respected so highly from admirers of my past and current works on the online art community (ala Darkspeeds). Seriously, I'm grateful of your feedback, friendship and good times shared together at SOS this year - thank you.
Here's to more events in the future, and who knows, I'll probably try and get Chris (aka BlitzChris) to get a small one started back home in Perth, Western Australia - just for kicks - even if it involves a BBQ and plenty of Fosters.