I finally managed to get a
GPD XD! ( ;v; )

The GPD XD is an
android based handheld
, specifically designed to look as the always-elegant 3DS, and aimed towards emulators, and android games! (YEAH, the lamest way to describe it would be "a
phoneless
phone (or small tablet) with a gamepad attached to its butt" but that's
pretty much what it is and it's exactly what I've always wanted
hhaha)
Look at this video review if you're curious about it!
It has a
quad-core
Cortex-A17 CPU and it is strong enough to handle
SEGA Dreamcast emulation
(via reicast), and everything below that including Nintendo DS, MAME, DosBox, etcetera!
It costs
180$
(us dollars) and so far I super love it and it's the best thing I've ever bought for myself so far <3
Here you have it running OuO on it lol
I ordered this thing online (mercadolibre, which is like ebay but for latin america, Argentina in my case) as soon as I found out someone from my country was reselling them brand new (it's very difficult to import this kind of stuff and it's usually super expensive and sometimes you cannot get them at all, it's a long story) and two weeks later (5 days ago roughly) it arrived at my front door and I have been toying around with it since then!
Anyway, here's a review of all customization I've done to it so far:
notreblogs.tumblr.com/post/173…
TL;DR I installed a custom bloatware-free rom, set up a custom launcher (TVlauncher), made some customized icons for it, installed my favorite emulators, games, apps, and here we are!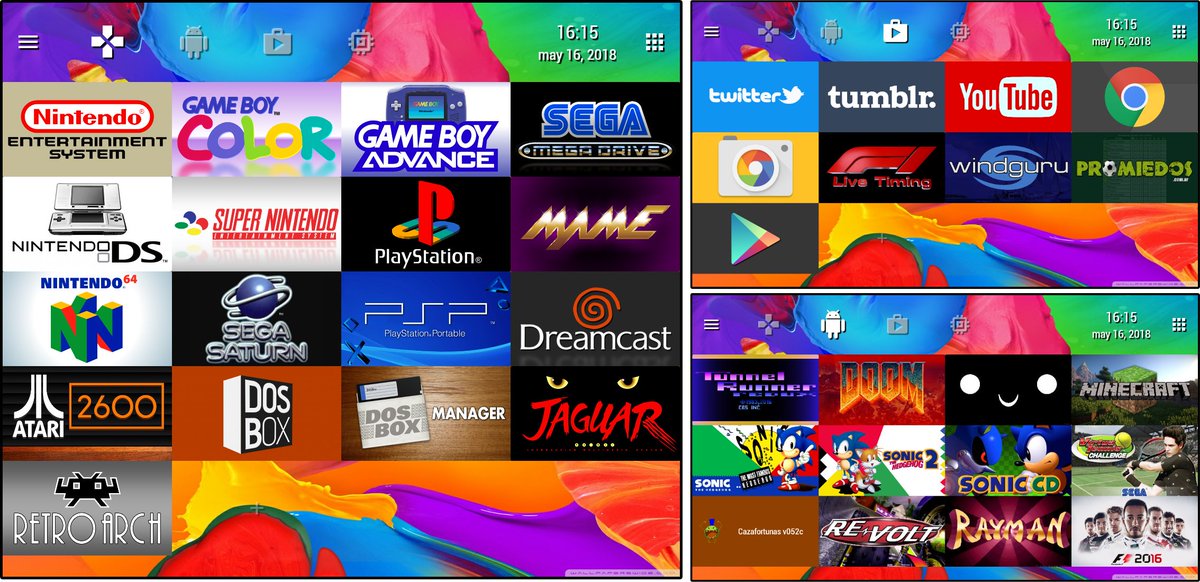 once again the obligatory "sorry for the lack of arts" hhaha... I've had a bunch of pretty emotionally draining weeks lately (sister visiting, work fixing computers, sport events to watch, hell my CAT GOT LOST YESTERDAY and we spent all day looking for him around town and only found him at 22:00 when the town had calmed down and were able to hear his yelling from a mile away and managed to bring him back home ANYWAY IT WAS TOUGH).
but yeah
maybe I'll try to draw something one day, for now I'm happy with this shit, I haven't even "sat down and played" anything there yet but I'm still hyped and customizing it is a big part of the fun hhaha <3
anyway if you by any chance were on the fence wondering if you should buy this or not... yeah it's totally worth it if you can afford it and I very much recommend it~