tumblr | furaffinity | commissions
December/January charity commissions!

50% of all sales between now and January 15 go to Humane Society Silicon Valley
hssv.convio.net/site/PageServe…
a low-kill shelter that helps over 10,000 animals each year in the Santa Clara valley.

You can also make a direct donation to them (or any other charity), and I'll give you a free mini-sketch!

To place an order, or let me know about a donation, email elmenora@gmail.com or send me a note on DA.

Even if you can't donate, you can still help by posting a link in your journal!
The goal is to sponsor the adoption fees for a pair of kittens or puppies - that's $275. Progress so far:














I'll draw almost anything PG-13, including nonsexual/pinup nudity (if you could show it to your grandma, it's fine). I will do some fetish/gore/porny stuff on a case-by-case basis but I add a hefty privacy fee since it won't be displayed in any of my portfolios. I WILL NOT draw anything hateful, excessively violent, or promoting any illegal activities. Please have a look at my Terms of Service
elmenora.deviantart.com/journa…
and make sure you agree before sending any money.
I send originals of traditional media artwork to any address provided for the cost of shipping.
All prices include a solid color/gradient/texture background and a single character. For extra characters add 50% of the standard price. I can do detailed scenery, rates depend on complexity but will be at least $25.
Price Guide:
Sketch: $10
Clean sketch with limited detail. 8.5x11 inches, graphite on cardstock or digital. Want to watch me sketch? I'll do a live broadcast of digital sketches if we can arrange a good time.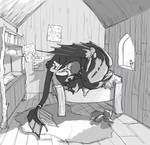 Digital speedpainting: $20
Small (4x6 or less) digital painting in a loose style, no revisions. Quick turnaround. Simple background included. The smaller it is the more details it gets. Want to watch me paint? I'll livestream paintings too!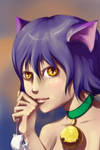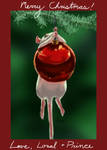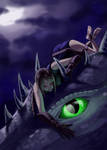 Drawing:
clean inked lines, OR detailed pencil lines with some shading. Traditional media drawings are done on archival quality bristol paper. Digital option as well.
6x9 - $12
9x12 - $22
-Flat colors or watercolor wash: add $5
-Cell shading (digital ONLY): add $8 small, $12 large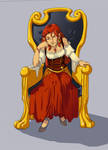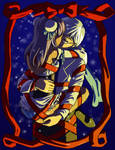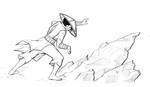 Paintings (watercolor or digital):
If you want a watercolor painting please let me know in advance! I use different paper for wet media and CANNOT necessarily turn a pencil/ink drawing into a painting.
Traditional paintings are done on archival quality watercolor paper. I give a price range for paintings because level of detail is so variable. The low end of the range is for simpler, semi-realism style, the high end is for very detailed or realistic paintings. Dimensions include a .25-1 inch white border on all sides for watercolors to help with framing.
6x9 - $25-35
9x12 - $35-55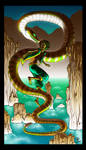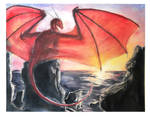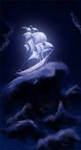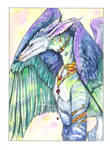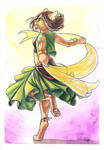 Thank you to everyone who's helped, by getting some art or by spreading the word. You guys rock!

Commissions are open!
Work queue:
Byzil Colored sketch

I hope I see you again before January 15th so I can commission you.

You know exactly how much I adore your artwork.

Wow, thanks! If you let me know what you want, I can start it while I'm down south.
And, you, aww..... shucks. Thanks.