Wallpaper for personal use only.
Premium wallpaper, full resolution.
This work isnt related with Stargate movie or series nor to the Illuminati thing or anything like that.
When i started working at The Pyramid, i was only clear about one thing i wanted to get a magic pyramid and an energy station in one place. And that's what it is.
If u want to see, in ArtStation i've a special work that is related to Stargate but this one, no.
So, this's a generic pyramid / energy station. Its not Stargate or Illuminati thing, so please refrain from comments like "this reminds me of looks like Ra pyramid from Stargate movie or something like that"
When i do an artwork related to some kind of fan movie/fan series, i used say it in image description and always i give the corresponding credit to stocks used and if u read it -description-, the credits are for generic stocks.
Copyright © by Genesis Raz von Edler aka Ellysiumn. All rights reserved.
My artwork may not be reproduced, copied, edited, published or uploaded in any
way without my written permission.
WingsOfAHero
~
Pyramid Stock 01
wolfworx
~
Sunrise_09_wolfworx_IMK77329
StockSnap ~
pixabay.com/de/w%C3%BCste-land…
Everything else is painted and my own resources.
Tools: PS CC 2018, Knoll Light Factory and Wacom Intuos.

twitter.com/Ellysiumn

www.artstation.com/genesisrazv…
Mosaic with stocks used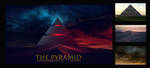 Image details
Image size
1920x1009px 1.24 MB
Comments have been disabled for this deviation