I created the B&W version for Aurora Collective (Luminarium ~ Cosmosys ~ Artifice) Black & White theme (8th exhibition) ~ link:
Black and White exhibition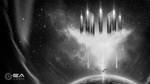 This one, the blue version is exclusive for DA.
Links:
Project Aurora
www.projectaurora.art/…
www.projectaurora.art/…
Premium 5k wallpaper for personal use only in own devices.
Copyright © by Gene Raz von Edler aka Ellysiumn. All rights reserved.
My artwork may not be reproduced, copied, edited, published or uploaded in any
way without my written permission.
Everything is painted, purchased and my own resources.
Tools: PS CC 2021 and Wacom Cintiq Pro 24 HD.
Link to my all accounts
Image details
Image size
5760x3240px 31.22 MB