Premium 4k wallpaper for personal use only.

Update 17/02/2019 Featured by Wix
twitter.com/Wix/status/1096798…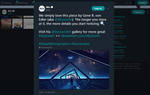 Copyright © by Gene R. von Edler aka Ellysiumn. All rights reserved.
My artwork may not be reproduced, copied, edited, published or uploaded in any
way without my written permission.
Bridge
~
License
Man
Textures ~
PaulineMoss
~
FrostBo
~
cosmicspark
Everything else is painted and my own resources.
Tools: PS CC 2018 and Wacom Intuos Pro L.

Twitter
ArtStation
Image details
Image size
3840x2160px 2.11 MB
Comments have been disabled for this deviation