Got tagged by
RelativeEquinox
, who specifically requested a meme about Ronnie.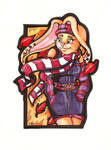 Let's do this!

RULES
1. Post these rules
2. Post 10 facts about your character.
3. Tag 8 other characters.
4. Post their names along with their creator's name
***To those tagged, there is no obligation to participate. Just know I love your work!***
1) Ronnie's full name is Rhonda Leporidae
2) She is currently attending Fur Valley University in Utah. Though focusing on General classes for now, she's using her electives to get the prerequisite courses out of the way for a degree in Physical Education.
3) Ronnie's favorite activity is jogging early in the morning. It was something she and her Dad did together while growing up.
4) Ronnie's Mom died during childbirth. 'Rhonda' had been her Mom's top pick for a girl's name.
5) Due to her Dad's work, Ronnie moved from California to Utah just in time to start high school.
6) She currently lives in an apartment with two roommates - Dawn Doe and Catherine Feline. Ronnie ended up moving in a week later than the two of them due to a mix-up with her paperwork. She's never trusted the management since.
7) Ronnie and her Dad ditched her high school graduation ceremony, instead choosing to take a cross-country trip together before she started college in the fall.
8) Ronnie's current best friend is Vikki. Vikki instantly bonded with her due to them both being from California.
9) Her best friend in high school was Hayden. Then he was her boyfriend. He broke up with Ronnie after graduating with a sudden, blunt 'Dear Jane' letter.
10) Ronnie considers Vikki, Cat and Dawn true friends because she can trust herself to be happy around them.
---
Thanks for the invite to play, RelativeEquinox! Now, here's eight characters I'd love to see ten facts about:
Otto
, of
Jupiter
by
DrZime
Kraal
, of
Aww Feathers
by
inejwstine
Juni
, of
Sometimes She's the Light
by
Naschi
Nina
, of
Zuzel and the Fox
by
PeterDonahue
Pippi
, of
At Tavicat
by
Tavicat
Michelle
, of
Nineteen-Ninety-Something
by
jbwarner86
Mias
, of
Mias and Elle
by
StressedJenny
Fawndolyn
, of
Toyetica
by
sadwonderland
(Unless sharing ten facts would delay the release of the comic. Looking forward to it!)