Hello Readers,
How are you today? Well it's chillin cold out there. Some of you may be enjoying snow boarding, rolling and some, sneezing and drinking hot soups..heheh... Well I love winters and want to enjoy every bit of it...and specially for married couples, winters are sizzling....**laughs**
And not to forget Christmas is approaching...hmmmm. So you will be busy these days shopping and planning the big day. Thats good....
So for this Cold and chilling season we have got a hot and stylish artist of the Month " Phil Fensterer "..** Applause**
Hello Phil, Welcome to the show and many congratulation for being selected as Artist of the month December on Elite Artists.
First of All thanyou Elite Artist for providing the deviants a platform from where they can reach a greater audiance.
You are welcome Phil, yes Thanks to the EA team who had made it grown and continue to run in these busy and tough days. I'm glad you could come in this really cold weather and busy month. and you really you look good in that beard, really that's lords of the rings style.
Hehehe….thanks! I've had that goatee for a long time. I think I've shaved it off once in the last ten years! Mainly because my wife won't let me. Hehehe
HeHe... Well thats so kind of her....**laughs**I Like the way you do it, I mean first an eye catching art, good place to sell on web and then good product that your feature your art on (i.e skateboards). That's called a complete package. This is the way artists should start making talent to payoff.
Well, I plan on doing much more. I feel I have only started to get my name and art out there. There are so many possibilities and I need to tap into those.
Yeah, we wish you luck, but never forget to donate DA Subcriptions to, while you are on the track to make fortunes...LOLZ

Tell us a little about yourself- where you're from, what you like to do in your free time?
I'm originally from Albuquerque, New Mexico. I recently just moved to Dallas, TX a few months ago. I'm pretty easygoing and I love all sorts of music but you'd generally find me listening to more progressive rock I guess. Love to watch basketball and football which my wife will watch with me, she's very cool like that! Hehehe. I don't have too much free time really. Currently I am a stay at home dad trying to watch over my one year old daughter while working on some freelance jobs here and there as well as trying to get my own business off and running, so my time is a bit limited but I try to create some art and find ways to promote it and with a bit of luck, things will start to take off. If there is some free time, I'll spend it with my wife and daughter and maybe play my PS3 from time to time.
Now thats a Lucky guy who gets to watch the game with his Wife...I don't remember i have ever missed a soap or seson while sleeping....**laughs**... Really i am tortured so much with these soaps by my wife that they haunt me in dreams...lolz Tell us about your child hood, personal life and about your family?
I am the youngest of six children, four sisters and one brother. I think I am one of the fortunate ones that grew up with the siblings that I have and got along with all of them! I was a pretty laid back kid for the most part. So I got along with most people (except a few instances in high school, but that's a different story). I did all the things a parent can expect their kid to be doing, I would ride my BMX bike, take my chances on my skateboard and draw rib cages with intestinal tubes dripping gelatinous blobs or staplers with protruding human tongues….you know, normal stuff! Hehehe
I met my wife playing on a recreational outdoor volleyball team over 14 years ago and we just celebrated our 12th anniversary this past Halloween. My wife has been quite the inspiration to me and we spent our first eleven years together doing a lot of fun things and seeing a lot of fun places, most recently a trip to Ireland (I highly recommend). Then we had our daughter last year. We love her to death and I can't wait to start taking her with us wherever we go so she can have some great experiences to share as she gets older.
I see. Let us move on! Tell us about your home town and how you get along.
When I was born I was brought home to a house in a suburb of Albuquerque, Rio Rancho, where I didn't leave until I was about 21. My family moved there from the New York area and bought the house in 1970 and were something like the 800th family to move there. Now Rio Rancho has nearly 80,000 people living there and is growing very fast. One great thing about Albuquerque area is the great weather and is situated between south western desert on one side and big mountains on the other, great for skiing, creating a valley in the middle with the Rio Grande River flowing through the middle of the city (though not much of a river in the fall) so the scenery is beautiful especially the sunsets. It's a very relaxed place too compared to Dallas. A lot of artists reside there and is about an hour south of Santa Fe which of course is home to many artists and has art galleries all over the city.
This guy is good in numbers, so keep you debts straight...lolz What does fensterer means?, like many peoples questions what does that quick means with your name, that's odd ***laughs***, well I own a photo processing lab named quick colour lab, that was for quick service etc. but in my business community they call me adeel quick, so that's how I got my name.
Fensterer is my last name and is a German derivative of Fenstermacher which was a name used for carpenters and it meant window maker. Fenster means window so the two eventually combined to sound like Fensterer.
Did you had any nick names in your childhood?
Ha ha, none I care to mention!....lolz
Which Cartoon did you liked most and watched in your childhood and what is your most memorable moment of childhood?
Hands down, Transformers was a must watch for me after school!
Yeah, Transformers Rocks, i remember i used to had a panini sticker album of transformers and used to snatch and run stickers from lilttle boys in the neighbourhood ...Lolz...

That sounds nice. Tell us about your educational career and how are you engaged professionally in your career.
After high school I took a few years trying to decide what I wanted to do. I finally decided to try something in digital art and ended up trying out computer animation. I enjoyed it but I never seemed to have the time to keep with it and I always seemed to enjoy creating imagery with Photoshop more. I think I just didn't have the time needed to really learn all the intricacies of animation as I spent a lot of time working a full time job, a part time job, full time school and at one point got married amidst all that.
What you always wanted to be in your life?
I always wanted to have a career involving art as well but couldn't decide what specifically. So many choices, I tried a bit of everything I guess. I still don't really know what I am ultimately going to be doing for a living. Right now, this is what I feel is the right thing, art.
You seem to be a serious guy from you photos. I mean just work work work and enjoy alone. Or the pictures are not right ***Laughs*****
I'm kind of a private guy so I never really expose pictures of me or my family much. I am fairly laid back and try not to worry about things all the time. Believe me, my wife can attest that I am not all that serious, she'll be the first to tell you that I am just a big kid most of the time.
How do you describe the happiness when you had Shelby Marie, and most importantly it's her first birthday this month, what are your plans? She is a darling and beautiful kid...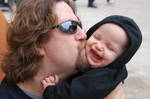 When Shelby arrived, I experienced a whole other level of love. It's just amazing how much my daughter has impacted me. She's only going to be one year old and she has me completely wrapped around her finger. We are very lucky, she is one happy little girl! We look forward to getting her first birthday cake and see if she dives in head first! Hehehe....**laughs**
So when you realised that you are an artist and when did you did your first art?
I drew a lot when I was a kid but I guess I would have to say in middle school is when I really started drawing all the time. But, it wasn't until after I graduated college that I started working as a graphic artist and began to do more freelance work. Now I hope to continue to develop as I am ready to take it a step further.
You do many of art genres and about all in dark arts, tell us about it.
I know, that's weird isn't it? I actually had a great childhood and my art went in a totally darker direction. I am always fascinated in non realistic imagery, fantasy worlds and atmosphere of the darker side of things. I am not really into all the gory imagery though. What I love is the things that are hidden in the shadows and you can just get a glimpse, that really gets your mind working overtime trying to figure out what you just witnessed. It can really creep you out. Having it all out in the open just doesn't seem to have that same effect. My own art will probably show a lot more of that in the future.
I am trying out different methods, styles genres and techniques. All of which I hope to mold into a truly unique style. I haven't arrived yet and never will, that's the nature of an artist, always in need to learn new things and evolve.
There is always an inspiration, what inspired you or flamed the spark in you that moved to become an artist?
I guess what jump started everything was that little movie called Alien, you may have heard of it, after I've seen that I was really into suspenseful horror and sci-fi movies.
Great... What is the process to your artistry and what are your tools? Like how do you think like a different artist at all times, i.e that is writing and photographing etc at the same time?
Well, I think my best stuff actually stems from just sitting down without a plan and start creating. I can spend a couple hours and have a finished piece or it may develop into something that takes me a month. Sometimes I sketch out an idea on paper or at least write down my thoughts first. I used to use stock images from stock sites in some of my earlier images but I ceased to do that and now I take photos of all my own stock. Unless the need requires me to purchase a photo for a client project, I stay away from those sites. Then I'll use Photoshop, Illustrator, occasionally Lightwave 3D and even add my own watercolor backgrounds to create an image.
Do you have a favourite artist that you admire?
I was really into Giger then later, it was artists like Barlowe, Brom, Louis Royo, Cam De Leon, Chet Zar and lately I have enjoyed works from quite a few artists that I love here on Deviant Art, Dennis Sibeijn and Stephanie Bennett are two of my favorites! But one I always enjoy viewing his art is Oleg Paschenko, if not just for his crazy website,
cmart.design.ru/
, the guy is beautifully sick! hehehe
Wow...this guy Paschenko is awsomme...recommended by me... Which was your first art and which are your favourites?
One of my first early pieces was Shamed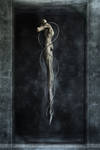 That's the one that I really started doing art more seriously. My Time and Effort piece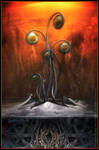 is one of my favorites since it was one of the first That actually started from a small sketch and made it all the way to the end without hardly any deviations from the original idea! Hehe I also think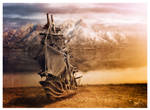 and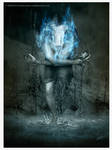 were a little closer to an emotion I was feeling at the time those were created so I am a little partial to them.
So tell us about your art sales and how do you market them, who are your major clients and some tips on our upcoming artists which path/genre to take to master the skills and trade?
It's funny, I don't really market myself at all right now. Haven't had time, but what seemed to be working is just joining a lot of art communities. Most of my clients came from just them seeing my work online. There is always My Space as well. I know it's not as big a fad as it used to be, but I still get clients that see my work on my profile.
Some of the bigger names I've worked with were really clients of the small sign place I worked at for a few years. I was the artist who happened to work with these clients, sometimes directly. Those clients were mostly jam bands like The String Cheese Incident, Widespread Panic, New Monsoon, Mama's Cookin' and a few others. I'm mostly been doing cover art for a lot of up and coming metal bands. I've done some art for a few music festivals as well, such as Rothbury
rothburyfestival.com/
(including the design of their event tickets) and Wakarusa
www.wakarusa.com/
.
As far as tips for the up and coming artists, just make good use of those tutorials you come across. I used online sites such as www.pixel2life.com and bought a lot of books from discount stores or magazines such as Advanced Photoshop. I am always trying out their tutorials. Just soak in as much as you can and try not to be limited to just one style or technique.
Read, that you also got haunted by art theft, how did you found our about that Russian site selling your art and what steps you took to stop them. Also many good artists who are new to online communities are easily effected by it, don't know how to protect their art and when puts a water mark over it, it destroys the glory of image you want to show, any resolution you might have in mind
The art theft was brought to my attention by vigilant members of DA. The only thing one can really do is try to contact the site administrator and tell them to take your art off that site. Nowadays, I see my art all over but I am not so tough on it now because almost every time I see it on a Russian, Japanese or what other site, my name is attached to the art and no sales are involved. I see that as free promotion. Now, if I see the site is trying to make money off my work, then I will go as far as legal action. As far as adding a copyright to your image, I don't do it as often as I should but I don't post an image to be high enough quality for reproduction. Not much I can do if my art is used on the web, that's going to happen no matter what.
Can you describe your creative process, how you process them when you get one? Do you use any subject?
I listen to a lot of different styles of music and just hearing something in a song will get the ball rolling. An image pops into my head and becomes my starting point. I "sketch" on the computer for a little bit then things start to take shape. I never know what I'll end up with. It's actually rare that I narrow in on one particular subject, I like to work more freely until something sticks.
Deviant art, deviant art , deviant art. Man, how do you got to this website? And you publish your art on what other communities.
I found DA while surfing the web. I was here many years ago but left then came back about 3-4 years ago. I belong to numerous sites like GFXArtist.com, CGSociety.org, Artician, It's Art and a few more.
If you could work with just one artist on a project, who would it be?
Right now I think it would be Oleg Paschenko. I am just totally into his style at the moment.
Can digital art be made a mean of living and as a professional career?
Definitely. But for it to be truly enjoyable, make sure it's your art that you enjoy creating and not always churning out work that you wouldn't normally do. Though, that type of work does help pay the bills from time to time, it may not make you happy and you may not really enjoy what you do.
What do you think the most important thing is for an artist to learn, technically speaking?
Remember you're lighting sources. I see a lot of imagery that lighting seems to be an after thought. Make sure all your highlights and shadows are in the same direction as the rest of the image. The image feels more complete that way. If you don't, then the image will have a "cut and paste" look.
Would you like to give some advice for upcoming artists?
For me the most important thing would be to have patience. I am still learning that. Sometimes I think an image is taking to long to come to life and I tend to rush through it. When I don't do that and take my time and concentrate more on details, then you will get a better result.

I like the below mentioned thumbs/links of you art, describe briefly on each and every one how to do made it and what was the idea.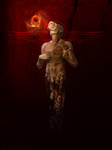 I had the idea of a bleeding heart but didn't want it to be the focus. So then I thought of a winged figure, more abstract in nature, that was trying to live a life not showing it's true nature but knew in it's heart what it really was and struggles with it. I posed a figure in Poser as my template and did a lot of digital painting to give a more surreal feel to it. Wings were drawn in Illustrator then just blurred. The skull was a real skull, again then digitally painted over.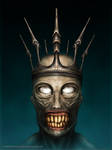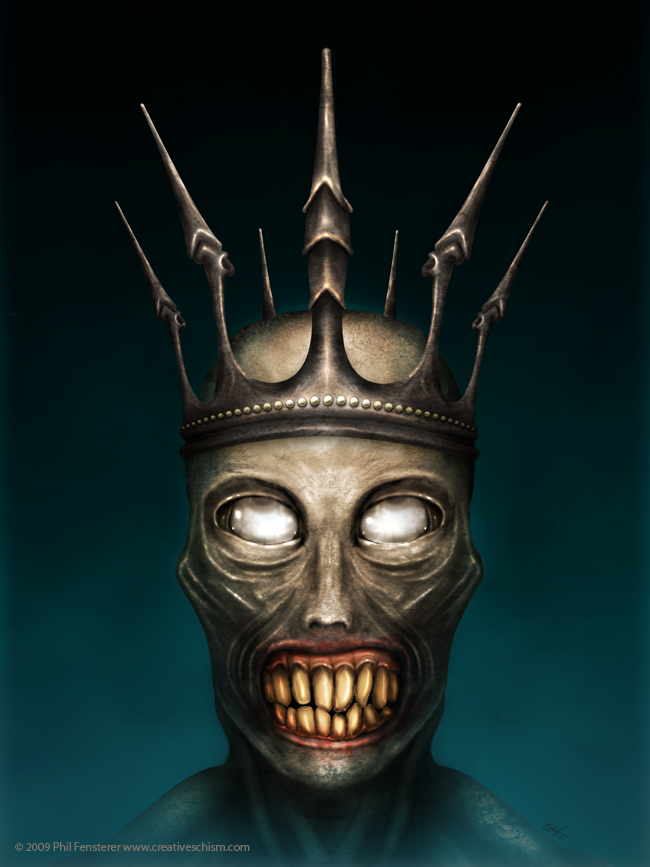 It was getting near Halloween and I wanted to do some sort of non-typical zombie thing. This was totally digitally painted. I did start with a Poser head reference but none of that head was used. This was mostly done using dodge and burn brushes. Textures were applied using various Photoshop filters.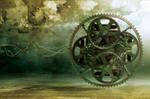 A total manipulation with the textures provided by my photos of concrete ground and my own watercolour painting. The wheels were cut out from a pulley system in a shipyard. This was a result of being a little bored on one of my lunch breaks. I then emailed it to myself and finished it at home the next night.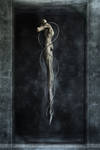 My first foray using Poser. Like My Heart Bleeds, I posed a figure then digitally painted over it. Was heavily inspired while I was listening to Tool's Aenima cd.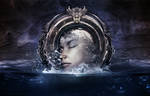 One of those random thought pieces. I just wanted to try out some water effects then in turned into what you see.This was one of those images where patience was in short supply and I would like to do a new version of it. Maybe one day in the near future.
Wow..really i admire your art and the way you create.Last but not least, Elite Artists Would like to Wish **Happy Birthday to Shelby Marie", which is this month and lots of hugs and kisses to her, and wish you guys and Shelby a healthy and happy life.

OoOooOo. It's really getting cold here... Well you guys take good take care of your self, and happy shopping. But please do take care of yourself and people around you, specially poor peoples."Happy New year and Christmas ". We will meet next year with new artists and charisma.
Take Care...ChaO..