Just an edtied Miku model to my sis,
kamilla010
's motion.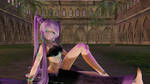 I made that model just for her specifically. So here a public version of my model edt.
Go and DL it!!!

TDA Belly Dancer Miku by elina002
Credits:
Head by TDA
Make up by elina002
Front hair by TDA
Back hair by TDA, unluckycandyfox
Headdress, dress, accersories by samsink, Netease "Reverse Water Cold"《逆水寒》 Model Extraction
Body by TDA, samsink, iRon0129, elina002
Rules:
Do not redistribute this model
Edit, take parts etc. is allowed
No R-18, slander, violence, gore, or commercial use
Link back your work
Always Credit!