Calling All Artists! Especially SoCali Natives!
Art Trades: Closed.
Commissions: Open.
Requests: Closed.
There's a new convention coming to San Diego, California. San Diego's first EVER
anime
convention.
Anime Conji
April 9-11th 2010
1515 Hotel Circle South
San Diego, CA 92108
The Artist Alley is filled up, but our
Art Show/Auction is in desperate need of more participants.
The rate has been lowered to $15 per panel.
- 4 foot by 4 foot peg board panels @ $15 each (max of 2)
- 1/2 table spaces @ $15 each (max 2 1/2 table spaces)
The art in the art show would go through the standard convention silent auction and have a 10% commission fee. We are especially interested in getting local artists that could also attend the convention, but if you want to do a mail-in from out of town that can be accommodated (we would return the unsold art and/or your profits in a SASE after the con). We are looking for any good (preferably anime/manga style/subject) artists that would be interested.
Anime Conji Art Show
If you are interested, please email Glen at:
artshow@animeconji.org
To ask any questions and receive the registration form.
Guys, I
really
need you to spread the word about this in your own DA journals, to your art friends, everybody. Please! m(___)m
Becky /
elfgrove
Anime Conji Staff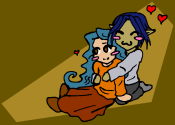 Ask Me Anything!
www.formspring.me/ElfGrove