San Japan 009
is ON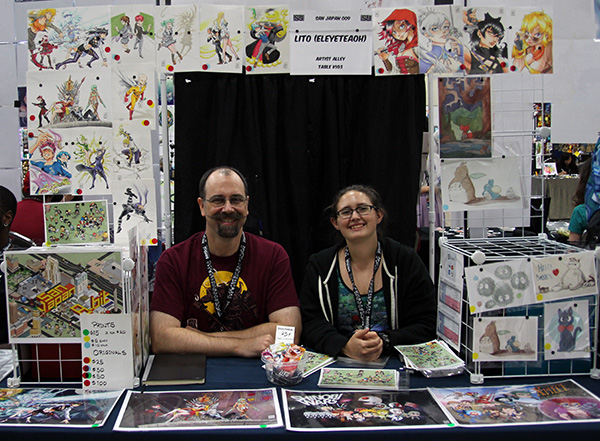 Day 1:
Awesome! Great attendance with so many folks in fantastic cosplay! I'm sharing a modest table with a friend and we're having a blast! Everyone is so sweet and the staff is knowledgable and attentive. There are over 180 artists in the Artist Alley, and I want to buy something from every one of them! It's also fun spotting artists whom I'm watching here in deviantart. I'm still so very slow with drawing, so I only accepted 2 commissions today (I'll post photos of the finished pieces if the customers are ok with my doing so.)
Day 2:
Great turnout today! Both delighted and devastated, I sold the
Team RWBY Timeskip
original. I normally have no problem letting go of my drawings, but that one (due to the incredible RWBY community and supportive fan reaction) really opened up a much larger audience. There were some good sales, but most of all, I had a blast hanging out with such incredible people. ok, it's late. Gotta get some sleep before the last day!
Day 3:
I'm bummed. This was the first time I spent 3 days at an Anime convention, yet I didn't get to visit everyone I wanted to in the Artist Alley! I had to sit and finish 2 more commissions before closing today. I was finally able to eat my lunch at 4:00. Since my goal was to have fun and not think about making money, my expectations were blown away. But, more of the originals sold, including
Rwby Team Cinder
, so we definitely came out ahead financially as well.
It was a lot of fun, but I'm no where near as young as so many of the other artists. I can't fathom doing the circuit of shows all year long and flying all over the country. I would love to do San Japan X next year and maybe a couple other regional shows, but I just don't have the stamina or desire to hit 'em all!
Many thanks to the incredible San Japan staff, the army of volunteers, the talented artists who had my back and shoulders in our local block party in Artist Alley, the numerous dedicated cosplayers who put so much effort into their props, costumes, makeup, and poses in order to bring their favorite characters to life, and especially the fans!! I can't remember the last time I had this much fun geeking out with such sweet, kind, genuine people!
Check out some of my awesome neighbors!!
sushi-master901.deviantart.com
tonysaavedra.deviantart.com
xipel.deviantart.com
hollycbrown.tumblr.com
drafthouse.com/show/anime
jinzilla.deviantart.com
jinyjin.deviantart.com
Full list of artists here