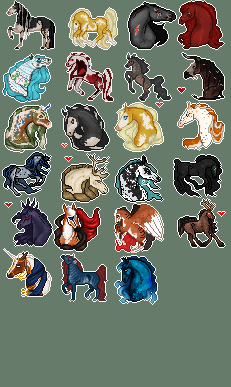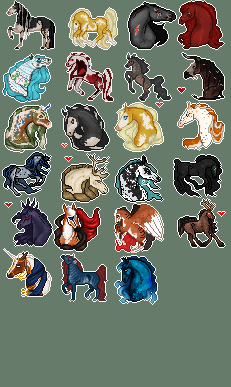 Watch
instead of filling my folder with a ton of pixels, i'll just continue to add to this sheet of pixels
the more commissions i get for them/the more i do c:

TOP (left to right): thanantos, arrabella, xavier, rowena all played by CarharttCreations

I'd love one of these, but I need to save my money D: One day I'll order 20 of these, one for each of my horses X3
Reply

sobs, do you except point payments for pixels? ;__;
Reply

Reply

How much are these going for?
Reply

Reply

You have no idea how excited I am for these! Oh mah gawd! They are all so spot on!


Thank you soooo very much!
Reply

aaah i'm so glad!! they were so fun to work on c:
Reply

They are amazing! I am parading them all over my rpg sites xD Linking them to this and like LOOOOK AT THIS MAGIC!





EDIT: However you have made it extremely on picking which one to use in the cboxes. They are all so good.

Reply

jumps off a bridge i need 20
Reply