______________________________________
A number of people have left comments on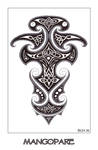 asking about Māori art and design. Now, I'm not the world's greatest expert on the subject by any means, and I'd love someone like

to come along and correct me ... but here's a brief account of the subject, as far as I can gather

Māori tattooing legends
According to Māori mythology, tattooing commenced with a love affair between a young man by the name of Mataora and a young princess of the underworld by the name of Niwareka.
One day, Mataora beat Niwareka, and she left Mataroa, running back to her father's realm. Mataora followed her, filled with guilt and heartbreak. After many trials, and after overcoming numerous obstacles, he eventually arrived at her father's realm, but with his face paint messed and dirty after his voyage.
Niwareka's family taunted and mocked Mataora for his bedraggled appearance. And in this humbled state, Mataora begged Niwareka for forgiveness, which she eventually granted.
Niwareka's father then offered to teach Mataora the art of tattooing, and then
Mataora and Niwareka returned together to the human world, bringing with them the sacred and spiritual arts of tattooing, Ta Moko.
Tattooing itself
All high-ranking Māori were tattooed, and those who went without tattoos were seen as persons of no social status.
Tattooing commenced at puberty, accompanied by many rites and rituals. In addition to making a warrior attractive to women, the tattoo practice marked both rites of passage and important events in a person's life.
The tattoo instrument was a bone chisel, either with a serrated or an extremely sharp straight edge. The first stage of the tattoo commenced with the graving of deep cuts into the skin. Next, a chisel was dipped into a sooty type pigment such as burnt Kauri gum or burnt vegetable caterpillars, and then tapped into the skin.
These tattoos were mainly facial, though warriors could also have swirling double spirals on both buttocks, often leading down their legs until the knee. Women were not as extensively tattooed as the men, and their main moko was the chin moko.
The meanings of the tattoos
Every tattoo, especially the facial markings, contain sacred ancestral/tribal messages that pertain to the wearer. These messages show the wearer's family, sub-tribal and tribal affiliations and their placing within these social structures.
The Koru
The base of much of Māori tattooing is the Koru, or fern frond. Even where something may initially look like a spiral, it is actually double or triple grouped lines that spiral inward into a single koru. This grouping of spiraling lines, albeit of a circular nature, merely creates a spiral illusion, but is in fact, right in the centre, a koru.
The basis of the importance of the fern frond is encompassed in a Māori proverb -
"Ka hinga atu he tete-kura - ka hara-mai he tete-kura"
, or
"As one fern frond dies - one is born to take it's place"
Thus the primary meaning of the koru is birth, re-growth and regeneration. The passing of life, information and resources from one generation to the next. It can also represent parenthood in a slightly different form.
Then there is the double-headed Koru (beloved of me), known as Mango Pare. It takes its form from the hammerhead shark and is associated with the qualities and strengths of a warrior.
Haehae Lines
On a facial moko, along with Koru, you can have prominent lines around the mouth, on the lips, up the forehead and on the cheek koru. Even the patterns infilling areas are linear. Each of these line or groups of lines is a component of a larger picture and a larger story - for example battles attended, perhaps chiefs slain or even wounds received.
Positive and negative space
Another element of Māori art is the concept of positive and negative space. This is very prominent in moko, with each of the components being as vital to the story as the other.
If you want to read a really good article on the subject, read this:
www.tamoko.org.nz/articles/ori…
(which I've taken much from for this!)
Kirituhi
Of your Moko, you cannot be deprived. Except by death. It will be your ornament, and your companion, until your last day
- Netana Rakuraku
The designs and placings of moko are sacred and spiritual connections to genealogy and place, and thus are more than simple tattoos. They are family connections, they are a sense of identity, and thus shouldn't be something to be copied (because you would then be copying another person's identity and history). Some people, obviously, ignore this, but there is a solution - kirituhi.
Kirituhi is a form of pattern art that looks like Ta Moko, but deliberately does not make any reference to Māori symbolism. Kirituhi literally means "skin art" and the patterns are designed to meet the demands of non-Māori wishing to have similar tattoos. So kids, if you want a Māori tattoo, get one of those

So there you go! Hope it was interesting!
___________________________________
Admin of

Co-admin of