EJ Morges / Wreck Shop / Press Oblivon / Rough House
The forums at
Wreck Shop
was the place to go for female muscle artwork in the early 2000's. Wreck Shop was the handle that
EJ Morges of Press Oblivion
used for his muscle girl artwork published by
LH Art
and
AweFilms
. Much of his work is available online for a fee at those two sites, and it's definitely worth checking them out. He is also on
DeviantART
and has some artwork posted there. He's disappeared from the muscle girl art scene, but I managed to catch up with him a few months ago and asked him some questions about the now defunct wreck-shop.com site.
Questions and Answers
Ed: Do you prefer to be referred to as Wreckshop, EJ, or Press Oblivion?
EJ: If everyone could refer to me as EJ, that would be great! "Wreck Shop" is two words. Everyone gets that wrong for some reason.
Ed: Why did the Wreck-Shop site go down?
EJ: The Wreck Shop site went down for two reasons. . . I couldn't afford the server space any longer and I was dealing with personal problems. I regret not telling the regular visitors of the site but at the same time, I didn't want to get into my personal issues with them either. Thus, I left without a word. Perhaps that was neither the most professional or courteous way to handle the matter but that's what I chose to do. I figured that the regulars of the site would return to Diana the Valkyrie or find another venue to continue the community and it seems that everyone has made a nice home at
Amaz0ns
.
Lingster
has done an exceptional job with that site and it's everything that I ever wanted Wreck Shop to be.
Ed: I'd still like to post about your stuff that's available in other locations, if that's ok?
EJ: If it's already in another location, I suppose it's fine to re post it on Amaz0ns. If you find anything with a Rough House brand on it, they are hosting that image without my consent. The only locations that have my OK to post any Rough House content are Diana the Valkyries and Mister. E's site (Eretsim.com), which I believe is no longer available.
Ed: What are your plans for the Rough-House brand?
EJ: Rough House content was material that I put together for purchase. Just because the site no longer exists, doesn't mean that this material is free. I think that it would be unfair to the people that paid for that material, when the site was available, to find it posted and hosted for free after the fact. As for the future of Rough House content, though I have been considering the idea of archiving the material on disc, I have no plans. Though there is nothing that I can do about unauthorized hosting and posting of any of my drawings, I hope that former Wreck Shop fans and patrons respect my wishes and keep that material for their own private use.
Ed: What have you been up to since the Wreck-shop site went down?
EJ: Nothing eventful. I spent about 6 months, after Wreck Shop, dealing with personal matters. After that I had tried to reaffirm my interest in comics and aspirations of working as a professional illustrator in the Comic Book Industry. To that end, I have made no progress.
LH-Art Bibliography
Here are some of the titles that you'll find at
LH Art
by Wreck Shop. He provided some legendary artwork for the All-Growth series as you can see above. I also recommend checking out the 4-page short story
Easy Gainer
, which is available as a PDF download from the site.
Abstinence
Wishing Well
The Bear
Valkyrie versus Amazons
Easy Gainer
All Amazon #7
( 3-page growth story )
All-Growth #1
( Front Cover, Morphin Madness
PDF download available
)
All-growth #3
( Front Cover, Force of Nature )
All-growth #10
( Blood Sucker
PDF download available
)
All-growth #13
( Buffy Back Cover )
All-growth #14
( Supergirl pinup )
All-growth #16
( Humonga Girl Front Cover )
LH-Artist Folio #11
LH-Artist Folio #22
( 4 pinups )
LH-Artist Folio #23
LH-Artist Folio #25
LH-Artist Folio #31
( 2 gorgeous pinups )
Press Oblivion
These are some of the pictures that you can find posted in
Press Oblivion
in varous places.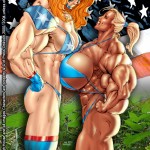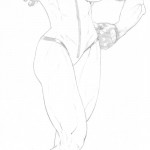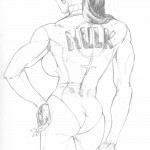 One of my favorite short stories done by EJ is also posted in the gallery section. Check out this short
5-page comic story featuring She-Hulk
:
DeviantART
Some of the pieces you'll find on
EJ's DeviantART gallery
It's unfortunate that EJ doesn't produce that much female muscle artwork any longer. Most of the folks that frequented those forums have made their way to
Amaz0ns
, but EJ's presence is missed. I hope that this little article will serve as a reminder of the greatness that he brought to our community and the wonderful artwork he produced.
Related Links
Wreck Shop Site
(down)
Wreck Shop Art @ Diana the Valkyrie
Press Oblivion
Press Oblivion Blog
EJ @ DeviantART
LH Art
AweFilms
Amaz0ns

Anyone recall that comic about the little scientist Aki who turned into a huge Amazon that was posted Awefilms but seems to have disappeared? I'd gladly pay for that comic again, if anyone knows where I could find it. I think it was called Paladins.