Hello everyone! I have 2 full slots to Jesus here.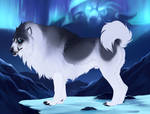 I'm looking to find a female or two to pair him up with to make some beautiful babies.
Here are some things I'm looking for.
1. Curly or Barbary Manes
2. Dark or Lilac Bases
3. Trait &/or genebombs
4. Physical Traits
Here are some things I am not looking for.
1. Mane types other than Curly/Barb
2. Plain genos
Otherwise I'll take a look at just about anything!
I can pay you in HP offers or offer you a choice of the pups after they are rolled if that interests you.
I'll be using fertility supplements so with the right female there's a chance for more than one barbary per pairing.