Description
!!! Dear Colleagues,
The Product was updated on May 25, 2020: 8 new brushes added, the old brushes were edited and improved. If you already purchased "Realistic FUR for Photoshop", please download the new version. Thanks!
•
Realistic FUR: 28 brushes for Adobe Photoshop for painting realistic fur
Also works with Adobe Photoshop Elements and Adobe Fresco
Realistic FUR is 28 excellent Photoshop brushes I use for creating a perfect fur when painting
animals, furries, original characters with fur and other wooly and fluffy creatures and objects.
👉 20 brushes remastered from the first 'FUR' brush sets + 8 new brushes.

The Brushes Stroke Table: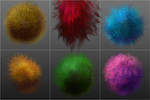 The brushes depicting fur from the side view (brushes # 2, 3 and 8)
have two options for each one, for the left and right hair growth direction.
Therefore, there are actually three more brushes in the set — 31.


I've worked to learn how to draw realistic fur quite a lot of time. And I can be proud that I'm reached this goal (and keeping moving on).
To simplify the work process, I created a series of brushes for myself, and here I'd like to share it with you.
My brushes allow you to create high-quality realistic fur styles and countless combinations.
So I'm sure, you'll appreciate the assistance that they will give you during your work!


------------------------
• Minimal versions where the brushes were tested: CS, but in fact, ABR format file is compatible with earlier Photoshop versions too.

All brushes were created, tested and improved over long and multiple work processes
------------------------
• You will receive:
28+ FUR brushes saved in the "Realistic FUR 2015-2020 Brush Set by Eldar Zakirov. Rel.3.0.abr" file;

How to install and Some useful tips.pdf

— the PDF file containing some tips regarding usage and installation. You can see them below. Just to have them on hand;

Realistic-FUR-4-PS-Brush-List.jpg

. The brush list image you see above (some time it's just convenient to have it).
------------------------
• Copyright and License:
This product can be used in an unlimited number of personal and commercial works.

Cannot be resold, shared, or provided to the third persons entirely and partially.
The price of $10 is for a SINGLE USER only.
For a Studio and a Group of Users please purchase an

Extended Commercial/Collective/Studio License

(Regular price $38) — see the marketplaces below.
Licences and Pricing:
👉 Personal Standard License for Single user

. Personal License for personal and commercial use by One (single) user. $10



👉 Extended Commercial License for Studios, Working groups or a Group of users

.
For Studios, Working groups, or a group of users, as well as for use on an unlimited number
of commercial projects with no limits on sales or views. $38
How to purchase:
👆 The Premium Content Icon 👆
(for
910 DA Points
for the Single-user License) 👆
or
......................................................................
• Some useful tips and notes:
• How I'd advise painting furry volumes. As you know, there's a number of basic shading technics
in painting and drawing, and I like this one as the most appropriate for me — I find it one of the most
rational by painting the fur — to start coloring with a neutral, halftone local color, then shade it
according to the volume and lighting. Usually this underpainting should be darker than fur, as it would be
in the shadow. So then add layers above to add the fur. All the brushes have a minor color and lightness
jitter to make the fur more realistic.
• So, try at first to place basic shading with a simple brush you prefer to paint usually, hard or soft,
and then put the fur strands above, according to the form and lighting.
• After it's may be needed to make some areas deeper (darker) — for example, shaded areas deeply
among strands near their roots — or set some light and highlight accents in the lights.
• You can experiment also with layer' and brush blending modes, such as Soft Light, Screen, Multiply, etc.
• As in painting or drawing at all, I'd recommend proceeding from common, main shapes to partial ones
and details: firstly, specify the main big volume, lights and darks, then put non-detailed fur strands using
matching brushes, and then make the detailing with detailed fur brushes.
• In the end, I'd add some the sharpest strands or hairs, maybe blur or darken some of the underlying strands,
light up some of most visible, highlighted. Try to make some of them softer of sharper, darker or lighter
in the finish or work, kind of post-processing. Add some highlights, specular. The separated hair can be drawn
by regular textured thin brushes.
• The brushes # 2, 3 and 8 have two options for each one, for left and right hair growth direction.
Image details
Image size
1500x1690px 726.22 KB