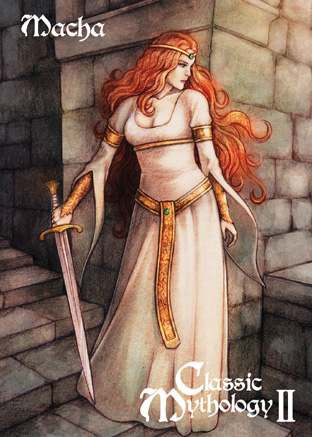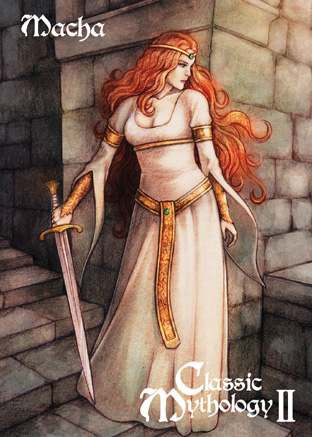 Perna Studios is very excited to announce our third trading card set entitled Classic Mythology II. This set will focus on 5 timeless Classic Mythologies that we have all come to love and enjoy during our lifetime. The mythologies spotlighted in this set are Greek, Norse, Egyptian, Celtic and Native American. We have an impressive list of artists involved on this set working on both base/promo cards and sketch cards. Set scheduled to be released in early Spring 2014.
This art will be a base card in our Classic Mythology II card set.

Macha is an Irish war Goddess, strongly linked to the land. A member of the Tuatha Dé Danann. Several Goddesses or heroines bear Her name, but She is generally thought of as one aspect of the triple death Goddess the Mórrígan ("Great Queen" or "Phantom Queen"), consisting of Macha "Raven," Badb "Scald Crow" or "Boiling," and Nemain "Battle Fury." Macha is associated with both horses and crows.
Three other aspects of Macha feature in Irish folklore, which likely derive from a common Goddess, as they are all said to have a mother named Ernmas (also considered to be the mother to Eriu, Banba, and Fódla, sacred names for Ireland). One Macha, a seeress, was the wife of Nemed "Sacred," Who invaded Ireland and fought the Fomorians in Irish legend. Emain Macha, a bronze-age hill fort in Northern Ireland, and legendary capital of Ulster, is said to have been named for Her.
The second Macha, titled Mong Ruadh ("red-haired"), was a warrior and Queen, who overpowered Her rivals and forced them to build Emain Macha for Her.
The third Macha, and probably the most well-known, was said to be the wife of one Crunniuc. Like many supernatural lovers, She warns him to tell no one of Her existence; but he boasts to the king of Ulster that his wife can outrun the fastest chariot. The king then seizes the very pregnant Macha and forces Her to run a race against his horses. In spite of Her condition, She races and does win, and as She crosses the finish line She gives birth. In Her dying pain and anger She curses the men of Ulster to nine times nine generations, that in their time of worst peril they should suffer the pain of childbirth.


Digital colors by Juri H. Chinchilla