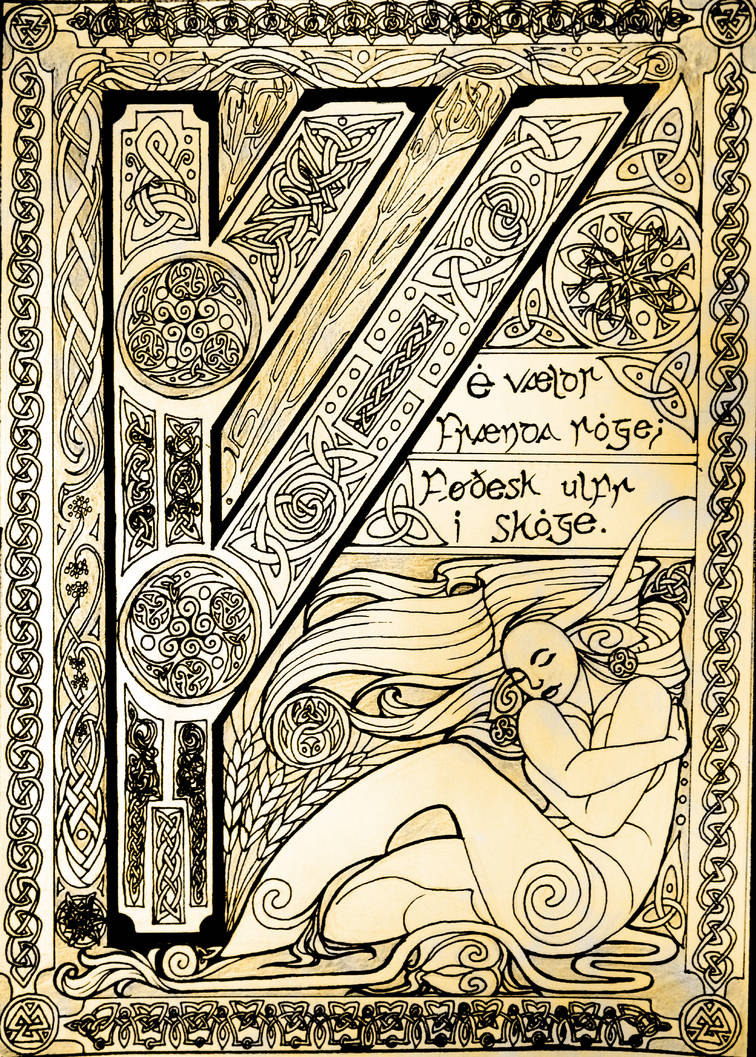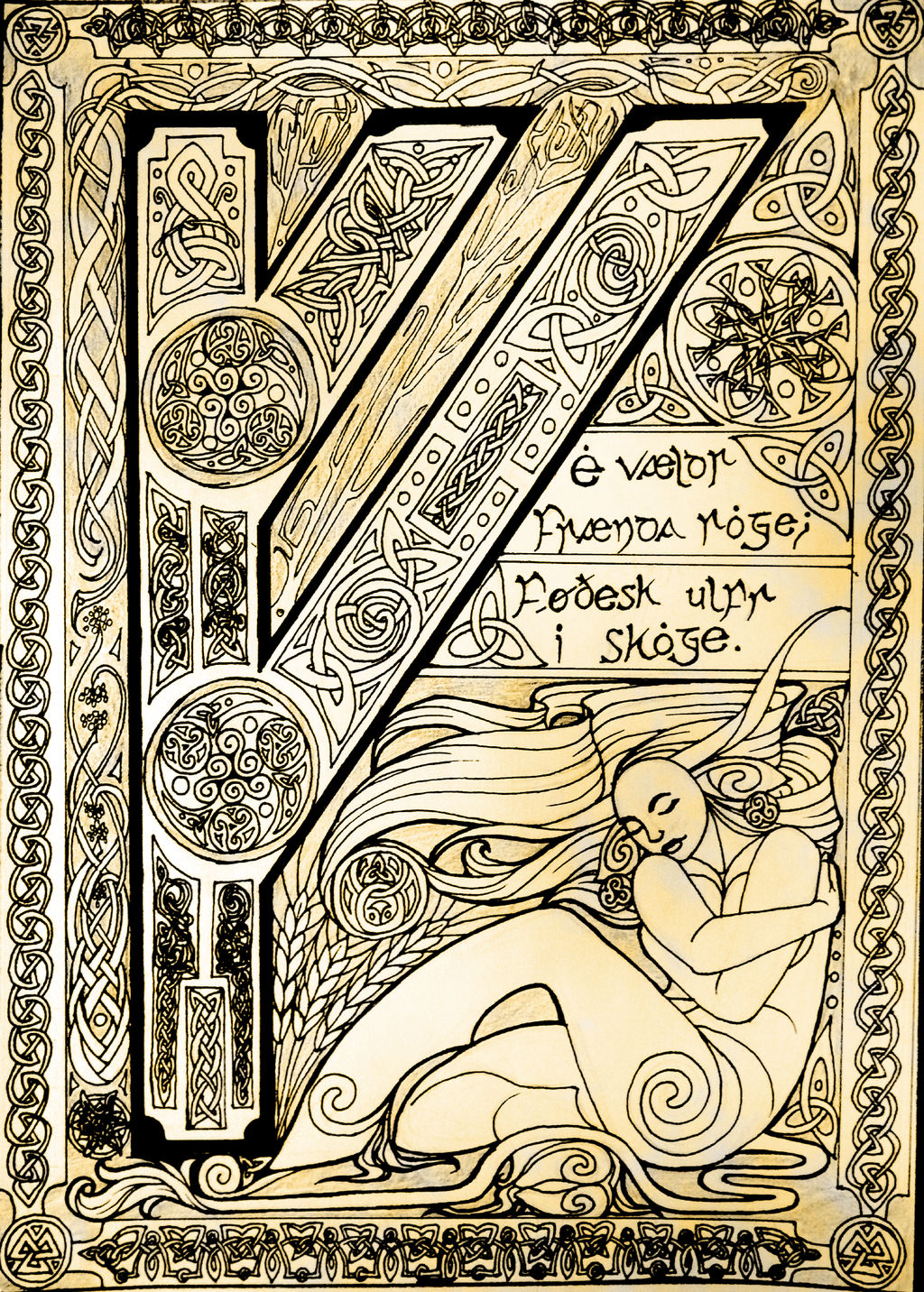 "Fé vældr frænda róge;
føðesk ulfr í skóge."
Translation:

"Weath is a source of discord among kin;
the wolf grows up in the forest."

Because there's nothing more anachronistic than a 21st century neo-seidhmann drawing a 2nd century norse rune in roughly the style of 13th-ish century christian/celtic illuminated manuscripts.
Actually, for my second-ever attempt at an illumination, I'd say this came out fairly well. I've been working on it for THREE DAYS which is about a day and a half longer than I usually spend on anything. But, it was burning my mind up looking to get out, so, here it be.

Fehu means, among other things, "cattle,"(thus wealth) and "inner strength," thus the taurean figure in the bottom right. She's based sorta on a Texas longhorn because DANG those beasties are powerful and awe-inspiring. No, I don't live in Texas, I actually live in Colorado, but the stampede here has them in the parade every year.

I've always seen/experienced Fehu as a distinctly feminine rune, which contrasts Uruz's sharp, almost sullen masculinity. Fehu is fiery, but in a sparky, bubbly kind of way. It's like the drive that makes seeds sprout and push up through seemingly endless soil. Maybe that drive can help someone get through particularly stressful or exhausting days at work, or school. "Just keep swimming," is a phrase that comes to mind. Fehu is the inner power that comes with long periods in the dark, the sunrise after a long night. Wealth, too, can mean many things, not just material possessions. Wealth of knowledge, experience, insight, creativity... lots of things. "The Wolf grows up in the forest," though, which is in my eyes an idiom-esque-thing that means, "greed breeds greed." If you don't share the wealth, you become the wolf, or, perhaps more to the point, you become Smaug. So, be aware of it, use it wisely, grow strong like oak tree. Ja.

Yeah, I don't know. My attempts at getting the lessons the rune throw at me are generally sophomoric at best, even now, particularly compared to experienced runeworkers. The key is in the learning, though, which I am trying to do.

Whaaaaaaaaaaaat you did these?!? I've seen them everywhere online.

it's absolutely gorgeous and I totally agree with your view on Fehu!
Reply

Haha! Yeah, and I've been struggling with Thurisaz for over a year now. You'd think someone with rather prickly tendencies would've done it already, yeah?

Thank you so much. I didn't know they'd been spread out everywhere!

Reply

I can only imagine! The level of detail in these are amazing!

Fehu would've been my favorite one to draw, or maybe Sowilo
Reply

Reply